Dune (2021) Review
Dune (2021), is the first installment of the modern day movie trilogy based on the famous 1960s book series. This film has been highly anticipated due to its star-studded cast and long-time fans of the series.
Set in the year 10,191, Dune is a science fiction story where we follow our main protagonist Paul Atredies, played by Timothée Chalamet, on his journey of taking over his dad's role as the ruler of his home planet. Meanwhile, he is also trying to navigate the powers that he has received from his mother's long line of Atreides.
This first movie is a promising start to a new take on this iconic series. I watched this movie without reading any of the books from the series nor watching the 1984 movie based on the book. However, I feel like you do not need to do any of these things in order to enjoy this movie and also be excited to see what the sequels will bring.
The plot is intriguing and attention grabbing. Although I watched this movie at my house on HBO Max, I still felt like the movie had my full attention. The plot also was not extremely hard to follow which can sometimes be the case with science fiction movies. Watching this movie, I always knew exactly what was going on and I could generally understand the motives behind each character's actions.
This movie also contains a lot of action packed scenes. The fight scenes in this movie were very well choreographed and very entertaining to watch. There were many parts in the film where the characters had to fly futuristic space crafts which would make for some thrilling scenes.
The film in general did an outstanding job of cultivating an aesthetic that fit the futuristic essence of the movie. I often felt pleasantly envious of the gadgets that the characters used to navigate through the desert such as the suits they used that recycled the water they produced in order for them to stay hydrated at all times. Paul and his mother, Lady Jessica, also have the power of using a commanding voice in order to mind control other people, similar to the Jedi mind tricks in the Star Wars Trilogy. This was an aspect I really enjoyed and it made me want to jump into the movie and be an Atriedes myself.
Despite being mainly CGI, the setting is remarkable. The movie takes place primarily on the desert planet of Arrakis. In several shots, two moons can be seen shining on the sand and spice covered ground. There was incredible detail in every setting and despite never going to outer space, I still feel like the film captured the essence of space perfectly.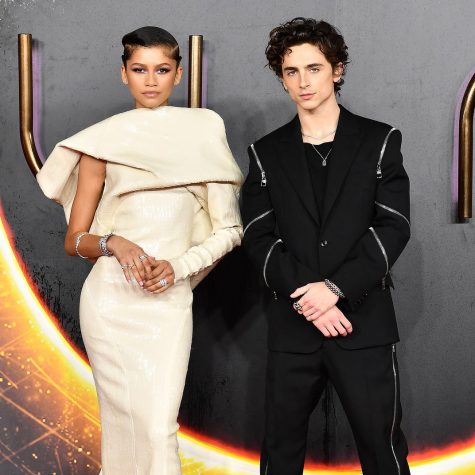 This movie also includes an incredible blockbuster cast of outstanding actors including Jason Mamoa, Oscar Issac, Rebecca Ferguson, Dave Bautista, and Josh Brolin. Timothee Chalamet, one of Generation Z's most popular male celebrities, portrays Paul Atredies perfectly. I could not imagine Paul being played by any other actor.
The only thing about this movie that made me slightly dissatisfied was the fact that Zendaya, another beloved actress among Generation Z, was only on screen for a total of 7 minutes despite the amount of advertising and press she was involved in. However, based on how the movie ends, it seems like she will have a larger role in "Dune: Part II," which has been confirmed for release.
Overall, I think this is the perfect film if you love science fiction and action like me. I feel that this film has lived up to the immense attention it received pre-release. I am excited to see what this promising series will bring in the future.