It's Never Too Late To Do What You Love
The story of Diane Haddon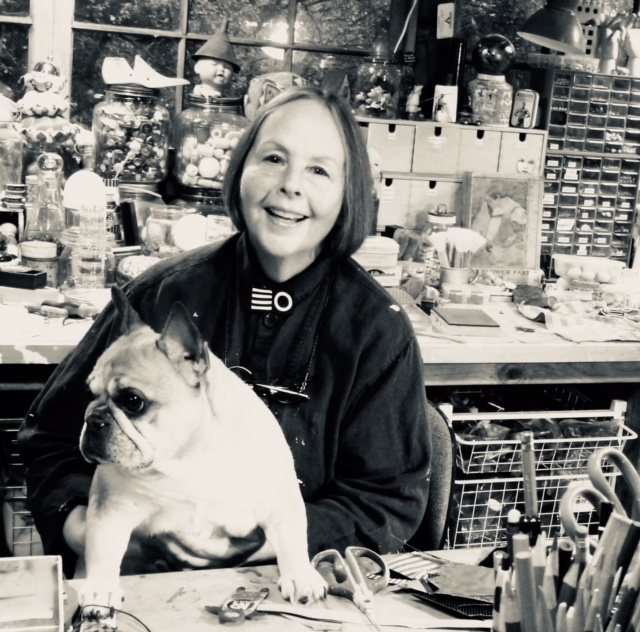 The smell of hot chocolate and mint tea filled the air as Dianne Haddon sat down, her small snorting Frenchie by her side. She wore what made her comfortable and often had her own pins upon her shirt. Haddon is a multimedia artist based in Snoqualmie, most known for her assemblage pieces. But for a large part of her life, art was not her career. 
Haddon was born Sep. 2, 1947 right here in Washington. After graduating high school she wasn't quite sure what to do, she'd always enjoyed art but under the advice of her parents, she got some secretary skills such as swift typing and quick shorthand under her belt. 
She went to Western in 1965, even though she only stayed there for a year and a half she took a number of creative classes. Haddon enjoyed life drawing, oil painting, and more. 
After college, she worked for her aunt Francis Haddon Morgan as a secretary for a session of the legislature. 
After one session of the legislature, she left and got married to Lou Petersen. Together they had a daughter, Heather. Thus for a period of time, life took over. Caring for her child along with moving often with her husband's job in the military took up most of her time.
By the time her daughter turned eight, Haddon was a single mom. To support her daughter Haddon worked at St. Luis Hospital for thirteen years. On her time off she continued in her artistic interests, taking a pottery class at Western and learning basketry with her mother and daughter in Hawaii, but that time was limited because Haddon had to support her family. 
Though Haddon didn't have a lot of time to pursue her art, she never felt as if it was a sacrifice to care for herself or others. "I loved being a mom and I loved my job too," says Haddon.
After Haddon went from administering clerk, to an office worker to an HR assistant, her daughter graduated from high school and was set for the Naval Academy. Now having the time to pursue her art, Haddon left the hospital to begin the two-year program for advertising art at Seattle Central. 
Upon being welcomed to Seattle Central, Haddon was surrounded by a diverse population she hadn't ever experienced. Though she grew up in a military town, there were still very few people of color. It was the 60s after all. 
Although Haddon differed in age to many of her classmates, it wasn't an issue, she'd grown since her last experience at a university and had confidence that aided in her schooling. "When you go through a program like that you become a family…we became very close…that was the best part of it." Haddon elaborates. 
Haddon enjoyed her time at Seattle Central, using oil paints, watercolors, and gaining skills in graphic design. But it wasn't the same as modern-day graphic design, it was done purely by hand, as Haddon said it was at "the cusp of the computerized era."
Sadly, two years after graduating and acquiring a large portfolio, it was the "computerized era" that Haddon had no experience with. She didn't have much luck gaining a job in advertising, but her philosophy that the universe will provide gave her hope going forward. Eventually, Haddon got a job at Daniel Smith, an art supply and paint producing company. 
Keeping an interest in the arts Haddon stockpiled supplies she was able to buy at a discount price. Being a buyer she enjoyed time with coworkers with similar artistic interests. 
Suddenly, Haddon's mother suffered a stroke, bringing Haddon and her on and off again partner Don, to Hawaii to take care of her. 
Her mother had trouble communicating and lost the use of the right half of her body, leaving Haddon and her brother James Haddon to take care of her for a time before sending her to a nursing home. 
"I've always really looked up to my grandma Haddon…she was just this amazingly kind person." Said Diane Haddon's daughter Heather Higgins.
Haddon's mother died in 1995. 
After suffering a tragic loss Haddon decided to venture down to the southwest with Don. She hadn't ever been and it was quite a big deal for her. Not only she'd never been to New Mexico but she hadn't ever really had a vacation, time to herself. "In New Mexico, the landscape just goes on forever."
After spending a few days there Haddon felt the pull to move, and in a moment of spontaneity, she did. Don did come with her for a short while but decided New Mexico wasn't for him–leaving Haddon single for a large part of her stay. She didn't mind.
Even though Haddon considers herself a "Washingtonian through and through" she loved the time she spent living in Abiquiu, New Mexico, also the home of Georgia O'Keefe. 
At fifty, Haddon now labeled herself an artist. Inspired by the southwest landscape and surrounded by other creative people she began to work full time on her art. She was even able to sell a few fine digital prints she made off of her original pieces. "It was fabulous, it was a floor to ceiling these little pane glass windows all the way around. And that was going to be my studio."
But in exploring her art and ambitions Haddon was sure not to put any limits upon herself. She focused on her illustrative pieces with colored pencil and watercolor, but occasionally dabbled with three-dimensional mediums such as pottery and sculpture. 
 Haddon even had a gallery with a friend of hers for a period of time in Abiquiu. 
"
It was just what I needed in my life…it was really a cross-section of different ways of life, ways of thinking."
— Diane Haddon
After a long period of time Haddon's daughter, Higgins was now married and had children. While Higgins's husband was deployed she was forced to live in San Francisco. But her mother Haddon invited them to stay with her in Abiquiu, so they did. Now Haddon was supporting four people, herself, her daughter, her granddaughter, and her grandson.
"She grew sunflowers in the summer," says Haddon's granddaughter Ashley Guillory, who remembers her time in Abiquiu fondly.
To support her guests Haddon worked for the Ghost Ranch Conference Center that housed a number of art classes. 
Along with an exciting job at a Hacienda by the name of "El Sueño Del Corazón" where she and her associates ran the house for a Wealthy Family. The family stayed there part-time and when they weren't there they allowed guests to pay to stay. Haddon and her coworkers cleaned cared for and cooked family-style dinners for guests.
Haddon worked there for about three years and near the end of her career there, the movie business was booming, so she and the staff got to feed and house the cast and crew of "Raiders of the Lost Ark". 
She even got to meet Steven Speilberg and George Lucas who she says "were just so friendly."
But after ten years in Abiquiu, she felt the call again, this time to return home, back to Washington. 
So she moved to Snoqualmie and even set up her own personal studio where she still works at to this day. "She does assemblage work. So her studio kind of looks like the set of a horror movie." Says her granddaughter Guillory, which is true, out of context some of the elements can seem creepy, but the place is homey, knowing Haddon you can see the personal touches and the process of her work. Nothing sells it being an art studio as much as the predominant smell of pencil lead and paint. 
"See, it's really fun and fun for the past few years to really see her…get some recognition for her work…I'm just really proud of her and I love the way that she like found her people have where she lives and the fact that she has a tribe and they all watch out for each other." Says Higgins. 
"She just is very, you know she's such an admirable person because she didn't make her art for so long and then now she finally has an opportunity to pursue what she wants to do and it's just like the age-old adage of… you're never too old to follow your dreams," Guillory elaborates. 
"
I think the most important thing is to be open to the possibilities…and you know believing in yourself…that you can do this."
— Diane Haddon
Even though it took her quite some time to get to creating full time, she doesn't regret any of it. "The older you get the more you appreciate the multitude of people, ideas and experiences that you have in your life because that's what makes you who you are."