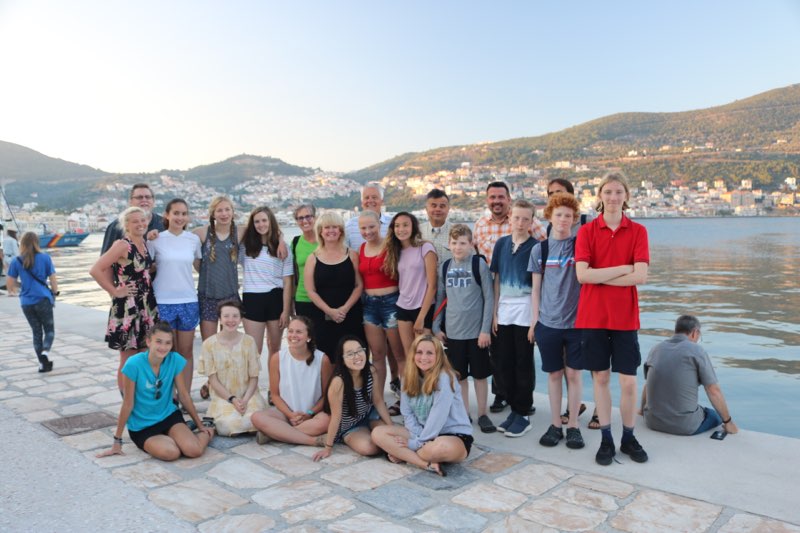 Michael Fultz
Michael Fultz, known as simply "Fultz" to his students, is a beloved retired Central Kitsap Junior High-turned-Middle School teacher and avid traveller. Using EF Tours – a company that provides educational travelling opportunities – he has travelled with the CK community and several of his former students and their families for over a decade.
"I have visited different places several times, and each time I get to see it for the first time again, because I get to watch students experience it for the first time. Just the wonder, the awe," Fultz's eyes widened as his hand gestures, demonstrating students' reactions to historic or iconic sights,  slightly intensified while he discussed travelling internationally with students.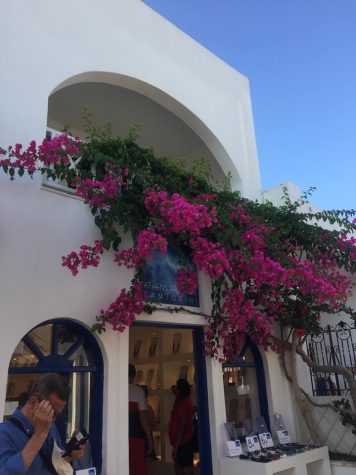 Fultz credits his introduction to international travel to the year he spent teaching in Israel. 
"My kids were in college and I was single at the time, and, you know, I had never done anything like that before. Why not try something new?" he said, recalling his decision to teach abroad, though he had never travelled on that big of a scale before.
He commented that his "[experience there] was wonderful. The students there were actually so much more mature because they had seen more of the world." 
Fultz was inspired to offer that same opportunity to grow to CK students, so he has travelled each year (barring 2020 due to COVID) with them. He wasn't able to name a favorite location he's visited on these trips. 
"I love Italy, you know. Lake Como is beautiful, Florence is beautiful. I love Barcelona, in Spain. Greece was stunning…I don't have a favorite. There are too many," he explained, listing off his favorite places and counting them on his hands.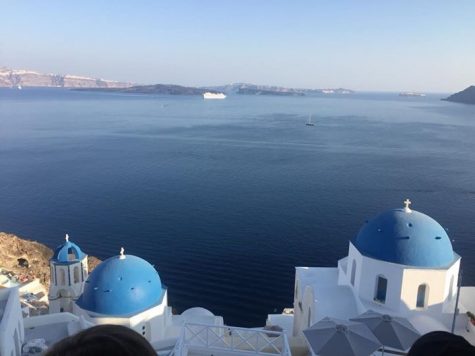 The historical sites that date back centuries are what make these locations so memorable for Fultz. Going back through the ancient Greeks, ancient Romans, and Spain, which was part of the Roman Empire, are what cause these authentic and commemorated countries to truly stand out.
"I also love the people in those three countries especially, the warmer weather, the beaches, just a thousand things. They are just awe-inspiring," Fultz explained.

He remembers staying at the Swiss Alps and waking up to the sounds of church bells early in the morning from the chapel across the road that soon transitioned to the sounds of cow bells of cattle being let into the pasture. These genuine, real experiences that exemplified the beauty of other cultures and lives captured Fultz's attention and reminded him of the "value of travelling."
His love for travelling is made part by the "different and unique" experiences he has each occasion. He explained that even though he has visited locations several times, each trip he has the opportunity to see it again for the first time through students' eyes. 
"One time, we were in Florence, and we saw the Statue of David. And one girl was there with her mom, and she turned and said, 'Mom, is that David from the Bible?' And her mom was like, 'yeah it is!' And the girl just burst into tears." Fultz smiled slightly as he remembered.
In Fultz's eyes, these experiences that display students' deep admiration of different cultures or sites represent the value of travelling.
"Kids…up through high school and college, just have this awe on their face. Their questions and discussions – the things that we do with them allow them to grow and to see things from a different lens or through a different light…[these] are the kind of things that most inspire me," he said. "I get to watch [those experiences]. And that's pretty darn cool."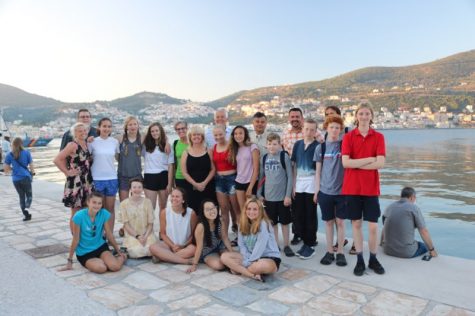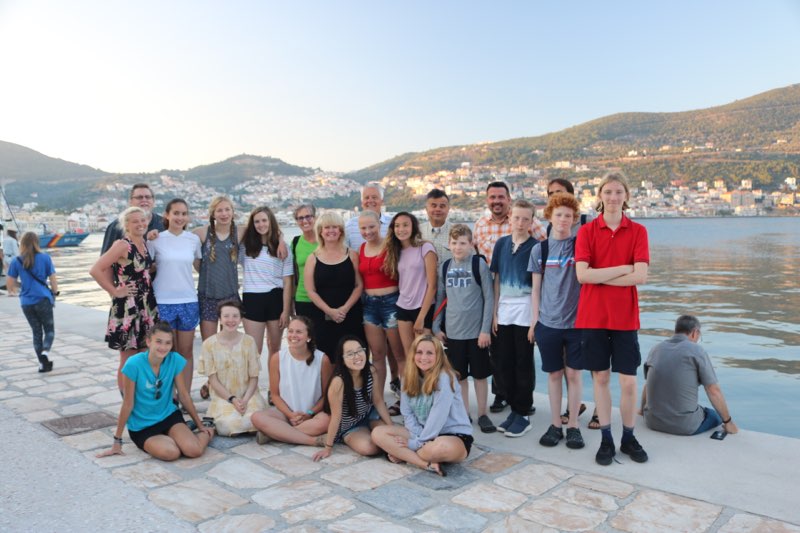 Some of Fultz's experiences weren't so lighthearted or fun, though – he has experienced sicknesses, injuries, and stressful moments to go along with them. 
"We had one parent dislocate an ankle in Paris. We had to leave him there, and he had to have surgery and he couldn't fly right away because of the swelling," he recalled. 
The situation was resolved smoothly, with the surgery going well and EF Tours sending the traveller home on a business class flight. Fortunately for constant travellers with Fultz, these unavoidable stressful moments don't prevent him from continuing to travel. 
These trying moments remind Fultz of the beauty of the simple moments and new experiences that inevitably come with travelling: "The pros far outweigh the cons that there are," he said.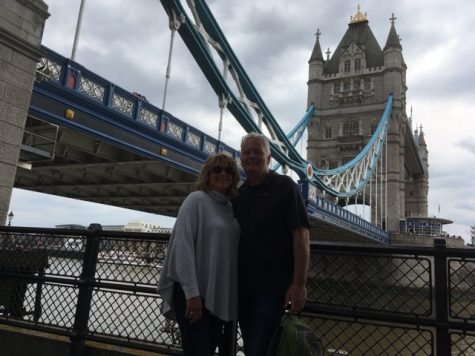 Unfortunately, however, the trip to France, Germany, Poland and the Czech Republic last summer was postponed to this year due to COVID-19's global impact. 
He stated that while it is unclear whether the trip will take place this summer, it still will occur in the future. Meanwhile, he is planning on a separate 2022 trip to be announced in May 2021 that students can take direct action towards participating in. 
Fultz will be notifying all the chaperones that consistently travel each year and this year's travellers will be the first to know about it, as information about these trips best spread through word of mouth. 
"If you're under 18, you'd have to travel with an adult," he said, unlike years before, where students had the choice to travel alone.
Fultz continues to look forward to travelling with the CK community, and while he wasn't able to create new connections last summer through these travels, his connections to former students from CKMS are alive and well. They regard Fultz as not just a teacher, but a mentor, and see him as a source of support and light. 
"He supported other students best he could – he had a way of doing it which I think some students may have been uncomfortable with since they've never experienced just the openness he had," former student Rinnah Ferrer said. 
This open support created a "welcoming environment," as former student Ashley Fairbanks put it, and allowed students to feel comfortable in his classroom. This comfort is best demonstrated through activities the students participated in together.
"In 7th grade, a bunch of us Magnet girls dressed up as Whos and went into his classroom and sang a parody of the Grinch Song," Fairbanks recalled. 
These lighthearted memories open a window into Fultz's accepting and supportive aura.
Dawson Fourier said that "He was supportive and kind in and out of the classroom, always taking the time to talk to students and support them."
The offerings of assistance created a fun and laid-back atmosphere in school. 
"[Fultz] was really good at making sure we learned what we needed to know while still having an enjoyable class," former student Gabe Ring said.
 For many students, an "enjoyable class" meant good-humored fun or the harsh reality of the world revealed to them. 
Tia-Jane Fowler remembers when "he brought in a whole bunch of chocolate for the class to eat, and after [the students] ate the chocolate he assigned [them] some articles on how the chocolate [they] ate was produced by abused children in Africa."
These funny memories or experiences stuck with these students, as they can still recall them today. They also took some of these lessons or memories of the openness with them throughout their academic careers or lives, as Ferrer knows.
"He was one of the reasons I actually sought to get to know future teachers better because they might actually be cool and give advice – not to mention I learned I didn't have to be so rigid with all of them," she explained. 
Fultz expressed that his teaching style would not translate well in this remote environment. 
"I miss my students and the connections with them…but I don't think I would have done well with this whole online learning environment. Zoom is just so hard to build and establish connections with people. I also just love the retired life." 
His current home in Palm Springs opens out with a view of the desert, where the temperatures are consistently warm and the skies are blue. He will return to the PNW in the summertime and remains cautiously hopeful that this coming summer safely brings another Europe trip.