Baby Formula Shortage Not Expected To End Soon
The baby formula shortage has been an issue since the beginning months of 2022, but most parents and other caregivers around the nation have now realized how big of an issue the formula shortage actually is. 
Parents from everywhere are left wondering if the stores around them will be affected, if they will be able to provide for their babies, and when it is all going to end. This issue is not expected  to be resolved soon, and is anticipated to last until spring 2023.
Many moms said that they had to drive all over town, others said they had to drive hours, just to be able to find the formula they needed for their baby. 
"I wasn't ever the one to stock up… I've drove almost to Georgia looking for it," said Tiffany Figueroa, a mom in Okeechobee Florida
"I've spent many nights crying wondering how or what I was going to feed my baby. The stress caused many fights in my marriage…I've had formula mailed from Mississippi to me, I've mailed formula to mommas in texas."
Some parents have to have friends or family from other cities ship formulas to them. 
"We couldn't find any in town and had to have family find and ship to us from a nearby city," said Emily Herbig, a mom in a small town in Kansas.
Most moms, dads and caregivers, are struggling to find formula for their infants as is, and are being limited on the amount of product they are allowed to purchase.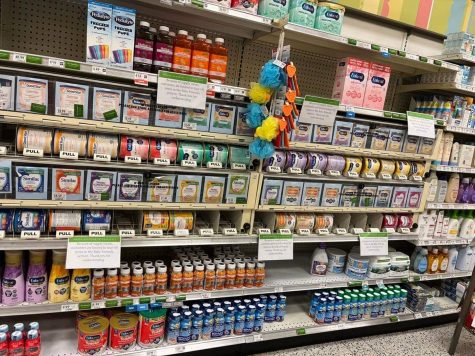 "I drove to 8 different stores to find my daughter's formula… I'm having to pay people from out of state to ship it to me, or pay my family to ship it to me because there's none in Arizona," said Ashley Dixon. "It's been really hard, and trying to get through to my daughter's first birthday is stressing me out."
Many moms are also irritated at the moms who buy real baby formula for their reborn dolls, even at times like this. Reborn dolls are hyper-realistic dummies, that are used as therapeutic aids, to help women through infertility, miscarriage and a loss of a child, they are treated like real children, given a heartbeat and even a birthing ceremony.
 "I wouldn't mind donating expired formula for them… taking food from actual babies that need it, for dolls, is infuriating." Said Ashley Dixon.
The shortage of formulas started as a result of the 2021-2022 global supply chain crisis, and the recall of three different formulas. The decision for this recall was made by The U.S. Food and Drug Administration (FDA), when four infants had to be hospitalized because of a bacterial infection that was caused by the usage of infant formula made by one of the countries largest formula producers, Abbott Nutritions facility in Sturgis, Michigan. It is also believed the bacterial infection may have contributed to the death in two other patients.
The bacterial infection that affected the four infants is known as the Cronobacter Sakazakii infection, and can cause life-threatening infections such as meningitis. The infections can cause symptoms such as poor feeding, irritability, temperature changes, jaundice, grunting breaths, and abnormal body movements.
The Centers for Disease Control and Prevention (CDC) made a page on their website that gives tips for other options with formula and feeding. The page also says the U.S. government and other partners are working toward ensuring infant formula is safe and available for families across the country.