The Passion Behind AVID
Central Kitsap High School teacher, Katherine Devnich, is an avid supporter of the AVID program.
High schools throughout the country are offering an elective class that offers extra support to college-bound students with special emphasis on growing writing, critical thinking, teamwork, organization and reading skills.
AVID, which stands for Advancement Via Individual Determination, is a nonprofit college-readiness program created by Mary Catherine Swanson in 1980. The purpose of AVID is to help students develop the skills they need to be successful in college. 
Central Kitsap High School teacher, Katherine Devnich, is an avid supporter of the AVID program. "It's about giving kids opportunities to have more choices at the end of their high school career," Devnich stated. "There are many teachers here that have been trained and have the same skill set, but for some reason, I have fallen into AVID and I believe in it, and it works, so I continue to do it." She also added.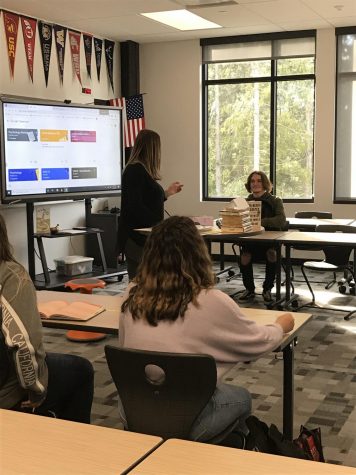 Devnich has a reputation among her students, and some of the staff, as the "mother-figure of the school." Her dedication to her students far surpasses what is expected of an educator. 
"She's kind of a school mom. You never know where she is at school. She's not always in her classroom, and when she has her free time, she will peep into your classrooms and see if you're actually doing your work or if you're messing around, because at the end of the day she just wants to see her kids succeed." Says Central Kitsap senior, Nigel Hardee, who is enrolled in one of Devnich's AVID classes.
Some of his peers had similar things to say in regards to this beloved teacher. 
Seniors Alexandra Neumann and Hayden Wallis had all but negative things to say. "If something were to happen throughout the school day, like something bad or something at home or whatnot, she's there to go to," Wallis says.
"Not even just school, like, you could go to her with your personal problems because that's how much she knows you and you just trust her. It's like ultimate trust." Neumann added. 
This trustworthy teacher credits much of her teaching success to her journey as a mother. "I think having a child and looking at the world through my child's eyes- every one of you, every one of my students is somebody's child- and, you know, we should be advocates of children, we should be supporters of children," she stated. "I'm such a better teacher because I'm a mother and I'm a better mother because I'm a teacher. I feel like I understand what happens at school and also what happens at home, and I really try, in teaching, to help students balance their busy lives." 
Devnich's AVID community mimics that of a family. "I like the family aspect of our class," Senior, Colton Vandijk says.
"Everyone's so open with each other. When someone gets into college, we all clap for them and we all know which schools each of us want to get into. We just want to see each other succeed." Neumann stated.
"The family aspect, that's really been big. We don't always get along, but we're all a family." Hardee added.
This familial dynamic Devnich has created allows for new-coming students to adjust comfortably. Senior Catherine Wlodarchak, a new student this year, says, "She made the transition from Colorado a lot easier because she was so open and welcoming to me."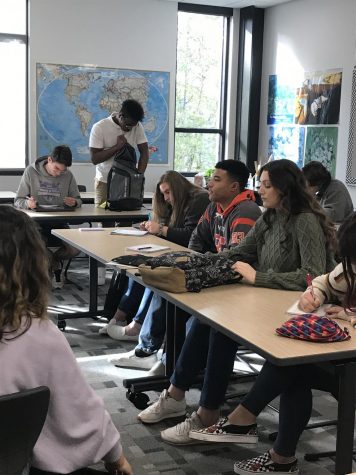 Devnich's outreach and endless empathy towards everyone around her comes, in part, from one of her inspirations- her sixth grade teacher, Mrs. Gutierrez. "[She] saved me. I think my life could have been very different if I hadn't met her at a very pivotal time in my life. She was one of the first people who made me look at teachers very differently." She says. 
Some of her other inspirations are Mahatma Gandhi and Mother Teresa. "I mean there's so many amazing people in the world. And, you know, I am not one of those people but on a very small part, I feel like I get to have some impact on the world in a positive way." Devnich stated. Her impact, however, is far greater than she knows. 
Devnich's AVID students excitedly described their achievements in regards to the class. Hardee, Wallis, and Wlodarchak all celebrated acceptance into college. Vandijk, a first-year AVID student, expressed pride in the improvement of this high school GPA stating, "I got good grades in high school for the first time." He also noted, "It has taught me organization- it taught me how to organize and actually get my life together, because it was in shambles and I was at rock bottom." 
Hardee and Neumann communicated the benefits of Devnich's teaching style and the AVID program as a whole. "It taught me how to manage my time better and dedicate myself to my schoolwork, because there's so much support, it kind of drives me to want to do good." Hardee stated.
"AVID has taught me responsibility." Neumann added. 
"I look up to Ms. Devnich a lot." Hardee said, "…At the end of the day, she's still the one that's mainly supporting us through it all. She's definitely one of the best teachers we have here." He concluded.
Like her inspirations Mahatma Gandhi, Mother Teresa, and her sixth grade teacher, Mrs. Gutierrez, Devnich embodies the encouragement, heart, compassion, grit, drive, and love that influence students in the most special way.