My Silverdale Coffee Tour
Welcome to three of Silverdale's coffee shops: reviewing drinks, service, and vibes.
I love cafes. Going to sit at a cafe while enjoying a nice drink (and perhaps a pastry) while quietly working really just hits the spot. Because of this, I found three coffee shops/cafes in Silverdale to make up my Coffee Tour, to review their drinks, their service, and their costs. And of course, don't forget their ambiance!
The three places I chose to test were: Austin Chase Coffee, Starbucks (a classic), and Johnny Coffee. All located in Silverdale. My method at each was to order the same drink, a grande iced chai latte with two pumps of vanilla, then experience both the drink and the atmosphere. Let's take a deeper dive into my experiences, and, which deserves the best ranking.
First, Austin Chase Coffee. My Coffee Tour started there on Monday, May 23 after school, with high hopes. Entering, there were only a handful of customers (making it a great place for studying!), and I was able to order quickly.
Unexpectedly, the ordering process was a little confusing. The barista was kind, if a little gruff, but instead of being able to order a simple chai, Austin Chase instead offered numerous chai base flavors to choose from. I must confess I never knew chai could come in different flavors! Unfortunately the barista's kind but simplistic suggestions were unhelpful. But given my drink of choice I eventually settled on a vanilla chai base.
The drink came slowly, totaling at $5.74. Sadly, it was not all I was hoping for. The chai latte was overly sweet, unaided by the base flavor I ended up choosing, and overpowered the actual chai flavor. If you have ever eaten cinnamon dolce ice cream – that is exactly what it tasted like. That might not be a problem for you, it certainly wasn't disgusting by any means, but unfortunately it wasn't what I look for in my chai lattes.
However, the environment Austin Chase created was perfect for studying and working on my assignments. It was peaceful and quiet, while the constant regulars flowing through made the place seem cheery and bright.
Overall, Austin Chase Coffee deserves a solid 3 out of 5
The next stop on my Silverdale Coffee Tour, of course, had to be Starbucks, a Washington classic. This stop took place Wednesday, May 25th. I was ready to get a good drink and (hopefully) another productive afternoon of study.
Walking into the Bucklin Hill Starbucks after school, the one closest to our very own CKHS, the shop was more than packed. I managed to order quickly, costing a neat $4.95. The staff was mellow and friendly and my drink came fairly fast. I then maneuvered my way through the scrum and secured a small table to attempt to get some work done.
The chai latte was definitely a step up from Austin and Chase's. The traditional chai taste was there (no confusing flavors to throw that off), offset by a perfect level of sweetness from the vanilla. However, Starbucks is notorious for their use of ice and this was no different; sadly the latte had a slightly watered down taste.
While generally Starbucks is a top pick to go get work done, the crowd in the shop was loud and restless, and I was unable to focus on my work.
Still, I can't dock my rating too much, since it would have been great as a happening place to hang out with friends. Overall the classic Washington coffee shop takes home a 4 out of 5.
My last stop led me to Johnny Coffee, a new installment in the corner of The Trails. It was Thursday, May 26, and I was excited for a new experience, yet sad to spend more money.
Walking into this shop, immediately, it earned the title for cutest and, dare I say, vibiest coffee shop I had been to so far. The shop, a lovely shade of dark green with wooden accents, and featuring a couch along the far wall, is a whimsical nook to stop at.
The baristas, excited and kind, provided suggestions and recommendations, creating a welcoming environment. My total; $5.13, right in the middle of the range. Getting my drink, by far the quickest of the three, I ventured to the back area to work.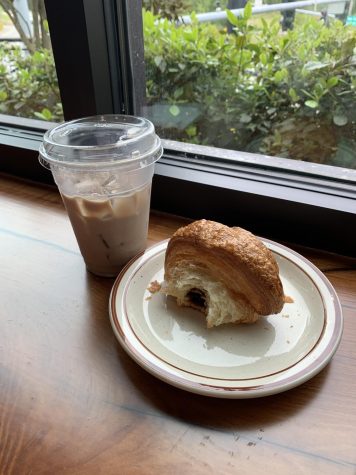 And by far, this latte topped all the others. The rich traditional chai taste was present, uninhibited by any watering down, and the vanilla added a perfect amount of sweetness. It truly hit just right. Johnny's is the perfect place for working, not to mention simply hanging out.
Johnny's combination of the perfect beverage and study ambiance lead me to give it a full 5 out of 5.
After three stops on the Coffee Tour, it sadly came to an end. Based on my experiences, Johnny Coffee earned its place on top of the rankings. That said, all of these places were solid coffee stops!