The Winners of Central Kitsap, the Girls CK Bowling Team
On Nov 16th, there was a bowling match at All-Star Lane. It was CK vs Gig Harbor JV girls bowling team. 
The players on the team are Aulrora Basher, Nicole Walters, Ferrah Capas, Mya Hagge, and Tayler Lindstrom.
Game 1:
For the first game, the girls all did amazing jobs winning this game
"JV did pretty [well] — they did outstanding actually." Lito Casal, CK bowling coach, said. "They did what they needed to do and everybody did great" 
The best player in this game was Walter. She struck 2 times (on frames 4 and 10) and spared 4 times (on frames 3, 5, 7, and 9). Her total at the end was 137 points.
She not only played well. But she brought others up to play well.
"[Nicole] did a good job getting [it] done," Casal said. "She did what she needed to do. At the end, she stepped up and got the team to do what [needed] to [be] done. It was great. She pulled through for everybody. She got the win for us."
In the end, the girls won the first game with 503 points.
Game 2:
In this game, Capas excelled. She got 4 strikes (on frames 2, 5, 7, and 10) and 3 spares ( on frames 1, 4, and 10). This put her score to 152 points.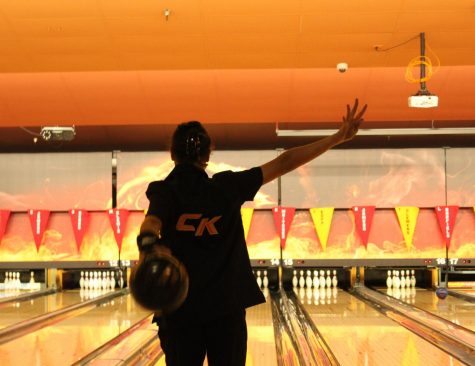 After the game, she was proud of herself and better because it was 
a leap of improvement from Game 1. 
¨Oh [I feel] way better, especially with how bad the first game was, this is definitely really good for me." Capas said. 
No luck got her to improve compared to her last game. Instead, it was the need to focus and warm up.
¨I just had to focus in and then definitely after warming up my arm a little bit [I] got better¨ Capas said.  
The best round that was done by all the girls, was round 10 with a total of 592 points. Basher; 88, Walters; 94, Capas; 152, Hagge; 130, Lindstrom; 128 
With Capas and the other girls' points combined afterward, they won the second game; 592-475.
Bakers Match (1):
After the games, the bowling teams decided to do 2 games of bakers batch. Bakers batch is when multiple bowlers/all bowlers bowl in one 10 frames game. Instead of separate ones. Bakers Matches are always fun ways to wind down and have fun bowling together. 
"They're pretty fun, it's a lot of fun to bowl with the whole team," Basher said. "Honestly, this is my first time but it feels like a team-building exercise. So we can depend on each other [strength]." 
In the end, the final score for the CK bowling team in the match was 503 points.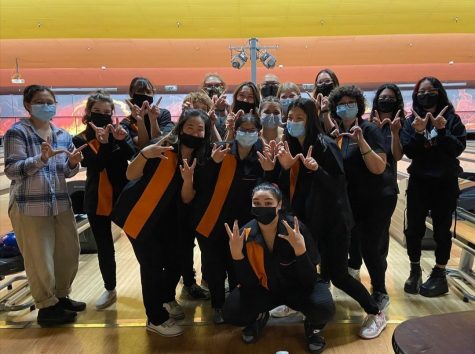 Bakers Match (2):
The second match had the same outcome; the CK team won. Their final score was 490.
Nov 16th was an outstanding success for the CK bowling team (JV).
¨[I'm] super proud of the girls," Casal said.  "…It's pretty tough to win all 5 points in a bowling match, and to do it in both Varsity and JV, that's an actual feat to see. So to say I'm proud is an understatement"