CKHS' Junior Varsity Boys Basketball Defeats River Ridge
The junior varsity boys basketball team faced off with River Ridge High School and left with a 63-46 victory and a winning streak.
by Jada Cowley, Reporter, Copy Editor, Business Manager

Central Kitsap High School's junior varsity boys basketball team went head to head with River Ridge High School in a home game on January 25 and came out on top with a 63-46 win. 
The junior varsity teams began playing at 5:15 p.m. and finished after about an hour and 25 minutes. CK started the first quarter strong, managing a score double that of River Ridge's at all times. 
CK locked in their win during the fourth quarter with two minutes left and a score of 61-40. In the final minutes of the game, River Ridge earned their team an additional six points. 
This is not the basketball team's first time going up against River Ridge High School. Last December, they took home another victory for CKHS after a win of 54-38. According to Letroy Gillesbie, Central Kitsap JV team's coach, that experience gave the players more confidence.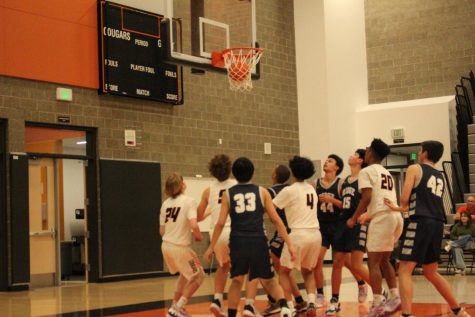 Of course, confidence can be beneficial, but Letroy warns against falling into the habit of becoming too overconfident, which may have the opposite effect on a player. Instead, the team undertook their recent re-encounter as a challenge and kept their ground. 
"One of the things we've been working on as a team is rebounding and playing defense and making good decisions when you have the ball," said Letroy.  "I think that's one of the things I liked about today – they made good decisions with the basketball and they played great defense, and I think they're starting to understand that if they do those things we have a good chance of winning. So, I think they did those two things today and that's why we won the game." 
JJ Martinson, currently playing for the JV team, felt proud that he scored eight points during the game – his highest score yet. 
"My biggest strength is definitely my defense," said Martinson.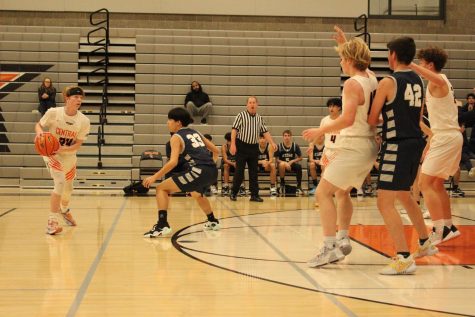 Brenden Madden, Martinson's teammate, also felt that their defense was strong. 
"We had a good defense, good passing, and we kept our heads up the entire game," said Madden. 
One of Madden's biggest motivations to improve as a player is his teammates. According to Madden, the team is constantly pushing each other to do better during practices and games. 
Letroy's advice and guidance drives Martinson to want to perform better. "[Coach Letroy] pulls me aside and tells me what I'm doing wrong, and helps me correct it." 
As the winter season is coming to an end, the CKHS basketball teams will be preparing to play their last games. The junior varsity boys basketball team has four more games left together. Many of the players intend on trying out for the varsity team next season. 
"When the season ends, I want them to take away how much we have improved as a team," said Letroy. 
The junior varsity boys basketball team will be playing on January 30, January 31, and will have their final game on February 2. Additional information like schedules, location, and ticket availability are available on the CKHS athletics website.