Review: 'School Spirits' Is Haunting My Social Life
Warning this article contains spoilers for the Paramount+ show "School Spirits"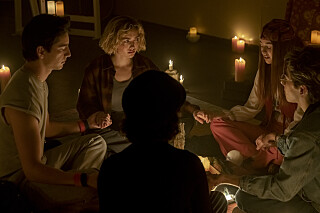 There I was just scrolling through TikTok as I usually do when I have free time. When I saw an advertisement for a show on Paramount+ called "School Spirits." I personally love Peyton List who plays the main character in the show and I always love a good murder mystery so I decided to give it a watch. 
The premise of the show is that Maddie Neers is dead. She was murdered in her high school and is now a spirit haunting the halls. Well, haunting may be a little dramatic. 
She does not remember how she died and is determined to find out. She is not alone however, with her is a group of fellow ghosts that all died in different ways at different times at the school. 
Now okay I personally am very confused as to how this many people have died at this school without it being a cause for concern. But the show does not acknowledge that so I will not either. Just know that I realize how strange and concerning it is but I choose to ignore it. 
There are four other main ghosts that Maddie interacts with in the show. Although there are many more ghosts haunting this school for some reason, I believe there are around 16. Again, weird no one in the school brings this up but I digress. 
There is Charlie, who died in the 90's from an allergic reaction in the school cafeteria. Wally, who died during the homecoming football game on the field. Rhonda, who was strangled by her guidance counselor after rejecting his advances. 
And lastly, Mr. Martin. We do not know much about him in the beginning except that he is the leader of the "afterlife support group." Now I personally did not think there was anything shady about him but boy was I wrong. 
Now, the ghosts at this school cannot communicate with the living, they can not "haunt" them. Well, with one exception. Maddie's best friend Simon is the only living person that Maddie can talk to and that can see her. 
But the catch is they can only communicate in a place where another person has died. Why can they communicate? I have no idea, I thought for sure it was because he killed her but I was wrong. 
Simon and Maddie try to work together to figure out who killed her. Throughout the show evidence points to a number of different characters as the murderer. The cheating ex-boyfriend, the sketchy English teacher, the middle school best friend turned bully, and the alcoholic mother. 
But, and here is the major spoiler, Maddie is not even dead. After eight episodes and countless theories it turns out no one actually murdered her. And what actually happened is wild.
When Mr. Martin died, a student died along with him. Her name was Janet and she and Mr. Martin died in a fire at the school. What was told to Maddie and all the others was that Janet had 'passed on'. 
Janet did not pass on, but instead possessed Maddie. Janet and Maddie switched places with Maddie becoming a spirit and Janet taking over Maddie's body. 
We as the audience find this out at the same time as Maddie. I personally was shocked. I had heard a similar theory but did not think it could be true. 
Season one ended on a huge cliffhanger, we find out of course how Maddie ended up in the spirit world but how did Janet even possess her? What does Mr. Martin have to do with this? Will Maddie be able to get her body back? 
I genuinely hope that this show gets a second season because I loved it. Does it have some weird plot holes? Yes, but without a second season there is no way for the plot holes to be filled.  
This is a show that I highly recommend that anyone watch. It has twists and turns, a romantic subplot, and pretty good diversity. Now we can just hope that it gets renewed for a second season so all of the unanswered questions get answered.