Building Female Leaders North West
Insight on the BFLNW club at Central Kitsap High School.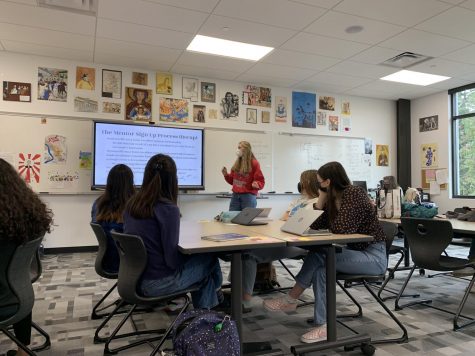 The school year of 2021 to 2022 marks the second year of the Building Female Leaders Northwest club (BFLNW), which was started last school year by seniors Molly McKee, Hannah Inoue, and one student from Olympic High School, promotes tools to support female identifying students to prepare for future career and educational opportunities. 
The main support the club offers has been their mentorship program. This program is one in which females currently within the workforce or college offer to meet with members of the club in order to talk and help to prepare the students for their futures. Those who volunteer their time to meet with members use their experiences to answer questions the member they are Paired with may have, as well as helping with the students current hardships in life, and their uncertainties going forward. 
"The mentors who sign up, [paired] with the students who sign up and basically have the students start the conversation with their mentor to learn more about what their life has been like… to help them get the information that they need to kind of figure out what they want to do in the future," said Senior Eleanor Hebard, student leader of BFLNW. She explained that the mentorship program is a way for the members to gain insight to future careers that may interest them. 
BFLNW members will be able to have an option to choose and contact a mentor from the supplied list of mentors who have volunteered to sign up. The current list ranges from at home moms, to STEM majors, to even a technical writer, all experienced females. The students are then able to apply to the mentor in which field appeals to them, before the mentors agree to meet with the students to discuss topics ranging from future career questions to school life as of now. 
The club has received a lot of support from students and the mentorship program alike, "There's just a lot of participation by the people who are interested in coming… [they] are very interactive in what we're doing," said Hebard.  
Student leaders encourage participation, and the club opens its doors to all those who have identified themselves as of the female gender. 
"Females, trans female, as well as non binary, people who are assigned either gender at birth… we also welcome trans men," said Hebard. While the club is a female oriented club, they understand that everyone has different circumstances regarding identification, and is inclusive to all those who identify as female in order to support them in their future pursuits.
As Hebard said,"[members last year] had a pretty good experience where they got to learn about that different career path… it's been helpful to have this option for people who are interested," and many of the students have reaped the benefits of the club.
As the club looks to expand, they welcome all female identifying persons and meet every other Friday in Mrs. Fischer's classroom, 3202. See them at their next meeting, November 12!