Experiencing French Culture with the French Club
French Club is one of many student clubs at CKHS, but not many people know what French Club is really all about.
This year's French club president is Shayla Sutliff, who was vice president last year. Madame Yee picked up the club in 2017 when she became a teacher here at CKHS. 
"It's great to provide an opportunity not just for French students to experience French culture but for all students in the school," Madame Yee said. "So it gives us an opportunity to experience the food which is huge, and so students that are interested in just tasting a little bit of the French culture, plus learning a little bit more that we can't necessarily get to in class."
The club focuses on French culture but also explores other countries that speak French. It's a way to show how French culture and language has impacted other countries and their culture. They learn about the type of food there, along with the architecture, holidays, and language to help paint a picture of what life is like in France. 
"We always think, oh, France, it's Europe," Alexa Logan said, "It's so similar, but like, they got a lot of weird fun stuff going on."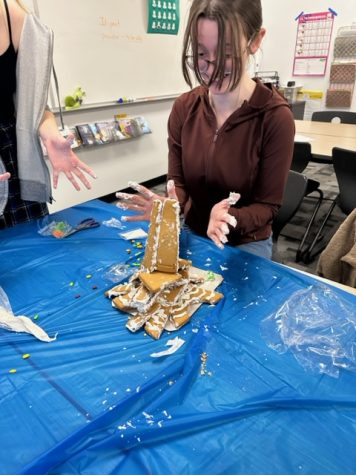 The club explained the stereotypes that people have about France and the people that live there, but they also showed what France is really like. In their most recent meeting they talked about the holiday that's coming up called 'Poisson d'Avril' that translates to 'fish of April.' Which, is like North America's April Fools Day. 
One of the club's goals is to teach people about the different cultures. 
"My goals for French club are to both grow our internal membership and then also try to work with different cultural clubs to enrich cultural learning here at CK," Sutliff said. 
The club is quick to welcome new members and accepts anyone and everyone who is willing to join. There is no requirement to join and students aren't required to speak French. The point is to learn about a different culture while making friends and having fun. 
"I think that it's important that we celebrate a diverse student body and that we celebrate different diverse cultures," Sutliff said, "So I think both focusing internally on making really fun, engaging meetings, and then focusing externally on pairing with other cultural clubs to spread that awareness of different cultures." 
Central Kitsap High School French club is a small group of students that meet the third Wednesday of each month at 2:35 after school in Madame Yee's room (3208). In the French club they learn about French cultures as well as other similar cultures. They also learn about the French language but you don't have to speak French to join.
French Club meets every third Wednesday of each month and is held in room 3208 with Madame Yee at 2:35 after school.