How Mrs. Fisher Went From a Stanford-Graduate Lawyer to an Award-Winning Teacher
An in-depth look into Mrs. Fisher's career, hobbies, and relationships.
Sarah Fisher, or more commonly known as Mrs. Fisher, is a Social Studies teacher at Central Kitsap High School. However, she said she hadn't always planned on being a teacher. 
Born and raised in Washington, Fisher said she was lucky to be in a family that valued education and loved her unconditionally. 
Fisher's mother worked as a teacher and she said she always noticed the amount of effort her mother put into her job. 
Throughout her schooling, Fisher enjoyed numerous amounts of subjects and classes. 
She stated that the subject isn't important but that, "I really believe that a lot of what makes my favorite classes is the teacher."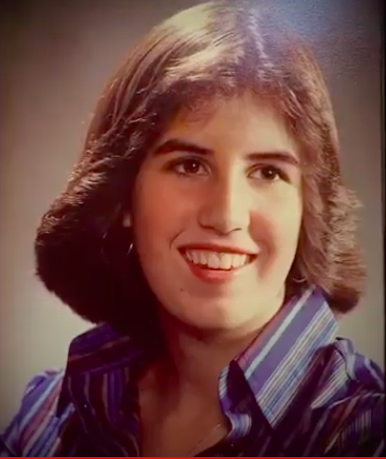 She said that she first went to college at Western Washington University, but then transferred and graduated at University of Washington. 
For a short period of time, her major was Chemistry. However, she quickly changed it to the permanent major of History. 
After graduating from UW, she states that she then went on to study at the prestigious Stanford Law School. 
"I really liked the study of law, I liked how in law school, a successful student was one that would look at both sides, and be able to articulate and argue both sides," Fisher said. "I liked the logical thinking that was required to figure out what the law was."
Nevertheless, when she graduated and began practicing law, Fisher claims she became bothered by the one-sidedness of being a lawyer.
"I learned that the number one ethical duty of a lawyer is to zealously represent their client," she said. "And that meant not that I was necessarily doing things unethically, but instead of looking at both sides fairly, it became so much about just doing only what's best for your client, and I found that very frustrating."
So she began considering a change of career. She said that while working as a lawyer, she did some volunteer work with juvenile delinquents, which she enjoyed, so she began considering becoming a teacher.  
"So I started thinking about what else I might like to do and as a history major, teaching came up," she said. "My mother had been a teacher, and I had always said, 'I don't want to be a teacher, teachers work way too hard' and after watching my mother, I thought, 'why would any idiot do that if you don't get any money and you don't get any recognition?' I also thought that smart girls shouldn't be teachers, because that was a waste. That's what I thought. And then I started really re-evaluating and I thought, you know, I knew some really smart women that were teachers."
"I really liked this combination of content studying, history, and studying government," she said. "I could still do that but I could also work with people. And I really like people. I started doing some volunteer work with juvenile delinquents when I was a lawyer. And I thought I kind of liked juvenile delinquents! You know, I like working with this age group. And so I went back to school at the UW again to get my teaching certificate." 
She began teaching in 1991, first working at Central Kitsap Middle School. She then moved on to Central Kitsap High School a year later. She teaches AP US Government, AP Comparative Government, and AP World History.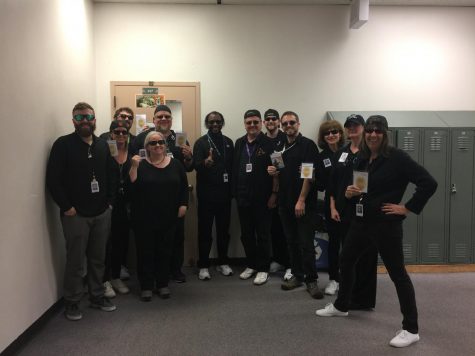 Though she had to trade off money and prestige, Fisher said she has never regretted her decision. 
"I'm very glad I went to law school," she said. "Law school taught me how to reason and read comprehensive material which I can help my students learn and it gave me a great foundation for teaching AP Government."
One of her former students, Molly Fischer, a current college student,  shared a story about Fisher, saying, "When I was in 10th grade, I struggled with reading the textbook and capturing main ideas," she said. "I was taking way longer than I should have been so I talked to Mrs. Fisher about it. She was so understanding, and invited me to come in and review the chapter with her each morning. I think it is because of Mrs. Fisher that I was able to succeed in other textbook-based classes, because she taught me vital skills even outside class. She is busy, but still manages to always find time to help her students."
Fischer also shared a fun moment, noting that she "remembers Mrs. Fisher randomly dancing in class, trying to get us to remember important principles," she said. " I also remember her playing 'You Can Get it if You Really Want' by Jimmy Cliff EVERY SINGLE DAY during the month of May to help us cheer up and prepare mentally for the AP test."
Calvin Fischer, currently in college and another former student, said, "I passed my college American Heritage course because of her Gov class."
Fisher said that she considers her greatest strength to be the fact that her students can tell that she enjoys teaching them and that she is very willing to help them. She also considers her greatest weakness to be that she tries too much. 
Fisher has been awarded for her teaching, receiving the The Pressly Prize for Excellence in Secondary Education which is given to teachers who are recognized for their "outstanding teaching of history at the high school level in the state of Washington."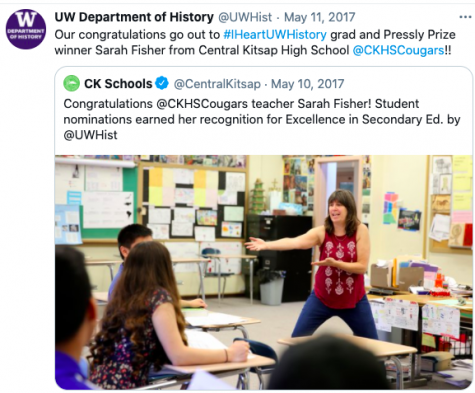 Furthermore, she was awarded the Washington state's 6-12 American Legion Educator of the Year by the American Legion. 
Not only does Fisher teach advanced history classes, but she also advises two clubs. These include the Asian American and Pacific Islander Club and Building Female Leaders Northwest, which she describes as amazing groups. 
Fayth Masteliro, the president of the AAPI Club, said Fisher is a " a very passionate teacher who cares about students and their engagement in school activities and the community."
Masteliro also describes how willing Fisher was to advise their club, stating that it was very memorable and endearing. 
Furthermore Mollie McKee, the co-president of Building Female Leaders Northwest, credited the success of her club to Fisher, said "In our club, we actually provide mentor-ship, understanding that we were  juniors," she said. "And then when we said, well let's get mentors, we only had our tiny little social bubbles, like it's my mom, and maybe like one other person. But with Mrs. Fisher we ended up growing, I think we have around 60 mentors right now…Yeah we have 10 to 15 students who are paired up with a mentor right now."
Outside of the classroom, Fisher has several hobbies. "Oh well I love to hike, that's where I like to spend my time, the most. I like to be outdoors," she said. "So that's hiking, that's sometimes just walking around, you know, the Kitsap Peninsula, I like working in the garden and I love to read." 
She looked at the window, showcasing lush green trees and a light sprinkling of rain. The bookcase behind her was full of thick, hard covers in a multitude of colors. 
She also enjoys traveling. "Oh my gosh, I love to travel," she said. "Last two summers I went to Sri Lanka and Northern India. And that's probably the one that just was in your face, such an amazing different culture and different people, like the Taj Mahal which has so much historical significance. So I really liked that. And I liked the trip I took to Bali the year before so it was cool to go to different cultures, so I like that for that reason. I really like traveling around the United States and going to all our amazing national parks for the reason that I said earlier, but I love the outdoors and traveling in Asia."
 Overall, as put by McKee, "She's like a super genius, but also super nice, so when you combine that, she's extremely good at her job and it shows."