Mrs. Staker and Her Impact on Central Kitsap High School
A glimpse into Mrs. Staker's involvement within CKHS, both in and outside of the classroom.
Overlooking the Central Kitsap High School bus parking lot, lies a room full of lab equipment, and desks, with walls covered with posters displaying several healthcare careers and a skeleton adorned with a rainbow feather boa and blonde wig.
Katie Staker has been a part of the CKHS community for seven years and currently teaches Anatomy & Physiology and Medical Interventions.
"I love … Science, health science particularly, and I like sharing that enthusiasm," Staker said. "And then once I started teaching, I discovered this other part where just working with young adults becoming who they're going to be is hopeful and optimistic. It's really satisfying. "
Ashley Chamburs, a current senior at CKHS, is one of those young adults that Staker has worked with.
"She sets a good atmosphere and learning environment for all of us," Chamburs said. "She's very passionate about the classes. She's a really good teacher."
Outside of teaching science, Staker is also the advisor of the Future Health Professionals club (HOSA) which is an international organization that supports students interested in the medical field in developing necessary skills.
Staker enjoys interacting with students outside of the traditional classroom setting, stating "I think [working with students outside of the classroom] is really important. That's where you get to know them and make connections with them and they can tell that they matter to you. It's really fun to see students enjoying their passions."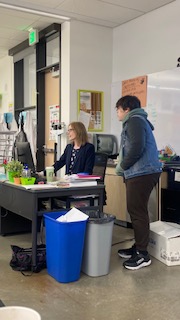 Chamburs, who is currently one of the co-presidents of HOSA, has taken note of the effort that Staker puts into supporting the club members.
"She's really passionate about the club," Chamburs said. "We have our advisory board that we have to do for Career and Technical Education and she's very passionate about that as well. She obviously cares a lot about HOSA since she spends so much time on it. We'll be traveling to Spokane in March for States and so she and her husband will be spending a great deal of time with high school, so she really cares for us and it shows."
Staker is also one of the advisors of CKHS' Link Crew, a program to help incoming freshmen transition smoothly into high school.
Teddie Schmitt, one of the current events coordinators for Link Crew, feels that Staker has made a positive impact on the organization.
"She makes [Link Crew] better," Schmitt said. "She's consistently there. I can always go to her with any questions. She knows where we need to go and what we need to do."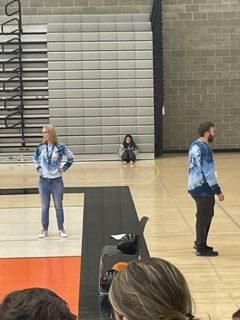 Chamburs and Schmitt both agree that Staker has made a positive impact on CKHS as a whole.
Staker explained this concerted effort, stating, "I really love helping students make things happen for themselves. I like helping them create the school atmosphere that they want and work toward their futures. Just really empowering students to make good things happen for themselves."
"[Staker] is an absolute bundle of joy. She is so sweet. She is so nice. She is so kind," Schmitt said.
Chamburs summarizes Staker's popularity, saying, "I don't think I've ever met anyone who doesn't like her."