Covid-19 School Closure: a Light on Deficiencies, Growths, and Strengths in Schools
As Washington State students and educators struggle to adapt to online learning, administrators notice difficulties resulting from the shift to a distanced-learning model
Students, parents, teachers, and administrators alike faced drastic changes to their jobs and work environments when COVID-19 closed schools.  From technological deficiencies to social and mental health needs, online learning has revealed both opportunities and inadequacies within schools.
Miranda Smallwood, a vice principal at Central Kitsap High School, described the transition from in-person learning to online as an "evolution". The CKHS staff was notified of the closure twenty minutes before they needed to announce it, so the news was a sudden adjustment for both staff and students.
After weeks without mandatory school activities, educators started building an online curriculum for students. This has continued into the 2020-2021 school year, with many changes and challenges; one of the largest and most noted problems among administrators was the need for technology and internet access.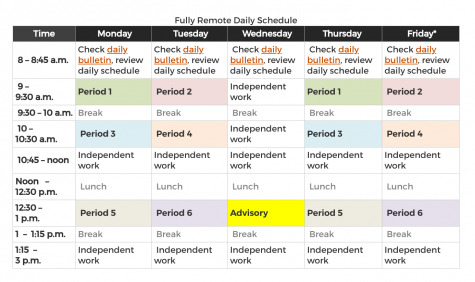 "We've had a technology deficiency for a very long time, and this [online learning model] has shed a big light on that," Washington Superintendent of Public Instruction, Chris Reykdal, said.  
The Office of Superintendent Public Instruction, or OSPI, has been working with the legislature to connect students with technology resources; overall, they have distributed 300,000 devices and connected 60,000 more families. 
Superintendent Reykdal said that "every family [with a child in public school] needs to have adequate access to broadband or connectivity, and the state needs to make that an option if the family can't afford it."
CKHS Principal Craig Johnson highlighted that in the Central Kitsap School District, Barker Creek Community School has a technology resource center for those in need of technology assistance.  
Although having faced technology challenges, Smallwood said, "it's also been a really fun learning experience..trying to hone skills and partner with people virtually…jumping on video meetings together to problem solve–that's…been one of the powerful outcomes of this, is seeing people rally around one another–whether it's staff rallying around each other to support or around a student and a family to support." 
Mental health is another issue that has been drawn into light because of the social isolation and stress of the pandemic; OSPI hopes to increase the number of nurses, counselors, and social workers available to public schools.  The CKHS counseling department has been working to publish resources for students and families as well, including the CKSD Wellness Site. 
"We can't get to higher order and learning and growth, either as adults or students, without having basic needs met," Smallwood said. "We have to meet [those] needs first, and I feel like this pandemic has disrupted that."
Another concern is inequity due to learning at home.
"Some people do have more opportunity just because of their circumstances," Smallwood said. "The challenge is kind of figuring out where everyone's at…then designing the curriculum for the rest of the year to make sure everyone can [reach goals]."  
Teachers and administrators presented with these problems embark on a daily search for ways to solve them; according to Smallwood, even with sudden changes, they still try to plan with what  information they have. 
Johnson hopes now that students can find new opportunities for building community and interaction. 
"It's going to take a while for us to get back to where we were," he said. "The next challenge is finding opportunities for [student interaction]."