Strength for Second Semester
CKHS students reflect on first semester and share aspirations for second semester and beyond.
As students work through the final semester of the 2020-2021 school year at Central Kitsap High School, student response reflected an altered sense of motivation as the COVID-19 pandemic rages on.
The pandemic forced students from a state of actively learning in a routine system – wake up, school, homework, rest – to learning how to learn independently from the same location that rest and relaxation takes place.
In a research report made up of 50 CKHS students – 42% reporting as freshmen, 20% as sophomores, 26% as juniors and 12% as seniors – the first semester began with 22% of subjects reporting that they had high motivation, a five on a scale of one to five, and the first semester ended with only 2% of subjects reporting such motivation.
While the small sample size and majority of freshmen subjects, this being their first year in an advanced schooling setting, the reported decline in motivation is something to take into account; one cannot help but acknowledge the complete diminishment of academic vigor.
Student participants in the study largely reported feeling as the lack of stimulation and in-person communication hindered their academic performance in the past year. Alongside the response of feeling unstimulated, the majority of subjects reported that this year has been a struggle academically.
Despite these struggles, students are remaining optimistic and hopeful for the upcoming and current semesters with 44% of subjects, reporting a motivation level of four on a scale of one to five. Students' goals included getting A's and B's, graduating, and just merely passing.
As CKHS returns to a hybrid-in-person model with students divided into two cohorts divided by alphabetic order of last name and attending on assigned days – last names A-K on Mondays and Tuesdays, L-Z on Thursdays and Fridays – as they wish, the future is hopeful for a return to normality and an uptick in student participation and motivation.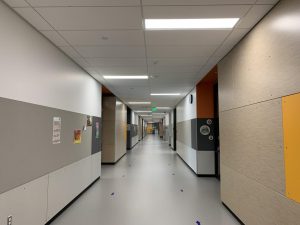 But in the meantime, what can staff do to support students and help achieve their goals for the current semester? Students reported requests for school work to be organized into convenient and locatable sectors of Google Classroom, support for preparing for the future through help with finding and applying to schools and scholarships, and for educators to work together to find unified due dates to help students better organize their work.
But most of all? "I just think grace and understanding [is really important]," reported a CKHS sophomore.
The future is bright. The future is (hopefully) healthy and in-person.