'If you see something, say something'; Schools Nationwide Adapt to Gun Violence on Campus
Districts are quite literally fighting back against school shootings.
Many are fearing that 2021 could potentially be the deadliest year for gun violence in over two decades. 
Gun violence on school grounds in the United States appears to be on the rise. Since 2013, there have been 795 instances of gun violence on school property, amassing a total of 260 deaths and 545 injuries. 
As schools nationally undergo such devastation, they have been simultaneously learning to adapt, the need for protection and prevention becoming higher than ever. Numerous districts are now turning to ALICE — a training program formed in 2000 that is actively growing every day. 
The acronym "ALICE" stands for alert, lock down, inform, counter, and evacuate, incorporating a much more active approach than previous widely-used procedures. As stated on their website, the organization's ultimate goal is to empower individuals to make their own life-saving decisions, rather than reacting with passive, mandated, "one-size-fits-all" procedures. 
Along with many other Washington state districts, Central Kitsap School District has adopted ALICE, and the program is now a few years in use. 

"In the case of an active shooter we would first lock down. The office would come on over the intercom and give us all the information they have on the individual. What they look like, what they see as far as weapons, how many individuals and where they are," said Katie Perrone, teacher at Central Kitsap High School, "Students would be encouraged to fight back, which would mean picking up any objects [and] being ready to throw if someone's coming in the door."
More than 278,000 students have experienced gun violence at school since the Columbine shooting in 1999, taking place at over 298 schools nationally, according to data collected by The Washington Post. 
The possibility of an active shooting is a tolling one, and gun threats are shockingly common in United States public schools. CKHS is no exception to this, experiencing one of it's own earlier this year. 
Text messages threatening to shoot "anyone on sight" circulated on October 23, causing panic to ensue throughout the student body. 
"I felt really scared and I wanted my friends to be safe," said Pavanhy Flores, a student attending CKHS, "I do worry that if there is a gun shooting I might lose one of my friends". 
Thankfully, these threats were addressed by administration within hours. The district turned to the Kitsap County Sheriff's Office, and upon further investigation, the Sheriff's Office discovered that the messages were from a previous incident taking place in another state. "To me it just emphasized how close we are. How easy it could be — we caught that sign, but it could've happened." said Kate Lane, a teacher at CKHS. 
The Sandy Hook Promise is a nonprofit organization founded by several family members who have lost loved ones to the Sandy Hook Elementary School Shooting on Dec. 14, 2012. 
The organization's goal is to educate youth grades four and up to know the signs of someone who might hurt themselves or others in a school setting, and most importantly, know how to speak up before a situation can escalate. 
The Sandy Hook Promise has found that in four out of five school shootings, at least one other person had knowledge of the attacker's plan but failed to report it. In addition to this, nearly all mass attackers in 2018 made "threatening or concerning communications" and more than 75% evoked concern from others prior to the attack. 
Like the Sandy Hook Promise, other programs and organizations across the country are set on establishing that active shooters almost always present warning signs. Many schools, Central Kitsap High School included, are incorporating a "see something, say something" approach.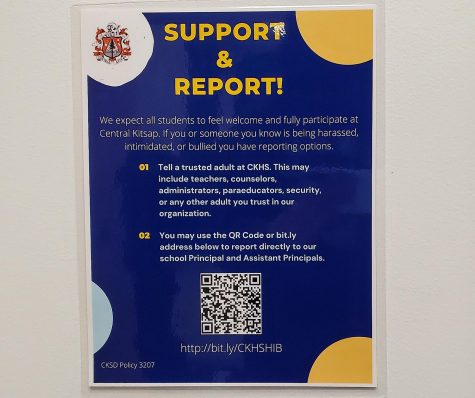 "The most important factor, I think, honestly comes down to the culture of the building." said Alex Chertok, CKHS' vice principal, "[In] almost every case the person who commits one of those shootings has told people, and I think having a culture where people who are suffering and struggling are identified and lifted up, and also a culture that doesn't tolerate threats to its safety and a place where kids who hear something say something to an adult that they trust, I think that is, at the end of the day, the most important factor in preventing these kinds of shootings."