Review of Legendary Doughnuts
Get an idea of what you could expect at Tacoma's Legendary Doughnuts.
Legendary Doughnuts serve handmade doughnuts, and have seven locations, all here in Washington. The locations include Tacoma, Covington, Auburn, Puyallup, Federal Way, Orting, and Issaquah. 
All but Orting and Issaquah are open from 5am – 6pm Sunday through Thursday and 5am-7pm Friday and Saturday, Orting and Issaquah are both open on Sundays from 7am – 6pm, Monday to Thursday from 5am – 6pm, and Friday and Saturday from 5am – 7pm. However, if the store sells out they will close early. 

I went to the shop that is just ten minutes past the Tacoma Narrows Bridge.
There is not much outside parking when you arrive, you can get two hour, on the side of the road parking, or you can do what I did  and park between the Soma Tacoma and Crystal Spiritual Counseling buildings because there was a parking lot. 
Legendary has a large amount of different flavors of doughnuts available. The four I got were Tiger Tail, a raised cinnamon twist, Maple Bar, self explanatory, Oprah Bar, Maple bar sprinkled with bacon bits, and blueberry fritter. 
First I will start with my least favorite, the blueberry fritter. The fritter was very good and tasted just like blueberry, not the kind of fake blueberry you get in muffins from Costco, and it had a sort of creamy texture.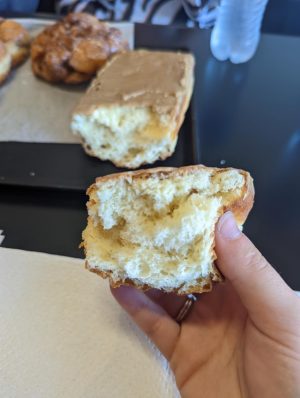 The tiger tail was also very good, it kind of tasted like cinnamon toast crunch, but soft and with the texture of a large pretzel.
Next was my favorite, the Maple Bar. I have always been a sucker for maple bars, but usually they are super sweet and leave the back and roof of your mouth tingling. This maple bar was the exception, it absolutely was not overly sweet, there was not tingling in the back of your mouth, and you still had all the maple flavor.
This leads into my second favorite doughnut I had, the Oprah bar. This was also really good, as it is a maple bar, but the bacon made it more savory in a sense. The mix of the subtly sweet maple mixed well with the bacon, it kind of reminded me of when you put bacon in maple syrup. 
Overall, I think that Legendary Doughnuts was worth the drive, and I will be going back to try more flavors that are not the conventional ones.