Senior Boys Commemorated on CKHS Wrestling Team
Junior Varsity and Varsity Boys Wrestling celebrated the departure of their senior players.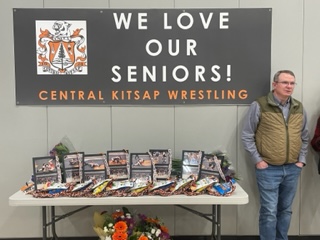 Despite the loss the Central Kitsap High School wrestling team suffered on 1/19 to their competitors from Yelm High School, their senior athletes shone through their senior night on the same evening.
The auxiliary gym was crowded, the bleachers full of supportive parents, siblings, and friends, and the walls were decorated with posters celebrating the senior wrestlers, with cheers echoing throughout the building every time the winning player had their hand raised by the referee.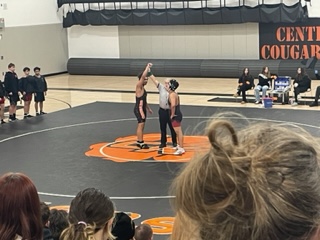 During intermission, every senior wrestler was introduced along with their parents and was presented with a lei and picture frame as their achievements in wrestling and future goals were announced to the crowd.
Tyler Reynolds, a senior at CKHS, was escorted by his parents, who each wore a neon orange shirt with either the letter T or Y, as an ode to his nickname, Ty.
Though this was Reynolds' first and last wrestling season, he thoroughly enjoyed it.
"I've been doing jujitsu for a while and wrestling is like jujitsu but five days a week and free," he explained.
Despite the fact that Reynolds was nervous when he first joined, he quickly found the team dynamic extremely friendly.
"I was kind of scared to join and it surprised me. Everyone is actually really welcoming on the team," he said.
Though Reynolds' time on the team was short, he will miss the bonds that he made.
"[I'll miss] probably just playing around on the mat with my friends,  joking around. It's a fun sport," he said.
For anyone thinking about joining wrestling, Reynolds recommends "just giving it a try. It is a fun sport and I think a lot of people [who are hesitant] try it and like it a lot."