CK Becoming Known As A Soccer School With Its Quest For Season Success
CK varsity team is striving tor state glory this season.
Over the last couple of years, Central Kitsap Boy Soccer has been well-respected in the South Sound Conference and overall 3A competition. Last year the boy's soccer team went 14-5 and finished as the 16th ranked team for the state of Washington in 3A.
This year's team is looking to pursue a deeper run into the state tournament farther than they achieved last season.
"We have a really good program right here, so I was excited to see what we could do," senior soccer captain Aiden Brown said."We got to state last year and we're looking to go farther."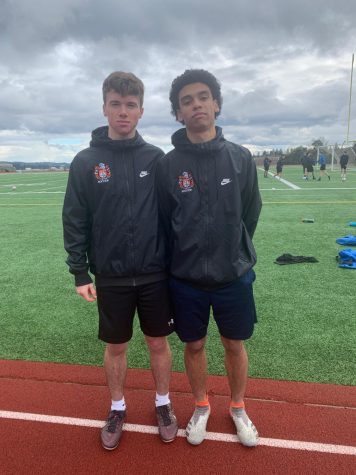 The team is not only looking to reach the state tournament again this year, but to become known to other teams in the area as a school that prides itself in soccer.
"I feel like what we're trying to do here is turn this program into making deep runs in state and going to playoffs, and I feel like we're evolving into a soccer school," Junior Soccer Captain Porter Herbig said.
Porter Herbig has reached the honor of being a soccer captain for his varsity team and surely made an impact on his team's success in his first year on varsity last season.
Herbig was proudest of "making varsity last year my sophomore year in starting and also winning our team defensive player last year" in his soccer career.
Senior captain for CK varsity soccer Aiden Brown is hoping to keep the season going as long as possible as he is nearing the end of his high school soccer career playing for CK.
"It's exciting, we're really close," he said. "Everybody was playing club together or like we used to play club together. So it's like a family so when I graduate it will be a little sad when the season ends but it's exciting to see where we can go so hopefully, like maybe as long as it lasts as long as possible."
Many seniors are saddened to know their time playing for their high school is narrowing to a close, but it also leads to new underclassmen like sophomore Joshua Voce to come into the varsity squad and create their mark on the team.
"It's good, it's higher paced training," Voce said. "I like it a lot more [than JV]."
One of their biggest goals for this season is to change the perception of soccer in CK and to make soccer a big deal like other sports like football and basketball when the season comes around in the spring.
"We have this underlying statement within the program that we want to make CK a soccer school, and by that we mean we want it to be a consistent strong program that is recognized around when soccer season comes around," Head Coach Patrick Leonard said. "People know that CK soccer is going to be there competing at a competitive level. Last year, we're 16th in this state and I would say a lot of our strong players are still here this year – the guys have come in with a really good mindset. I think the goal is to again show we can compete at that level and see where it goes."
CK hosted a Soccer Jamboree on March 9th with Olympic, Klahowya, and Bremerton high schools, which featured a 20 minute play period of one team playing a team for 20 minutes and then another team for 20 minutes. Some players on the team were surprised at the level of support from people showing up to the jamboree.
"I would just say we're trying to get our attendance up," Brown said. "We have a good shot from the jamboree. I was actually surprised people pulled up to our jamboree…just get people to come to some soccer games and see what people are made of and make this a soccer school and make people notice us," Brown said.
One of the best players in boys' varsity soccer Jake Mackenzie scored over 30 goals last season, breaking conference records, and his teammates want to make sure this record stays intact.
"One of our players, Jake MacKenzie, is the record holder for most goals in the entire conference in a single season, I think was about 35 or something… [it's] not our biggest focus, but if we can help him get that goal and make it even harder for future athletes to try to compete with him, that's always gonna be something to look forward to," Brown said.
Porter Herbig goal on the varsity team this season is to not just win games but to be a better teammate and honorable captain for his teammates.
"I feel like myself personally, since I'm a captain, making sure I'm being very uplifting towards my teammates, especially these new guys coming to the program so that for the next few years, they can kind of continue that," Herbig said. "And then in terms of goals, I feel we just take it game by game and just focus on not the long picture but just day by day and game by game."
The season is still only beginning for the boys' soccer team when it comes to their team chemistry and playing their best as a team, but they still think they have an advantage above other teams when it comes to their team chemistry together.
"But also compared to other teams, other teams are still trying to figure out where to put players and I feel on day one, we already had those kinds of set-like positions for everybody," Herbig said. "And so we're just working on playing together and building up and communicating stuff like that. So I feel like we have an advantage over other teams already."
Leonard's intent is to lead his team to win every league game due to CK almost being league champions the previous year.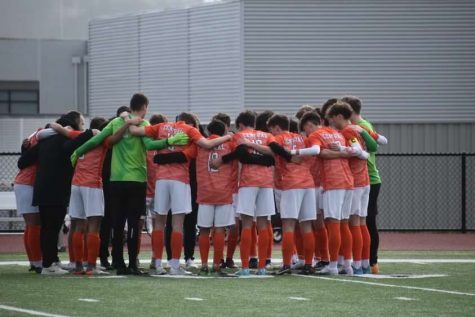 "For me I want to win every league game because my goal this season with this group, we fell just one game short of the league title last year," Leonard said. "I think we have the potential to go push for a league title. So if that's the case, and we want to win a league title, we have to come in every game trying to win it."
Every game of the season will be important for CK to meet their dreams of a league title but some feel way more interest playing specific teams this season like Peninsula due to the outcome of last season.
"Last season it was actually our final or one of our final home games when we played Peninsula and it was for the league title and they beat us, so we're looking to get revenge this upcoming Thursday we play them yeah," Herbig said.
Another anticipated game for CK boy's soccer this season is the matchup against Gig Harbor since they split one win apiece facing each other last season.
"Gig Harbor is like the most anticipated game but you know, there's some other teams that I think are cool to play," Brown said. "I think North Thurston got another good player from Seattle Sounders Academy, so put our skills against him and see if we can get another win as in this year."
CK boys' soccer will have to play on the road for their next four games against Peninsula, North Thurston, Gig Harbor, and River Ridge before they are on their home field against Timberline on March 30th.