Dungeons and Dragons
An overview of CK's Dungeons and Dragons club
Hang on for a minute...we're trying to find some more stories you might like.
Dungeons and Dragons Club is a new club which meets Thursdays after school in room 315. There are about 30 people in the club, which makes it the largest non-academic club in the school, and it's growing even larger.
The rules are complicated, but the basic set up is as follows:
One person, the Dungeon Master (DM), writes out a storyline.

The players create characters following the procedures outlined in the

Dungeons and Dragons Guidebook

.

The players then take part in the DM's story, overcoming any obstacles in their way as the characters they've created.

Have fun.
Anyone, at any skill level, can play the game.
"The people in D&D club are pretty decent people, always willing to help each other in a pinch," said Jason Clendennen, the club's founder. The club is an enjoyable experience, despite the less than flattering conception people appear to have.
For those who know what D&D is, it's not something they'd think of as fun. The common stereotype is a group of pale shut-ins, squabbling over dice in their mother's basement.
"I play to get together with friends," said one student who did not want to be named. They are new to the school and are interested in the club.
D&D is an opportunity for people to socialize and make new friends. The club is no different. With so many members, people often make new friends.
Nothing brings people together like murder and mayhem after all. It is also a chance to exercise reference skills, since players often have to dig through their guidebooks to understand how much damage they can do with a certain attack. D&D is the game for everyone.

About the Contributor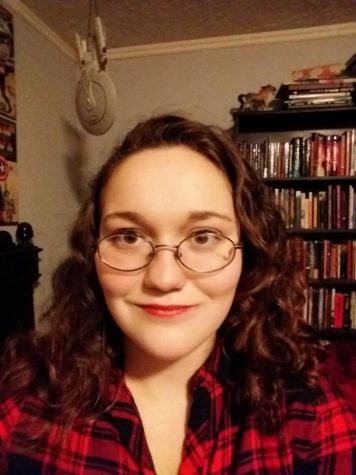 Victoria Steffee, Editor
Victoria Steffee originally started taking the Journalism class to receive CTE credit when the class still counted for it. She grew to enjoy the class...