Tis The Season to be Jolly
Students at CKHS remark on their holiday traditions.
The holiday season here at Central Kitsap High School has begun, and the students have been sure to experience some holiday joy from Thanksgiving and a quickly arriving Christmas.
The holiday season comes with multiple breaks from the school year and time to spend with family. Students have already had their Thanksgiving break, where many saw visiting siblings and spent time with family.
"My family and I, we went to my dad's friend's house and we spent [Thanksgiving] with them," sophomore Abril Gutierrez said.
A fun time with her family and friends is something Gutierrez looks forward to during Thanksgiving holidays, and the breaks provide a time for this, as well as a pause from school work.
"We really like to hang out as a family, watch TV, and eat good food," said junior Haylee Tamayoshi.
Taking the day to sleep in and cook was a great way for the Tamayoshi family to spend their Thanksgiving together and always provides a peaceful time for families during the stressful school year.
"My dad cut the turkey, my brother [always] gets a leg, and my mom made the mac and cheese… [It] was fun," said junior DeShawn Ralston, when he talked about his family's Thanksgiving traditions.
The holiday season provides the opportunity for rest from scholastic endeavors and time with family. Many of the students at CKHS have Thanksgiving traditions spent with loved ones, and frequently look forward to this time of year.
With Thanksgiving over, Christmas is just around the corner and the holiday season is something many students look forward to. Like many others, Ralston has some fun holiday traditions to celebrate.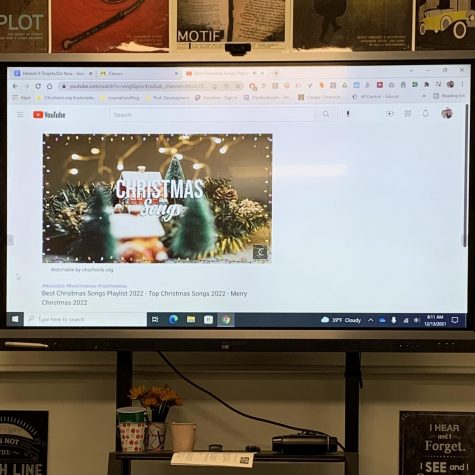 "I always hang the lights on the [house] railing… and I love decorating the outside of the house, like with candy canes," said Ralston.
By the start of December, and even before, many have decorated for the holidays and it is always a fun time to spend with family, as Tamayoshi says. These types of decorations are a fun thing to visit too, Ralston said when he mentioned his tradition of going to the zoo's Christmas lighting he enjoys going to every year with family and friends.
"For Christmas break I fly back to Hawaii to see my mom and family… we always eat and go to the beach and just have fun together," said Tamayoshi.
Traditions often include lots of family time, which Tamayoshi expressed in her excitement to fly home to spend Christmas with them.
"Me and my sister we each take turns opening presents on the 24th," said Gutierrez, another family tradition she looks forward to every year.
These holiday seasons provide time for students and adults alike to take breaks from daily stresses and the opportunity to enjoy quality time to celebrate.
CKHS too has managed to add a fun twist to the school's holiday season, with commons' decorations and events, like the Winter Toast Off, held Dec. 9 after school. With the holiday spirit booming, these students will head to a Christmas break after a fun Thanksgiving.
Happy Holidays!