CKHS Students Hold Walkout
Central Kitsap High School students hold a walkout to call attention to racism experienced by Black students and lack of action against it.
Around 1 p.m. on February 13 2022 an announcement of a "CKHS [Central Kitsap High School] Walkout" circulated Central Kitsap's social media accounts. 
"CKHS continues to allow staff and students to participate in microaggressions, and blatant racism towards black students. The lack of representation, and education for black history, and black history month is simply not okay," the post detailed. "SHOW YOUR SUPPORT for black students at CK by walking out of your 2nd period, and wearing all black in protest of the injustices at CK !!!!"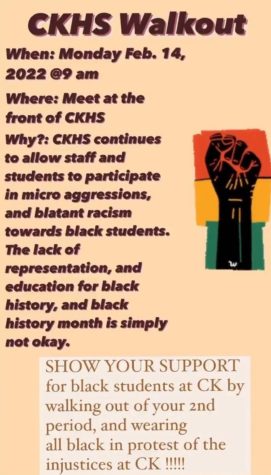 The protest, organized by CKHS seniors Aaliyah Chandler and Kymeal Gaulden alongside CKHS Black Student Union (BSU), occurred today at 9 am as CKHS students gathered at the front of the school. Walkout organizers and contributors stood atop the seating architecture in the courtyard to be seen by the mass of students.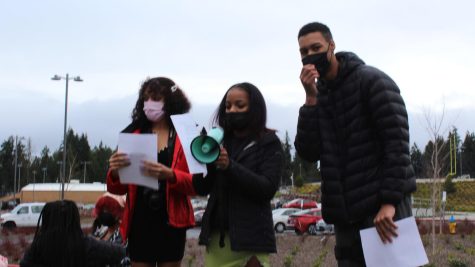 Chandler and Gaulden expressed that there has been a growing frustration with the school from Black students regarding inaction and ignorance of racist issues, and that the administration not sufficiently addressing Black History Month was "the last straw."
"…Black history is American history, and when I say that I'm not talking about slavery," said Chandler. "I'm talking about real Black history and acknowledging real Black leaders. And just a school where Black students feel safe to come to school where they don't have to worry about racist jokes, microaggressions from staff and students, and just anything racist," she emphasized.
"The protest was inspired mostly by Black History Month because it was having a lack of representation. And so with that, we already knew that other problems were occurring in the school but we just thought it'd be a great time to actually use our voices and try to make change," Gaulden stated.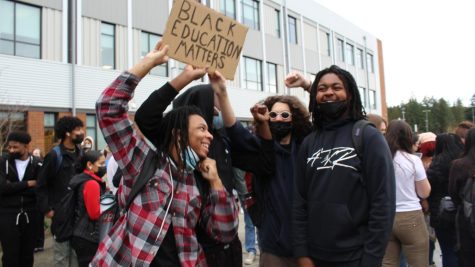 Multiple individuals spoke and shared their thoughts on the injustices at CKHS throughout the walkout, including organizers Chandler and Gaulden.
"The number of microaggressions Black students face and must brush off is outrageous and unacceptable. It is up on CK to provide safe spaces for Black students to report," one speaker vocalized through a megaphone to the attendees.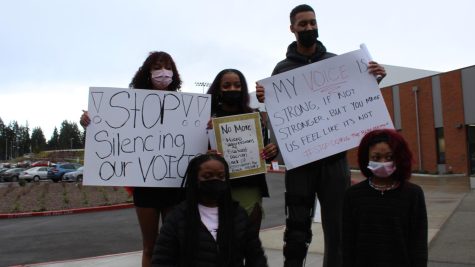 Speaker Zavion Stringer clarified his frustration towards CK schools and lack of action towards antiracism: "Black students are saying the same thing in different words, every year. And yet somehow CK as an institute is still confused on how to change and what to do. The groundwork has been done, the scripts have been made, and the handholding has been held. Black students are fed up, and we are done. If you guys cannot change your climate, we will not be a part of it."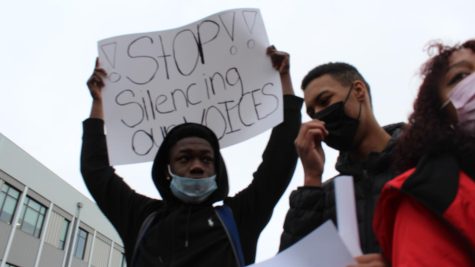 Participants and attendees cheered and applauded their support and agreement for the speeches and statements throughout the half-hour walkout.
Students and staff members expressed surprise at the protest turnout, especially on the short notice it was announced. 
"Honestly, it was quite a shock at how many people showed up for it and came and supported the reason for it," said KJ Gardner, walkout contributor and CKHS senior.
However, despite the short notice, the walkout was ultimately seen as a success, according to organizers and attendees. 
"I do feel it was successful because right after [the walkout] I got to talk with two girls on the equity floor, and they're planning on coming to a BSU meeting so we can further make change, and I also got to talk to them a little bit about an incident I had with a teacher and that was solved right away," Chandler said.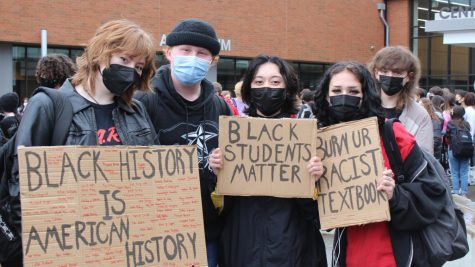 Additionally, CKHS campus security captain Tarence Mosley, who attended the walkout to "support the student body," further explained the success of the walkout: "The students that put it on did a great job. I thought that we had a really diverse group of students they're supporting. I think it was super, super, super successful."
As students returned to their second period classes, chants of "Black students matter" could be heard through the entrance and hallways of the school.
Chandler, Gaulden and the BSU will look to plan another walkout or protest if the culture of CKHS does not change: "But this time we won't be coming back into the school. We will stay out there until they have that conversation with us and they decide they're going to change."