Emma Lundblad: The Artist, The Creator
Emma Lundblad creates art and shares it with her community and beyond.
Overlapping voices, the ringing of laughter, sweet smells of soaps and snacks fill the air. That atmosphere is just a regular Sunday from May to October for junior Emma Lundblad. Starting bright and early at 8:30 AM Emma Lundblad sets up shiny bracelets and sparkling necklaces, along with crochet projects at a booth at a Kingston farmers market. 
"Right now I just do the Kingston market," said Lundblad. "It goes from May to October and I do probably two to four all throughout the summer."
Lundblad is no stranger to creating art, it is something she has been passionate about her entire life.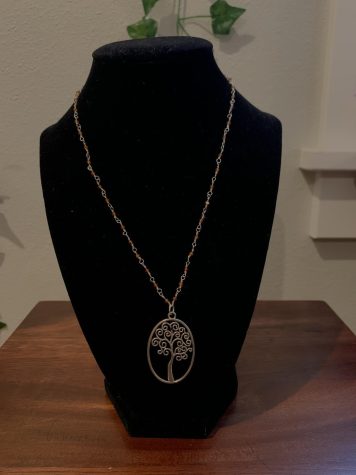 "I've always done art since I was little, even in elementary school," said Lundblad. "I've always either been painting or drawing in elementary school like we always did little sewing projects or we did finger knitting and like so I've always grown up doing that sort of thing."
Being able to go out to the community and sell her own art she feels very supported by those around her. 
"The market community is just so sweet in Kingston, and people should definitely come out because there's amazing vendors at the Kingston market there," said Lunblad. "People are so talented out there, it's amazing."
Lundblad finds her inspiration for creating her jewelry in the abundant resources of social media. In fact the original source of her discovering the art of creating jewelry was on the social media app TikTok.  
"Recently probably, or not as it was like three years ago, I think just a bunch of TikToks popped up about jewelry making so I was like 'I want to get into it,'" said Lundblad. 
To learn even more about this newfound creative outlet Lundblad also turned to YouTube to hone in on her skills.
"So I just looked things up on YouTube and learned it myself and started doing it," said Lundblad. 
The process of creating the jewelry is very tedious according to Lundblad. 
"So you have to start by bending the wire to make a loop and then wrapping the wire around itself," said Lundblad. "And then you cut the wire, put the bead on and then do another."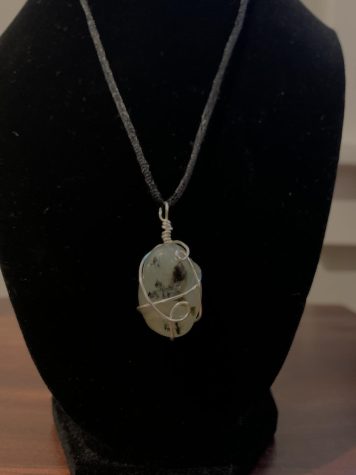 But she enjoys it no matter how long it takes. She takes her time for each piece, and it can take multiple hours per piece. 
"It's so much fun," said Lundblad. "It's just very time consuming like a necklace takes like two and a half three hours probably."
But Lundblad not only sells her jewelry at the Kingston Market but also her crochet projects. 
"Last year I started adding in crochet bags, especially tops like things like that," said Lundblad. 
At the market that she goes to, Lundblad is the only minor that works there. She is surrounded by only adults selling around her, but they make her feel welcome. 
"It definitely makes me feel a little special because I'm only 16 years old doing it," said Lundblad. "It's a lot of fun. And the people there are so sweet and they've been doing it for like decades."
People from around the world have brought and shared Lundblad's art, which to her is an incredible feat. 
"I had this woman come in…she was visiting from Europe, and she brought these bracelets back to her friends," said Lundblad. "As a souvenir to Europe and I was like this is so cool like my art is going to Europe to these people."
Creating and selling her art to people is something that she thoroughly enjoys in her life. 
"I love that my art is getting out there because I love doing it and to make money off of it and to like having that," said Lundblad. "It's just like it's amazing."
Lundblad is surrounded by many people who love and support her and her jewelry making and selling endeavors. 
"My friends come, my friends' family comes, like everyone comes in and just makes me feel so supported and it's great," said Lundblad. "I have so much support. I'm so lucky."
Lundblad's good friend Kate Lawrence, a fellow junior, shows her support for Lundblad's creativity. 
"I think it's really cool that she was able to create her own business off of something that she loves," said Lawrence. 
In addition to her friends, her family also has her back and supports her endlessly. 
"My parents are very supportive, especially my mom, my biggest supporter," said Lundblad. 
Lundblad's mother is a strong force in her life and is with her every day she sells her jewelry.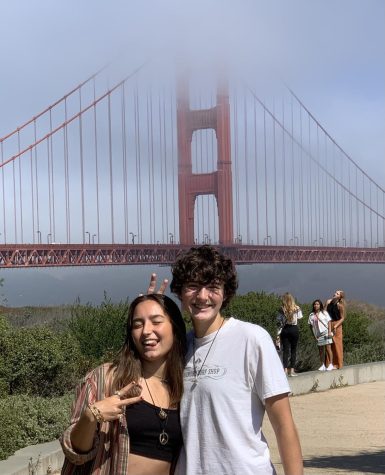 "She helps me set up," said Lundblad. "She's with me all day for like, six hours just hanging out there. And she's just so I'm so lucky to have someone to do that with me and my dad is very supportive as well."
Lundblad is very close with her twin sister Abi Lundblad, Abi supports her through everything according to both of them. 
"We like to hang out as much as we can sit in the car because she can't drive," said Abi Lundblad. "And you can tell we care about each other's interests and like I try to support her with her jewelry making."