The Mental Health of CK's LGBTQIA+ Students
How can staff and students help make CK feel more safe and supportive for the students who are a part of the LGBTQ+ community?
Disclaimer: This article discusses mental health and statistics of suicide rates along with homophobia. If you or someone you know is struggling, reach out to the resources listed below. You are not alone.
Schools impact the mental health of teens more than people may think. When this comes to the mental health of the LGBTQ+ community something as small as being openly supportive can lower the rates of suicide attempts. Seven to nine percent of the world's youth identify with part of the LGBTQ+ community, and 1 in 6 people who are part of generation Z are part of the community.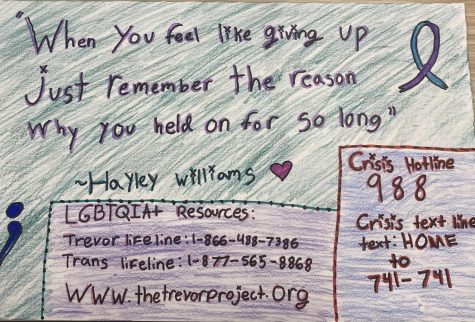 According to Elizabeth Martin, one of the school counselors at CKHS, many people have come into her office no matter their identity. When it comes to LGBTQ+ students many don't just deal with the stress of school but issues some might not notice as well.
 "LGBTQIA2S+ students often deal with additional stressors from maybe not being out with their family members so needing to mask parts of themselves or feeling uncomfortable or unaccepted at school or much, much larger issues," Martin said in an email interview.
According to PubMed another additional stressor could be hate crimes directed towards the LGBTQ+ community. These include the Pulse Nightclub shooting in Florida 2016, along with Club Q in Colorado 2022. These show students who are part of the community that our country is still not completely safe.
"These catastrophic events are painful and horrific to all, but specifically to the LGBTQ communities," Martin said. "But it is undoubtedly impactful to the feelings of safety (or lack thereof) that LGBTQ students experience at school and in the community."
Wendy Kassler is an English teacher at CKHS and the advisor for the Gender Sexuality Awareness club (GSA). She keeps pride flags in her room along with letting students know she is open and accepting. With 20 years of teaching under her belt Kassler said she has had a large number of students who identify with many different identities. Kassler has had students confide in her about many emotional issues and has observed many students during emotional stages in their lives.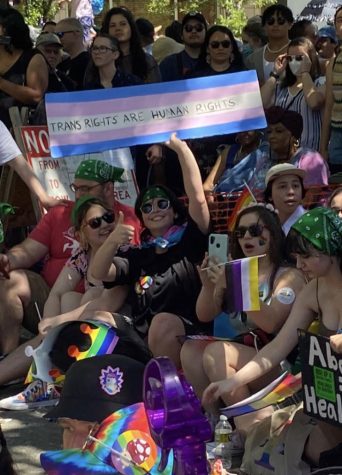 "I think queer students represent a disproportional amount of students who have emotional struggles," Kassler said in an email interview.
When it comes to CKHS many things have helped students, one of these things being the Gender and Sexuality Awareness club. This club has helped with walkouts, district wide get togethers, and overall trying to help make CKHS a safer place for the community.
"I think giving the Gender Sexuality Awareness club visibility at ASB club festivals has really helped," Kassler said. "At these times loads of queer students and allies have gathered to show support in a very public way.  It felt really powerful."
Students that are part of the LGBTQ+ community at CKHS deal with a lot more than just bullies and unaccepting parents. According to a survey that was conducted by the Cougar Chronicle between January 11th and January 16th, of 51 respondents at CKHS who identified with part of the community, 38.8% of students of the community believe that CKHS provides a safe space for students but 14.3% say otherwise. 
Students don't just feel unsupported for being part of the LGBTQ+ community, some also have mental health disorders. Cypher Washburn is a freshman at CKHS, and identifies as agender. 
"I was diagnosed with autism and attention deficit hyperactivity disorder (ADHD) at 12, anxiety and depression at 13, and childhood post traumatic stress disorder (CPTSD) when I was 14," Washburn said in an email interview.
According to the survey, 67% of LGBTQ+ students deal with mental illness. This can be caused by many things, one of them being bullying. Bullying can cause or impact one's mental health regardless of being part of the LGBTQ+ community or not. Bullying affects 20% of teens overall, while affecting 73% of LGBTQ+ youth.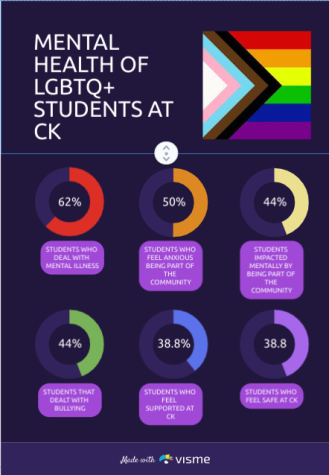 Bo O'Shaugnessy is a sophomore at CKHS and identifies as transgender.
"I don't think being in the community itself has impacted my mental health but I think the way people outside the community act has," O'Shaughnessy said in a text interview.
Being a part of the LGBTQ+ community impacts mental health in many ways and including but not limited to discrimination, bullying, and harassment. Coming out puts teens at risk of being kicked out or harmed in home, while staying hidden can make people feel as if they are wrong for being themselves.
"Being a part of the community has impacted my health, both in good and bad ways. I have found my people, but I have also faced discrimination and bullying," Washburn said.  
Friends that are a part of the LGBTQ+ or are allies can help with making mental health issues a little better or easier. According to the Trevor Project those who are accepted by family and friends have significantly lower rates of suicide.
"One of the greatest things has been the friendships I've made. So many of my close friends are made this way," Washburn said. 
An estimated 20 million people in the US identify with being LGBTQ+, this is over 8% of the population. With the struggles that are faced by these individuals the average life expectancy is only 38 years old. From hate crimes to even their own mental health, the dangers of being openly LGBTQ+ harm the younger community. Through student and staff points of view CKHS is a caring space for the community. 
If you or someone you know is struggling with with thoughts of suicide or self harm there is resources that can help. You are never alone. Your life matters.
TrevorLifeline:
1-866-488-7386

TrevorChat:
Confidential online instant messaging with a Trevor counselor, available 24/7.
TrevorText:
Text START to 678-678
Trans Lifeline:
1-877-565-8860 
National Suicide Prevention Lifeline:
988
Crisis Text Line:
Text TALK to 741-741