Haley Robinson: Cheering Her Way Through High School
Senior Haley Robinson finishes her last high school cheer season at Central Kitsap High School.
Haley Robinson may be found singing and acting in the music hall or mingling in the halls with many students, but she has consistently been seen cheering her heart out at basketball games, football games, and competitions. 
In 7th grade, Robinson began her cheerleading journey at Ridgetop Middle School and has now just finished her senior year on the varsity cheer team at Central Kitsap High School as a flyer. 
Robinson joined the varsity cheer team her freshman year and noted one of her favorite memories was making the team. 
"Getting on the cheer team was a big accomplishment and the cheer program and coaches are amazing," said  Robinson. 
Making the varsity team every year of high school is not an easy task. Much skill and time goes into this sort of accomplishment.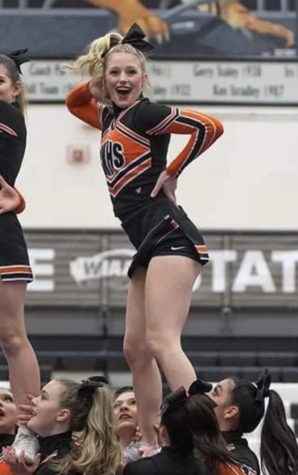 Robinson explains that she spends about 2 hours a day or 10 hours a week cheering each week to perfect the necessary skills.
Khazzi Villanueva, a teammate of Robinson on the cheer team, speaks of Robinson's facial expressions as being her greatest strength on the mat. 
"Haley has really good facials and positive energy. She is a little ball of sunshine in the room," says Villanueva. 
Villanueva included that her favorite memory with Robinson was being on facetime together after their state competition junior year and finding out that they placed 3rd. 
"It was a really memorable moment because we had been cheering together for 5 years and all the hard work had paid off," said Villanueva. 
Another one of Robinson's cheer teammates, Eleeyse Greenlaw believed Robinson's greatest skill in cheer was not only her facials but also her crowd engagement and the way she can get a group hyped up. 
"I love how she is so caring, considerate, very encouraging, and always lightens the mood," Greenlaw added when describing Robinson
The CKHS varsity cheer team has not only granted Robinson many new skills, but also taught her valuable lessons and allowed for growth. 
"It has helped me become a leader and really find that ownership," said Robinson, "it has helped me in leading a team, helping a team, and being kind to others." 
Robinson has been able to leave her mark at Central Kitsap High School by making it to the cheer state competition and placing 6th in the state at Battleground High School.
"I think it was probably our best time we'd ever performed," said Robinson
Villanueva and Greenlaw both agreed that the state competition performance on Feb. 3rd was one of their best performances and truly gave it their all. 
Robinson noted that they were practicing everyday after school to prepare for it and were really focused on their grind. 
As Robinson soon faces graduation in June, she reflects on what her future may look like. 
"I hope to stay and work in Washington for a little and then move to California and follow my acting career," claimed Robinson. 
Robinson's time on the Central Kitsap High School Varsity cheerleading team not only allowed her to become a leader and make her mark on the team but also gave her new skills and made herself proud.