Confessions Of A Starbucks Barista
The reality of working in Starbucks as a teen isn't as glamorous as many envision
Starbucks, the world's largest international coffee company, has established its role in thousands of customers' lives as not only the go-to caffeination station but a secondary workplace or gathering spot. 
A break in between school or work and home with popular drinks and treats, including seasonal options that drive customers towards the checkout counter or drive-through window, teenagers and adults alike find themselves habitually visiting Starbucks. 
Especially with locational convenience – Kitsap County is home to no less than 13 different Starbucks locations, with two in Silverdale; one on Bucklin Hill and the other along Silverdale Way – drivers can pull into any nearby drive-through while teens who just got out of school for the day can walk inside.
Its impact and omnipresence in nearly every suburban or urban American life has contributed to its appeal for teens on their first job search (Starbucks is also known for its comparatively high pay, good benefits, and ability to climb the corporate ladder [though several Starbucks stores around the country are just recently unionizing]). The alluring accessibility of Starbucks often leads to the belief that a Starbucks job will be just as glamorous.
However, its massive success contributes to a busy, fast-paced, demanding, and often stressful environment behind the counter – an environment that teens are not necessarily used to in employment.
So, what is working at Starbucks as a high school student actually like, and is it a good first job experience for teens?
Like many occupations, Starbucks careers begin with a paid training program. 
Central Kitsap High School senior Sarah Lawrence recalls her first two weeks as a Starbucks barista consisted of taking online lessons during work hours that taught the functions of Starbucks machinery, processes of making customer drinks, and how to serve the customers best. Her first weeks and months on the job were in the middle of summer, which meant it was "super busy, and there were lots of Frappuccinos and lots of refreshers."
Central Kitsap High School senior Reed Sanders explained that "the online training prepares you and tells you what to do and how to make drinks, but it doesn't tell you how to deal with getting things done in time and the customers."
To Lawrence, the first couple months were the most difficult yet most important in her Starbucks career, because "it's when you're learning to do everything and memorize everything," from how to operate the machines to the recipes of specialty drinks.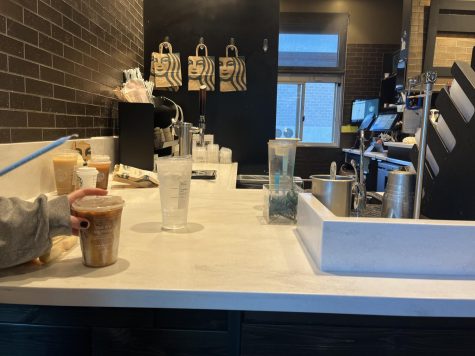 However, all trainees are assigned a trainer to work with; each online lesson focuses on a specific task that the trainer helps the new barista learn in real-time: "it's very structured and very intense, but I liked it," Lawrence said.
This quick learning and adaptability is also due to the fact that there is not a lot of opportunity for actual practice on the machinery or drink-making processes. 
"However many espresso bars each Starbucks has are constantly being used," Sanders said. "Practice equals actual drinks for customers, so there's not a lot of room to mess up."
Sanders has found that with training comes ease, but this "ease" varies between stores and staff. 
"Sometimes we have to work with only four [baristas] on the main floor during our busiest hours," Sanders explained.
Sanders and Lawrence found that the quick pace that is natural to Starbucks' employees' atmosphere allows for rapid learning and adaptation. Once they became familiar with the barista position and its expectations, enjoying their time as Starbucks baristas became much easier and more common.
According to Sanders, overstaffed or adequately-staffed locations have an easier time attaining a more comfortable environment, but understaffed locations experience a work competency increase while work intensity remains the same.
Despite the difficult beginning and challenges that understaffed stores face, both Lawrence and Sanders have consistently found joy and a sense of belonging amongst their coworkers.
"I remember my first day without a trainer, and I was like 'I'm going to die,'" Lawrence recalled. "But everyone at the store is so supportive and understanding because it's obviously such a big learning curve…I was scared to ask questions because it's such a fast-paced environment, but no one ever made me feel like that."
Sanders also appreciates the support that comes with these relationships and connections with his coworkers.
"I have a lot of friends there, and a lot of the time when I'm at work I find myself happy to be there…my coworkers are my favorite part of working at Starbucks."
Lawrence finds the Starbucks barista job rewarding yet draining. Her connections with coworkers and the discipline the job instills prove to be beneficial, but working in food service and handling the customers that come with it is difficult.
"People can be so mean sometimes, and it also can just be a lot because you're always having to interact with someone," said Lawrence. 
Very rude customers are rare and written up in case they come back to the store, but the most common customer is "standoffish or treats baristas in a way that wouldn't be considered nice, just like a robot," Lawrence said.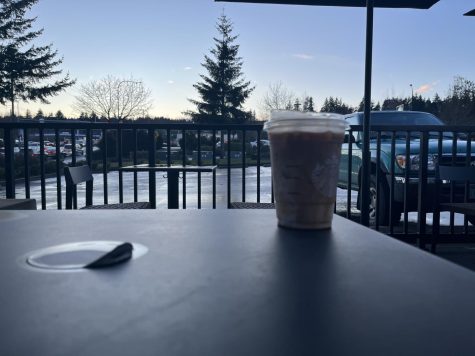 Though discourteous customers are infrequent, constant human interaction or physical movement can prove to exhaust employees.
"My social battery gets drained, and it's also physically draining because you're moving around and doing a lot," Lawrence expressed. "I'm usually scheduled for four hours to four hours and 45 minutes, but I have been scheduled for as many as seven hours."
Both Lawrence and Sanders make $15.45 an hour plus any tips.
"I'm going to say I make around $20 a month from tips," Sanders said.
"I definitely appreciate any tip I get…If we were super slow that day or your barista was rude to you, I totally understand if you don't tip," Lawrence said on non-tipping customers. "But if you enjoyed your coffee and your barista was nice to you, it's not too hard to tip."
Between all of the various aspects of barista-ing at the world's largest coffee company, both Sanders and Lawrence have found it to be a good job, but would not recommend it to first-time teenage job seekers. 
Sanders has found that teens who also go to full-time school struggle to get a sufficient amount of hours to get paid: "It really depends on what else you're doing in your life at that point," he said.
"It would depend on the person, but I think it would be really hard to go into [Starbucks] as your first job, because it can be so intense," Lawrence explained. "I would suggest starting out at a slower-paced job, and that way, you just have the groundwork of how to deal with customers and customer service in general."
However, if teens are looking to switch from their first job to something else, Lawrence finds Starbucks a "great place to work" and Sanders a "good job" for prepared employees. 
"Outgoing people will be best at Starbucks," said Lawrence. "If you're good at multitasking, if you can pick things up quickly, if you're kind, hardworking, and responsible, you'll be fine. You can do it."
"
When I was going into it, I thought it was going to be so glamorous and amazing. I would tell my past self that I do have to clean the bathrooms, do the dishes, and clean the drains too."
— Sarah Lawrence
"Someone with a lot of patience, social skills, and hand-eye coordination" would work best in Starbucks, Sanders advised. "You have to be able to work very fast and be able to communicate with people while you work very fast."
Though Sanders and Lawrence have both found this job difficult and would not recommend it for first-time employment hunters, they have found genuine connections with the people they work with and have instilled valuable traits and habits through their time as a Starbucks barista.
"It will get easier. It's going to seem so scary and a lot of information will be thrown at you, but as you learn, it will get better," Lawrence reassured. "It will seem like second nature in a couple months. Don't worry. It'll get better."