Feature: No Matter The Score or Outcome "The CK Band Always Wins"
CKHS band is in tune with their talents and vibrant school spirit.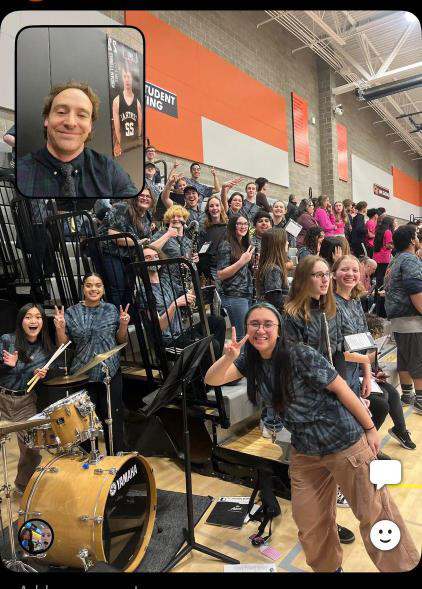 The CKHS band is home to some of the most talented people in the whole school and is sometimes seen as an unappreciated staple of the school. Whenever it's the band playing popular pep band tunes of "Hey Baby" or "Rock Lobster", the WSU fight song at a football game on a Friday night, or showcasing their talents in a concert setting at the performing arts center, the band is always exemplifying the CK Cougar spirit in their own musical way.
The seniors in the band endured a different high school experience from the previous classes due to the COVID-19 pandemic which resulted in less parades, concerts, and band contests than usual – and even potentially future trips to Victoria Canada and Disneyland during their high school years.
"I can just say COVID was the worst," senior Bethani Belle Juarez said. "I feel like a lot of people lost interest in music, which was very much a bummer."
Despite this year's seniors having one of the most unusual four year experiences in high school, the band has been through the ups of playing together at CK sporting events and concerts to the downs of playing instruments through computer screens and not expressing themselves in a musical way together.
"I'm gonna miss the chaos and little moments you get in between the years that you somehow remember even after all this time," senior Kalean Kavanaugh said. "I'm gonna miss the community the most as you really build like a family and leaving that is really going to be hard."
Bethani Belle Juarez has enjoyed being a drum major and leader for the CK band for the band's pep band games and parades. The job of being a band drum major can be very stressful as they are responsible for not only themselves but the entire band and situations that arise with being a drum major. However, she has always wanted to connect with the people in the band and was up for the daunting task.
"It's actually very interesting, you kind of go in with so many people having the assumption you just don't get to play your instrument and you get to tell people what to do," Juarez said. "But it's much more complex because you have to think about the band so much and what they do. You also have to consider so many things if things are gonna go smoothly or rough and figure out how to fix that and help out as much as possible. But I've always loved being a drum major because I always love connecting with band kids. There's such fun people and you meet so many more kids as drum major, and I think it's a really great opportunity to do so."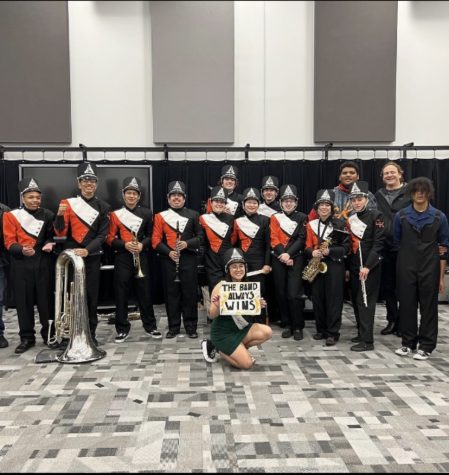 This year, CK once again hosted the band and orchestra Solo and Group Ensemble Contests for schools around the Kitsap Peninsula on Saturday February 25th. The Solo and Ensemble competition features solos or smalls and large groups of middle and high school bands around the Kitsap area.
The level of talent around the Kitsap area is hyper-competitive – especially in particular sections of the band – to earn state honors. While some that competed from CK didn't earn state honors, a lot of groups got first or second place alternative honors.
"The woodwinds are one of the most competitive groups in this region of Washington," sophomore Miki Waggoner said. "Because we have a saxophone instructor in Kitsap and so many saxophone players are going into Solo and Ensemble, there are so many other sax players that we're competing with."
The CK group named "Michael's Quirky Quintet" which features seniors Elijah Padilla and Kai Boydon, junior Robin Gitch, and sophomores Jackson Carver and John Collins won the large brass quintet category and earn state honors to play at the Washington Solo and Ensemble Contest in Ellensburg, Washington in late April.
"When our (brass) quintet found out that we were going to state in the solo and ensemble competition, we all jumped screaming and it was really fun," senior Elijah Padilla said.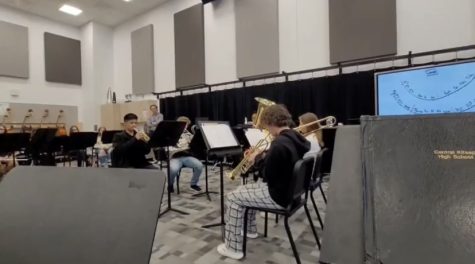 Senior Jasmine Borja also earned state honors again for the second year in a row this time in the Alternate/Bass Clarinet category and first alternate in the separate clarinet category respectively in the solo ensemble competition.
Similar to high school athletes that will stop playing their sports after high school, the same can apply for a some members in the band that stop playing their instruments after high school. While most people after high school most likely do not pursue any sort of music career, they would like to still play their instrument as a hobby.
"I can do marching band in college," junior Kymora Getachew said. "I didn't really consider it as one of my main careers. It's just in case, my main career or goals don't work. I still love band, I just feel it would be more of a hobby for me though, rather than an occupation."
Most people in the music program tend to not pursue any music education after high school or continue to play in a band for a college or local community; others are hoping they will either pursue a career in music afterwards or even be a future band teacher like Mr. Woods.
"Ever since eighth grade, I really liked music and the way it expresses emotion," Padilla said. "It just becomes something bigger than a class that you take and becomes a part of your life if you really enjoy it. I like the beauty of it, the complexity, and everything behind it. And I just want to continue that through college. I don't want to just stop playing music and actually take it through college and to a career like becoming a music teacher someday like Mr. Woods."
Michael Woods has been the teacher and director for the CK band, jazz band, and orchestra for almost two decades at CK. There is a strong connection in band between the teacher and students because that teacher has known these students since the first day of high school and will have them in his classes until their last day of high school.
"The band program is unique in that he has us most of the time for all four years," junior Marisa Oishi said. "So he really gets to know us and we really get to know him. So we're comfortable around each other and he says things that are funny."
Over the years, CK band members have had the opportunity to witness Mr. Woods when he's conducting music with the band and when he's making unintentional jokes that eventually stick with the band.
"The absence of sound is better than the presence of bad sound because it's just funny," Padilla said.
CK has recently in the last few years engaged in social media accounts for different sports, clubs, and ASB in CKHS. Senior drum major Bethani Belle Juarez started an Instagram account this year about the band at CK, with the infamous username "@HokeyPokeyckband."
"I had seen a lot of CK sports teams have accounts for the sports and I was like the band should have one because the band has some pretty funny photos," Juarez said. "I also tried to use it as a way to communicate to the band if they don't look at their Google Classroom or they aren't informed enough, so then I tried to use it as a platform to inform the band orchestra music program."
This account, unlike other CK affiliated accounts, has a part of the account name that sticks with only the band members at CK with the "Hokey Pokey dance," a dance that a portion of the band members do during the halftime of CK football games.
"Hokey Pokey is a very iconic trend in the CK band from football games where we just do the hokey pokey during the third quarter," Freshman Daniel Watson said.
Saturday, May 20 will be an adventurous day for the CK band as they are participating in two parades in one day starting with the 76th annual Armed Forces Parade early in the morning and then heading to the Rhody Parade in Port Townsend in the afternoon.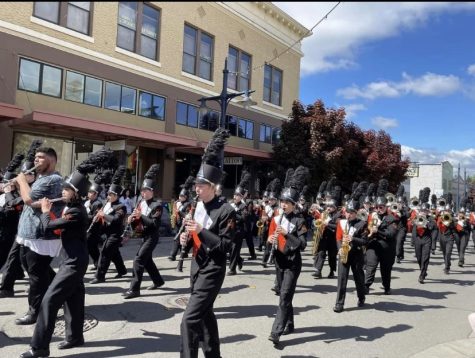 This will be the first time the CK band has done more than one parade in over 4 years, however some members of the band are excited for the task of doing more than one parade.
"My favorite moment would be last year's marching in the Armed Forces Day parade," sophomore John Collins said. "Because we worked a lot to practice and get prepared for it and when we were marching, it was so fun and so amazing. Especially because I was at the end and I could hear people's reactions to us marching and they were good."
The CK band is going to be traveling to Victoria, Canada to participate in the Victoria Day Parade on May 22. This is the first time the CKHS band will be traveling to Canada since before the COVID-19 pandemic in 2019. Many of the band members are ecstatic traveling to Canada in May and are most looking forward to it out of all the events at the end of the year for CK band.
Unfortunately, senior and pianist Michael Ramsdell won't travel with the band for the three parades due to him being a piano player and unable to march. However he is excited to be heavily featured in one of the songs the band will perform at the last band concert of the year in early June.
"I think I'm looking forward to the concert most because I'm not going to be in the parade since I don't march and play piano," senior Michael Ramsdell said. "But I think another reason why I'm looking forward to the band's concert is that I'm excited to be featured in one of the songs."
The band, especially during pep band games, have started the famous notion of "CK band always wins" – a chant from drum major Juarez that has been fully embraced by the CK band after football and basketball games.
No matter if the CK football or basketball teams win or lose, to Juarez, "the CK band always wins."