The Daddy Daughter Dance is Back in Kitsap County
After getting through COVID-19, Young Life is putting together the newest Daddy Daughter Dance, with new improvements made to be more inclusive.
In the past, Central Kitsap School District has hosted an annual Daddy Daughter Dance at the Kitsap Fairgrounds. When COVID-19 hit and disallowed for public events, it was ultimately decided to stop putting the Daddy Daughter Dance on. The community organization Young Life heard a desire from dads and daughters in the community to revive it, and decided to take over. 
The theme this year is "Love You to the Moon and Back," though all color schemes and outfit themes are welcome to be worn. 
Tickets cost $30 per couple, and an additional $10 for every extra person attending.
For an additional five dollars, a package can be purchased that includes a rose to "wow your daughter." Proceeds are donated to help kids attend summer camp.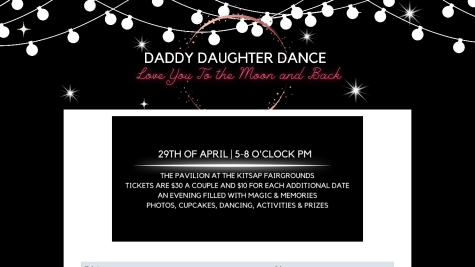 Professional photographers are provided, and a 4×5 photo can be pre-purchased along with the tickets. 
While many of the activities from previous years will still be there, such as the photo booth and desserts, Young Life has added some new activities to the agenda. 
"We do have some additional activities planned, that not everyone knows about," Monroe said. "We're going to be doing bingo up in the mezzanine. And we will also be doing some crafts for the little kids." 
And of course, there will be lots of dancing. 
According to Kitsap Happs, the night will be "an evening filled with magic and memories, photos, cupcakes, dancing, activities and prizes."
Families are welcome to bring as many daughters or kids as they want, as well as other father figures such as grandparents, uncles, cousins, etc. 
YoungLife committee member Janelle Monroe explained that any father figure or daughter figure is invited. "Whoever shows up at the door is welcome," she said. 
The event was originally geared towards younger kids, around elementary school or middle school age. 
"I found out from some dads in the community that they started bringing their kids as young as six months old," Monroe said. "So I took off the age limit."
The Daddy Daughter Dance has been an annual tradition for many years in some families, and they are excited that it's coming back. 
"Then I heard from some fathers that they took their daughter every year up until she graduated," Monroe said. "It's designed for anyone in that age range, newborn all the way up to graduating year."
Jason Mayer has been taking his daughter to the Daddy Daughter Dance since she was a baby. 
"It's super meaningful to me as the dad, it's probably more meaningful to me than it is to her," Mayer said.
Previously, the dance was a Valentine's day celebration. Because of scheduling conflicts at the Kitsap Sun Pavilion venue, Young Life decided to host it on April 22.
"Next year, we plan to put it back into February and keep it February after that," Monroe said. "A lot of people like it that month. We figured April would be okay this year because it's after Easter and before Mother's Day. It shouldn't conflict with other holidays. So hey, if there's little kids and they already have an Easter dress, maybe they can use it." 
"
"I would love to encourage the girls … to understand that this is very meaningful to the dads. It may not be a big deal to them, but it is cherished by the dads."
— Jason Mayer
Many couples like Mayer and his daughter enjoyed coordinating their outfits and often bought corsages for their daughters. 
"We don't match clothes but I always try to match my tie," Mayer said. "She appreciates it now to some degree, but she'll really appreciate it later when she sees the pictures, as flashbacks and memories."
Mayer and his daughter also have a tradition of visiting Red Robin before dancing the night away. 
"She used to call it 'Rob Ribbon'," Mayer said. "Red Robin was our place to go. We used to go with all of her friends the same age as her, and the dads that I knew."  
Haley Schaser is a sophomore at Olympic High School. She has gone with her father to many Daddy Daughter Dances.
"We always go out to dinner and we go to BluBerry before the dance," Schaser said. "We put it in the freezer and eat it after." 
She is returning to the dance this year, with her uncle and his two younger daughters. 
"I am happy that I have those memories," she said. "When I was little I remember liking spending time with my dad."