A New Extracurricular at CKHS: Skate Club
A new club is making its way through Central Kitsap High School, learn about what skate club has to offer and some of the members within.
Skate Club is advised by Blair Taylor and the president of the club is Caden Mosier. They meet every Monday roughly around 2:40-3:15 p.m. in room 3202. For a great place to learn new tricks and find skaters alike, Taylor created this club in the fall of 2022 after starting his teaching career at Central Kitsap High School (CKHS).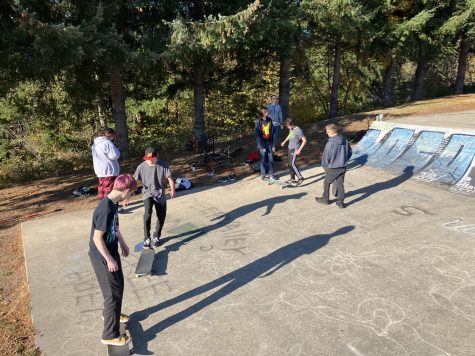 Taylor has been skating since he was a tween. His love for the extreme sport on wheels inspired the creation of a space for those who share a passion for flipping ollies, just like him. Awareness for this club is making its way through CKHS and there are high hopes for its popularity in future meetings. 
Skate club allows for all to join, whether or not you have ever touched a skateboard. You do not necessarily need anything to go, sharing boards and watching the meet is welcome. Taylor teaches individually and eventually other attendees will also help you. 
The skate club meets most Saturday mornings at Silverdale Skatepark on Silverdale Way in Silverdale, Washington. Taylor tries his best to be there as much as possible himself. They use this time to practice new skills and bond with other club members.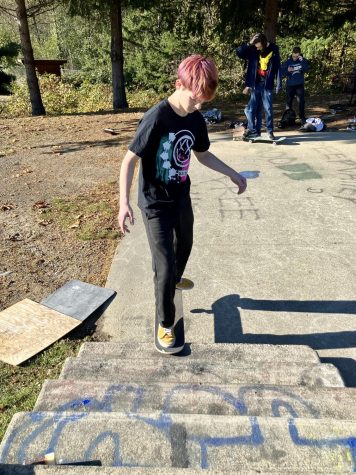 "Usually we meet here after school on Mondays and we talk about skateboarding. We watch some videos. Guys are often out filming, maybe we'll show some clips of people skating. We'll talk about what we're trying to learn. And then the guys meet up at the Silverdale skatepark and skate together," said Taylor. 
Even with a wide variety of skateboarding related activities, the skate club faces an age-old dilemma in the community. 
"We just want to provide a positive supportive atmosphere for skateboarding because, even though it's in the Olympics now, it still sometimes has this stigma because you're skating out in the streets and it doesn't have the same status somehow as other sports. Which is weird because they're some of the most famous athletes in the world, like Tony Hawk," said Taylor.
You can find advertisements for this club from Taylor personally, his email Blair Taylor, the poster outside of room 3202, or check the school website club list for more information regarding the club later on at https://ckhsclubs.