'Why Didn't I Learn This in High School?': Financial Math Class Feature
Central Kitsap High School's financial math class is a student's one stop for personal finance education and literacy.
by Jada Cowley, Reporter, Copy Editor, Business Manager

Transitioning into adult life post-high school can be exceedingly difficult, especially when having to undertake new pressures and responsibilities like preparing for college, moving out, entering the workforce, and independently managing personal finances for the first time.  
According to the U.S. Bureau of Labor Statistics, 61.8% of high school graduates ages 16 to 24 enrolled in colleges or universities in 2021. Data also shows that 20 years after entering post-secondary education, half of student borrowers still owe $20,000 each on outstanding loan balances.
Students are stepping out of high school and into debt. Almost every area of industry that the majority of young adults will nearly immediately encounter, like the car and housing market, are reaching an all-time high. With this all in mind, it's more important than ever for high school students to feel adequately prepared to make these kinds of decisions as they are faced with them. 
At Central Kitsap High School, math and personal finance teacher Lance Coyer is here to help students do just that. Coyer has been teaching financial math for approximately nine years – a course that he claims answers the question that every math student has found themselves asking at some point, "When are we ever going to use this?" 
"The class covers everything from budgeting; figuring out your monthly budget, to looking at what's your monthly payment on a student loan, to what are the terms on a loan, and we're getting into filling in check registers, balancing checks and balancing your accounts, filling in spreadsheets, writing spreadsheet formulas, and we've currently just finished a section on employment," said Coyer. 
While the class puts more of an emphasis on teaching financial skills that can be utilized after graduation, many of the lessons can be useful in a student's current everyday life as well. Students often start their first jobs in high school, and can learn how to calculate pay, benefits, and file tax forms through financial math.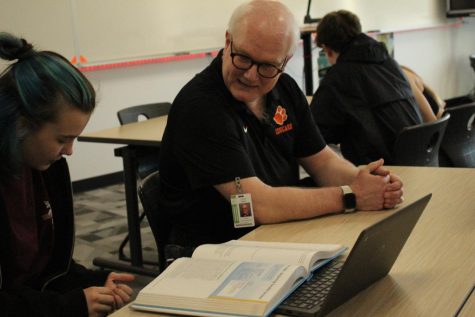 Kai Boydon, senior at CKHS, has enjoyed the practicality and applicability of the course. "We did down payments. I found that pretty practical, I was thinking of actually buying a new trumpet, and then I was considering the plan where you pay monthly," said Boydon.
"And I was looking at like, what's this down payment? How much do I have to pay per month? How much and how long am I going to be paying for this?"
In addition to lectures, students work on a variety of projects throughout the course. Last year, the class worked on a project all about housing. Coyer gave each student a hypothetical six months income worth of savings and instructed them to furnish a house. More recently, they worked on a project about buying a car; students researched different types of cars, maintenance costs, and mileage.
"I'm definitely going to see driving differently," said Vassilisa Joslyn, junior at CKHS. "We had the big lesson on driving cars, and he taught us how to calculate reaction distance and how far our car travels with your reaction to realizing you need to press on the brake, and then how fast the car will stop after the break. I feel like I'm definitely going to think of that every time I'm driving now." 
Though the class was originally an elective, Coyer successfully pushed for the course to also be accepted and advertised as a third math credit. Around eight years ago, Coyer began adding material to the course and found a new textbook that qualified the class to count as a math credit under the state's CTE requirements. Financial math is a year-long course that counts for a total of 1.6 credits, and can grant college credit and a CTE credit in Business and Marketing. 
So far, Boydon feels that financial math has aided him in thinking deeper about purchasing habits and his future. "Just making good decisions with your money like knowing when to buy this, or don't buy this – all that stuff, and really just thinking about the future. If I want to get this thing, do I have enough money to sustain myself and pay for said item?"
"Finance, I feel like, is one of the essential life skills that everyone needs to know. If you can be financially stable and free, I'm sure your life will be a lot easier," said Boydon. 
Joslyn states that she would definitely recommend the class to other students at Central Kitsap High School.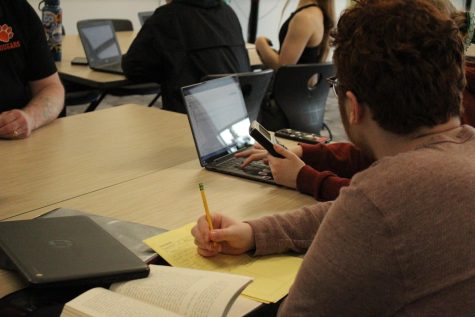 "I know a lot of people are complaining about how school doesn't teach you how to handle financial situations when you graduate, and I understand the school doesn't require this class, but I feel like this does a wonderful job of doing that. I know people take economics to do that, and I took economics last semester and it was an interesting class. I just feel like it doesn't prepare you for the future as much as this class does."