CK Athletes Celebrate Signing Day
Friends and family gather around to celebrate the athletes finalizing their letter of Intent to their new homes and adventures
On Monday May 15th, Central Kitsap High School hosted an athlete signing day for 16 student athletes finalizing their National Letter of Intent and opportunity to play their sport of choice after high school to their respective colleges.
Signing Day has been a significant event for high school athletes, especially for popular American sports like football and basketball where some school commitments of top athletes in the country are broadcast nationally.
The roaring success and highlights of CK sports for the 2022-2023 year was all about the ladies of CK, from girls' cross country, swim, bowling, and basketball all having excellent seasons.
The best CK team above them all this year was the CK girls' cross country team's historic season, winning the state championship for 3A. Not only did the girls' team run away with the state title, but the state rankings of runners landed them all in the top 50 – and even five of them reaching top 30 status in the state of Washington for cross country runners.
After the girls' cross country team got second place in state last year, the team knew they had a better edge with the competition to chase the glory and to finally be immortalized as state champions.
"We got second place last year and it was kind of close," senior Catherine Vlach said. "So we were kind of frustrated about that and thought that was good motivation for everyone on the team to just put in extra work and really get to that spot. That was definitely a big goal of ours, especially from the previous season, because we got second at state. We knew that we could come back and really win it the next year."
Vlach, girls' cross country captain and Gonzaga University DI track and field commit, describes the feeling that many high school seniors could only dream of being recognized forever as a state champion for their high school.
"It was just really perfect, I don't think I could have asked for a better senior season," Vlach said. "It was just kind of a fairy tale season."
Both girls' swim and bowling this year went undefeated with bowling going 14-0 for this season and even finished the season fifth at state for 3A. Girls' swim picked up where they left off from last year's season, ending the season undefeated for the second year in a row and seventh overall in state.
"We were undefeated in our season," senior and CK swimmer Leah Howell said. "We placed third I think in our relay and then seventh overall for 3A."
Howell is not only captain of the swim team, but also captain of the girls' fastpitch team and has expressed her happiness looking back at the swim season from a team and individual point of view. Howell will attend Willamette University in Salem, Oregon to continue swimming at a D-III level.
"I went to districts and state and I was a golden global swimmer, meaning I had all the district times for every race," Howell said. "My relay team broke a couple school records so that's something I'm really happy with."
The CK girls' basketball team this year exceeded all expectations with first year head coach Marshaun Thompson, going to the state tournament for the first time in nearly a decade. The star guard duo of Ella Baumgartner and Sahara Soufi were some of the biggest driving forces behind the success of this season. Ella averaged 15 points, two assists, four rebounds along with Sahara averaging eight points, four rebounds and two assists during their senior year respectively.
"Making it to state this year when we didn't even think we'd make playoffs but we ended up making it and we went to regionals," senior Sahara Soufi said. It's been 10 plus years since the last one. We didn't even get him [Coach Marshaun Thompson] until the day of tryouts."
Ella Baumgartner will be attending Umpqua Community College in Douglas County, Oregon and Sahara Soufi will be attending Bellevue Community College in Bellevue, Washington for girls' basketball.
Girls' soccer had a good season, ending at 10-6 and the 17th best team in 3A. Seniors Savannah Reece and Ella Smith have both been a part of the girls' soccer program since freshman year when they were the 3rd best team in state at the end of that season. Reece will be attending Eastern Washington University in Cheney Washington to play DI soccer, and Smith will be attending Seattle Pacific university to play DII soccer.
Some of these talented CK athletes are multi-sport athletes. Some even do sports for all seasons of the sport calendar during the fall, winter, and spring like senior Jada Kopp. Jada has done volleyball in the fall, basketball in the winter, and track and field in the spring for CK. Jada will be attending Central Washington University in Ellensburg, WA for DII track and field.
Other female student athletes are the very accomplished and skilled gymnast senior Chelsea Hallinan who is taking her talents to the next level at DI at the University of Washington, and Kylie Martin for girls' lacrosse at Whitworth University in Spokane.
While lacrosse is slowly growing in the west coast and being mainly a popular sport in the east coast, Martin is a part of the girls' Kitsap lacrosse team that has involvement of players from Central Kitsap, Klahowya, and Olympic High Schools. Martin is the midfielder of the team. Before Martin goes to Whitworth University for DIII Lacrosse, she hopes that lacrosse continues to gain more awareness and popularity in Kitsap County.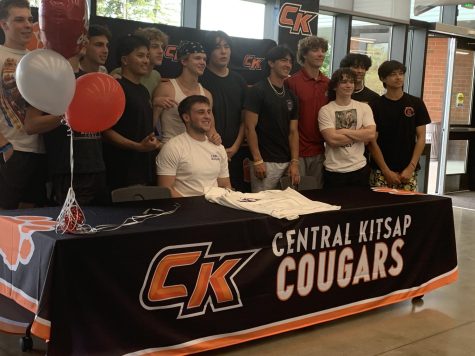 "Continue making sure that lacrosse gets out there to the community because it's a really amazing sport and more people should know about it and care about it because it's no less intense and hard to do as soccer, basketball, or field hockey," Martin said. "It exists on the east coast mostly but it's here to stay."
While it was not the year CK football seniors want to remember, Star MLB/TE Tel Frisinger had 23 total tackles with 13 of them being solo tackles his senior year as a linebacker for CK football. Frisinger has accepted an offer to play D-III football at Crown College in St. Bonifacius, Minnesota.
Star point guard for boys' basketball Payton Davis has been one of the strongest players on the boys' varsity basketball team and has been on the varsity team since his sophomore year. Davis will continue to play basketball at Olympic College in Bremerton Washington.
The boys' soccer team this year once again is going to the state tournament for the second year in a row with a 11-4 record. The team has turned the program around to be soon recognized as a soccer school in the area. Seniors Kolby Juarez and Elijah Akins are both attending Evergreen State College in Olympia, WA for soccer.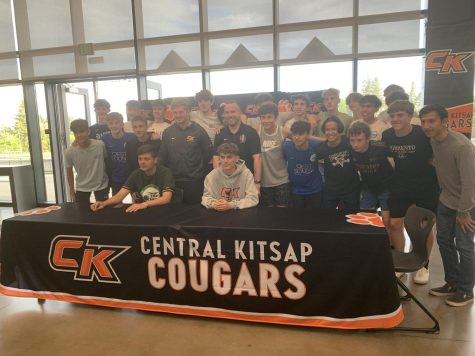 "Overall in high school, my favorite memory is just winning and celebrating with the guys," Juarez said. "There's never been a dull moment with them. It was always exciting, fun, and very high energy. I hated losing but the way we bounce back is the best, just the best I've ever been a part of because I love it."
Despite the up and down year from boys' baseball this season, senior outfielder Garrett Cooper along with outfielder and pitcher Payton Albin will be continuing baseball next year at their respectable colleges. Cooper has impressed head coach Justin Brien ever since freshman year despite the less than three weeks of a season due to COVID-19. Cooper will be playing DI baseball at Washington State University in Pullman, Washington along with Albin playing baseball at Blue Mountain College in Pendleton, Oregon.