During the first two weeks of school, some of CKHS' buses have been experiencing overcrowding to some degree.
While some buses have been experiencing nothing out of the ordinary, others have been packed full of students to the point that there are no seats left, causing students to have to sit partially in the aisle of the bus.
One of the buses that experienced overcrowding at the start of the school year was route 340. 
"The first two weeks of school I was pushing about 60 kids or so and I was only supposed to have about 54 to 56," said Ivo Bairey, the driver of route 340. "58 was pushing it already." 
Having more than the average number of passengers on the bus can not only be a safety hazard, but can also cause the bus to take more time to arrive to the school and get behind schedule.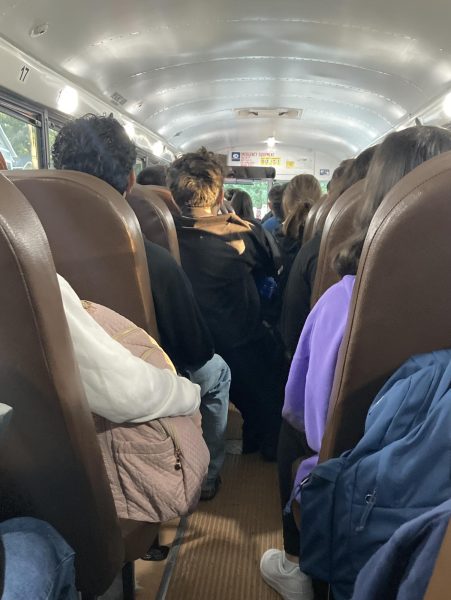 "People go all the way over to the back to try to get a seat but then it ends up filling up and then they kind of roam around trying to look for someone to sit with," said Sasha Schaff, senior at CKHS. 
This mainly happens because the seats get full by the first few stops, causing the students who have later stops to squeeze into seats that are already full. This can even lead to students having to put themselves or their bags in the aisle. 
The filled buses can also be a problem for people who play sports or an instrument. Since there's already no room to sit, carrying other bags can be a hassle.  
 "Especially being in sports I'll have come to school with like three-four bags and an instrument," said Ada McLaughlin, sophomore at CKHS. "So it's really hard to fit on the bus."
This can make things complicated when people have barely any seating for themselves and still have to find room to put their bags. 
This all has become enough of an issue that some people are finding alternative ways to school.
"I've considered biking myself," McLaughlin said.
"A bus with more seats to be honest," said Sebastian Roldan, sophomore at CKHS. "But I know it's kind of hard since the bus is already such a long vehicle."
 Since riding the bus can be long and uncomfortable, people who can find another way to school usually do, while others are stuck riding the bus. What is happening now is that some students are making their own short term solutions to the problem while they wait for public transportation and the school to finish resolving it. 
What the school has been doing is changing up some of the routes to make it easier on buses that are already full, having buses with fewer people pick up students at stops where their original bus did.
 "There were kind of two stops that switch to our bus," Schaff said. "I heard there was people sitting on laps and like there was literally wasn't enough room so they moved on to ours since there was space."
This change has already seemed to fix the overcrowding on the majority of buses by minimizing their number of people. They have begun to proportion out stops, so that each bus has roughly the same amount of people. This helps make it so there are no buses with too few or too many students abroad.