Chaos in the Capitol: Live Updates
With the Capitol stormed yesterday, the presidential inauguration in 13 days, and talk of impeachment, the political landscape of the US is changing rapidly.
With only 13 days until the presidential inauguration of President Elect Joe Biden (D), there has been many different events to follow in the news – including the protest-turned-mob in the Capitol yesterday, the ensuing impeachment attempt, the announcements of Biden's chosen staff, and the election of officials in Georgia. Follow this story for continual updates as the story progresses.
Trump Supporters Storm the Capitol
Yesterday in Washington D.C., President Trump held a rally with his supporters while Biden's status as president-elect was being confirmed by Congress. Trump continued to claim to the crowd that he won the election, although he lost both the popular and electoral vote.
This rally soon became a violent invasion, with hundreds of Trump supporters entering the Capitol and causing the lawmakers and staff to shelter in place.  The rioters went through the desks of Senators, took photographs of themselves in the seats of various lawmakers, and were even documented carrying a Confederate flag inside the Capitol.
Four people have died as a result of the demonstration, including one woman shot.  Law enforcement officers are reported to have been injured, as well.
CNN wrote that this was "the first time the US Capitol had been overrun since the British attacked and burned the building in August of 1814, during the War of 1812, according to Samuel Holliday, director of scholarship and operations with the US Capitol Historical Society."
Nancy Pelosi, the Speaker of the House, tweeted, "Today's shameful assault on our democracy — anointed at the highest level of government — must not deter us from our responsibility to the Constitution.  Tonight, we will move forward with the certification of President-elect Joe Biden's election."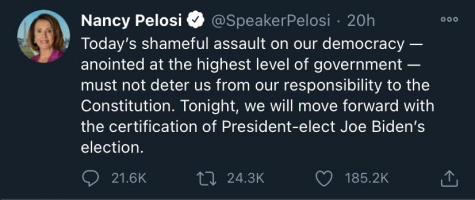 Impeachment
Yesterday, Minnesota congresswoman, Rep. Ilhan Omar, tweeted that she was "drawing up Articles of Impeachment," and that "we can't allow [Trump] to remain in office; it's a matter of preserving our Republic and we need to fulfill our oath."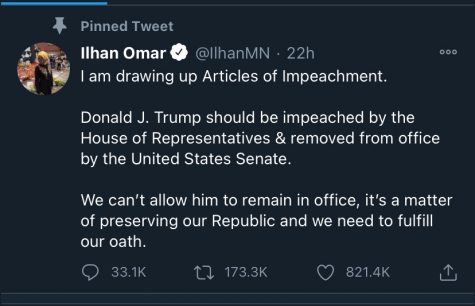 The resolution was released today.
Many other lawmakers have voiced their support for impeaching Trump, including House Speaker Pelosi.  Pelosi asked Vice President Mike Pence to invoke the 25th Amendment to impeach Trump, which would involve declaring Trump mentally unsound and "unable to discharge the powers and duties of his office."
Pelosi said that if Pence and Trump's Cabinet do not act to impeach Trump, then "'Congress may be prepared to move forward with impeachment.'"
About the Contributor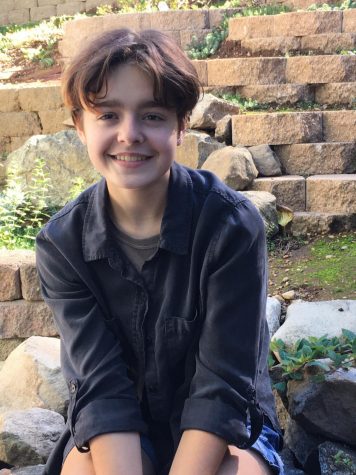 Delaney McCorkle, Editor-in-Chief
Delaney McCorkle is a sophomore at CKHS this year and serves as the Chronicle's co-Editor-in-Chief.  A longtime writer, Delaney hopes to build writing,...