Girls Soccer Wins Again
Cougars Building Momentum
Thurs. 14 was a good night for Central Kitsap High's girls' soccer as both teams came away with an 8-0 score continuing a near perfect season record of 11-1-1 for the Varsity team.
Many team members were very excited about a new formation Coach Kristina McKohnen implemented for the Varsity team for the first time, Alexis Georke said, "it really helped with our play." 
Other team members were equally delighted. Ailin Zhang said, "I really liked the new formation, I think it worked really well for our team, and I am excited to use it when we play Gig Harbor next Tuesday, at home at 7:00."
Georke, who scored the eighth goal of the game, said, "[It was] one of the first times I've played on the field so I'm pretty impressed." Other varsity goals were scored by Ailish Watson, Ella Smith, and Kaylie Mehlenmeck. 
Their loss last Tuesday set them back from being ranked second in state to being ranked 178th, but the team is optimistic, Coach McKohnen said "unfortunately we lost last Tuesday and we just need a turning point and I think tonight was our turning point."
The team showed unity in the cheers chanted for their captain, the post game meeting they conducted, and the overall support and dedication shown both in their enthusiasm and sweat. 
Yaquelin Escobar-Moreno said, "I am just really honored… and it's great to be a part of such a great team."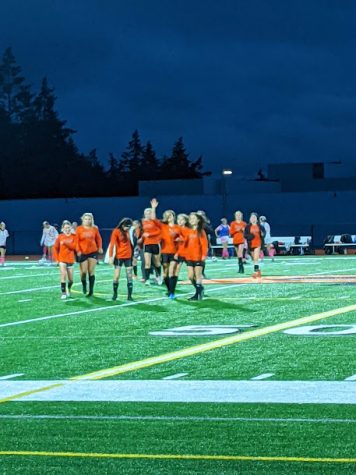 The following are the jersey numbers of all Girls Varsity Soccer players:
0 Rachael Remnet
1 Alexis Georke
2 Kori Harshman
3 Blair Anderson
4 Trinity-Grace Ramirez
5 Yaquelin Escobar-Moreno
6 Sydney Pascal
7 Madalyn Kluk
8 Savanah Reece
9 Ashlyn Ayers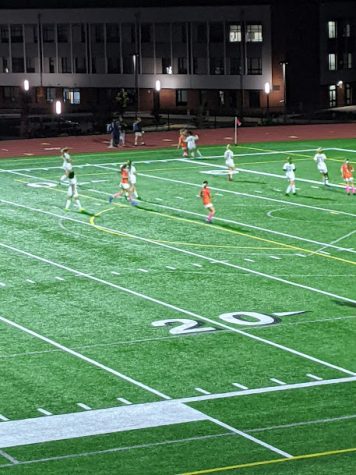 11 Ailin Zhang
12 Ava Hays
13 Kaylie Mehlenbeck
14 Ella Smith
15 Maya Prouse
16 Loren Yee
17 Ailish Watson
18 Abby Fischer
19 Cameron Tipper
21 Kennedy Threadgold