CKHS Presents
CKHS is to put on a production of The Jungle Book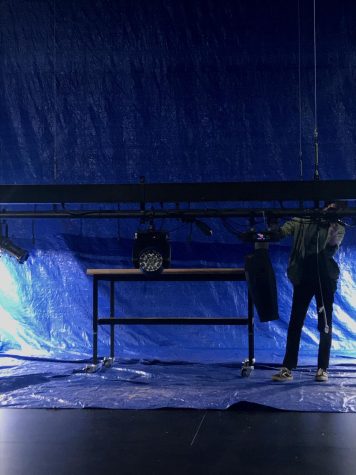 A tech crew member prepares the lighting for the production. (Annella Lyon)
The Central Kitsap High School is putting on an adaptation of "The Jungle Book" by Braindaniel Oglesby in the auditorium on November 17th, 18th, and 19th.  
"I think that this is going to be a really enjoyable show for the audience," director and CKHS English teacher Zach Timm said.
The first person to bring attention to the idea of putting on a production of "The Jungle Book" was technical director Don Fox, but it was finally decided upon by Timm. 
"All of the drama club decisions when it comes to show selection go through me," Timm said.  "…after reading the script, I decided I really liked it and then ultimately made the decision to do 'The Jungle Book'."
That idea has led to some particularly interesting things, especially in the technical department. This includes different seating arrangements for audience members. 
"One of the things that we're going to do is bring the audience up onto the stage in a much more intimate setting of our space," Fox said. "We'll be using the video wall plus lighting and sound to create a jungle environment that I think is going to be really, really enticing for the audience." 
All of the hard work that goes into creating a production that is audience ready would not be possible without a trusting and uplifting community behind the scenes. Fox explains that his favorite part of  overseeing tech crew is seeing how everyone can work together.
"We're different people that have different ideas that they want to bring to the table and we're able to make something better as a result of combining all of those different perspectives and ideas into something that is greater than any one person will be able to achieve," Fox said.
CKHS is set to put on a production of The Jungle Book and is to include creative technical aspects.