"That's The Way Our Ladies Bowl!"
The Central Kitsap High School bowling team pulls another win. Undefeated with the score of the season now, 7-0. The final score of Friday night's game was 1779-1377.
Everyday after school lets out, All Stars Lanes is filled with cheering teammates and the iconic chants of the Central Kitsap Bowling Team. Holding practices everyday during the school week except on game days, the team is constantly working to sharpen their skills.
"A lot of people don't know CK has a bowling team," said Elijah Padilla, CK bowling manager. "I think the fact we're undefeated, or currently undefeated, and people don't know we have a bowling team is rather unusual."
The CKHS bowling team has had an undefeated season, recently beating Capital, a "tough" team they've lost to in past years. The score of the season is 7-0, ending Friday night's game 1779-1377. After placing second in state the previous year, the team is looking to come out on top.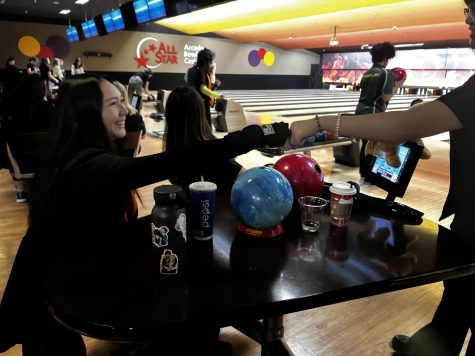 "I think it's just practice, the more you practice the more you get better and when upperclassmen help you to figure out what you're doing wrong you'll learn more that way and just improve overall, " said Gracie Luk, on her third year bowling for the team. 
The team as a whole has a really great dynamic, making up cheers and having a memorable time together. When traveling, manager Rocel Jaravata will bring her speaker on the bus where the team will sing along to BTS, specifically their song "Butter (Holiday Remix)". 
Team cheers include " Two baddies two baddies, 1 Porsche" for two strikes in a row. "That's the way our ladies bowl!" which is a Strike chant, and "Yeet that, skirt that." The cheers raise team morale, according to Jaravata. 
Bowling season started in early November and is set to end in late January, still early in their season the CKHS bowling team is starting out strong. Information about matches is posted on the CKHS Bowling Instagram. 
*Rocel Jaravata is a member of the Cougar Chronicle