Cubs to Cougars (And Back Again…)
Students at CKMS are taking advanced classes in the High School.
There are many programs at Central Kitsap High School that offer better educational opportunities for students, including enrolling students from Central Kitsap Middle School in classes in the high school building. 
Before the new building was established in 2019, students had to walk a short distance from the middle school to the high school and get to their class. After CK students moved into the new building, they were allowed to travel between the connected high school and middle school buildings. 
The building is much bigger than the previous school. Classes are generally separated into the three floors by subject, with the only accessible door connecting to the middle school being on the third floor. 
"One of the reasons why math classes were put on the third floor was because that access for the middle school was right here," Geometry Teacher Donna Spitzer said. "It's an easy walk for them compared to having to go all the way down to a first floor class."
Math and Spanish courses that middle school students often take were both places on the third floor. 
"It's a good fit that the middle school is so close because then if people want to take advantage of going to high school classes, they can," Spanish Teacher Shannon Blanusa said. "It's a good opportunity."
Accessible advanced math courses allow students to get a jumpstart on their math education. 
Spitzer has a few middle school students attending her geometry classes. These students are expected to keep up with the faster pace of a high school class.
"They're all math students who just want to be learning their geometry," Spitzer said. 
The middle school schedule begins one hour after high school starts. Administrators aligned the schedules so that the high school second period begins at the same time as middle school first period. 
This makes it possible for students to travel between the schools during their shared passing periods. It also allows students to attend high school classes without interrupting their middle school classes.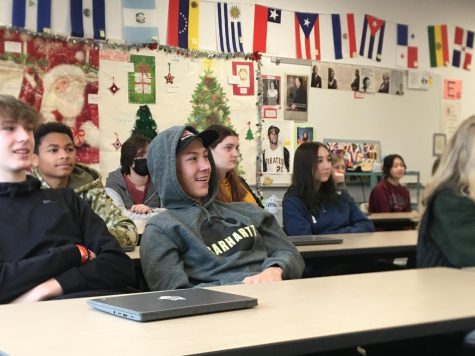 "The only time when there's something that comes up is if we have an unusual high school schedule, like finals week," Spitzer said. "Or if we have a fire drill, sometimes I'll need to check in with my middle school students to make sure they know about some sort of change in the schedule, but the front office does a really good job already working with the middle school schedule." 
Even with the schedules lined up, students from the middle school are still late to their classes. 
Blanusa teaches the Spanish 1 course to around 25 middle school students a day. 
"They are late, but it's not very late. A minute or two," Blanusa said. 
Students with classes in the high school for the first period have the additional obstacle of dealing with traffic before school. 
"Part of it is because it's on the other side of the high school, and part of it is because I'm usually late to school," eighth grade CKMS student JJ Gaines said. 
The advantages of taking a high school course comes with the responsibility of keeping up with the course work. 
"There's a lot more homework," Gaines said. "We have homework like every night. It's different and it's more, but I think it's manageable." 
According to Gaines, balancing the workload in a high school class helps prepare students for the full load of their upcoming freshman year. 
"It's not really what I expected. I'm glad I took it this year because if I started off high school next year taking these classes, then I would probably fail." 
Blanusa described most middle school students doing a good job of keeping up with their grades and attendance. 
"Some of them are better students than high school students," she said. 
Aside from the educational advantages of taking high school courses, students interact with students up to 4 years older than them.
"It's nice to have somebody with more experience that can help you out," Gaines said. 
Blanusa recommended upcoming 8th grade middle school students to enroll in a high school class.
"It's a really good opportunity for middle school students to have access to high school classes if they're capable of taking them and they have the interest," Blanusa said.