Efforts for Composting at CKHS Underway
A composting program that will recycle unwanted food items that are otherwise being thrown away is being developed for CKHS.
Central Kitsap High School is pushing for a reliable composting program to handle the large amounts of food being thrown away and wasted during lunches. 
Katherine Lane, a teacher at CKHS, started this fight in the 2021-2022 school year, yet struggles to find adequate support for the program. 
"Right now, between all 11 schools in the CK district there are thousands and thousands of apples, food, fruits and vegetables that are just being tossed away because of the requirements that CK has, that every student must take their food whether or not they want it or they're planning to eat it."
Lane is referring to a school lunch policy that requires every student to take one fruit or vegetable when buying hot lunch, regardless of if they will actually eat it.
This system seems to be for the health of the students but is often just an annoyance. 
Maison Petersen, a sophomore at CKHS, shared his experience with this regulation. 
"I would just throw it away, except for one time I gave it to a teacher for her horse. But that was one time out of like 100."
Some students cannot eat some fruits or vegetables due to allergens, but they still need to take one.
"If they have raisins, I eat the raisins. I'm allergic to most fruits and vegetables. So I normally just toss it or give it to someone else," said Ryan Shepard, a current senior at CKHS.
Lane explained her plan to efficiently handle compost at CKHS if the composting program ever became a reality. 
"My goal is to have a partnership with waste management or a different topsoil company to coordinate maybe bi-monthly pickups that would go from school to school and collect all of the compost from each area… The waste management can also coordinate with the federal government and apply for a environmental impact grant and so the cost of picking up the compost would be very minimal to them. In fact, in what I was going through the research, it looks like in about a year the cost of picking up the compost will actually end up being a source of revenue for waste management rather than any detriment so, to me, it seems like a win-win situation for both."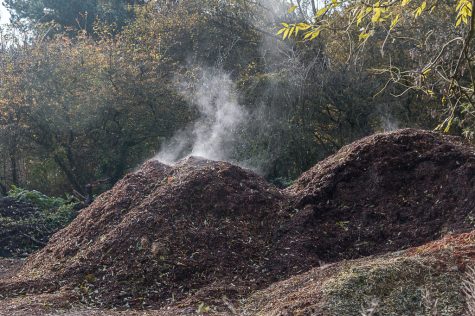 However, Lane said she is having trouble gaining any traction with the idea; she said several emails were sent to the superintendent, school board, and the principal in an effort to initiate the composting program, but she did not get a reply.
"Our class actually committed to a service project last year. We wrote up a proposal and we dedicated a week in June for all the students to promote this composting program. We ended up getting enough money to buy a composting container. After we started our initial plan, we met with the environmental club and we discussed different ways of collecting and making sure that the compost material would get into the little compost containers." 
This spurt of progression was short lived, and today Lane only has a few kids willing to help out. Lane says she struggles with turning the compost by herself and will need help from more students or staff to see a strong composting system at CK. 
At this point the success of the program depends on the community's recognition and support of the program.
"I think that the composting idea would work, but also, it's a matter of  how the students care about that. Because, I can tell you now, probably over half the school doesn't even use the recycling bins," said Petersen.