The Stan, the Myth, the LEGEND, …Meet Kallie Szczepanski
The AP Psychological teacher with more Paranormal Experiences and Wonderful Interest then you know what to with.
Kallie Szczepanski, Social Studies teacher at CKHS who is renowned for her excellent AP teaching style, annual halloween ghost story telling, and as the host teacher for the knowledgeable team. However, who is Kallie Szczepanski as a person, what are her interests and life experiences?
"I read a lot of books, shockingly. I like to garden, although I don't like growing vegetables, I only like growing flowers and trees. And when I have time, listen to BTS music and watch videos about BTS" Szczepanski stated.
Szczepanski's interest in the Kpop group BTS originated from her AP Psychology students after a discussion they had during class.
"Well, we were talking about Neo Freudian psychology and I mentioned Carl Jung, and a couple of my students stayed after class; this was last year during remote learning, and they told me that their favorite Korean band had a whole series of albums based on Carl Jung," said Szczapanski. "And I was like, 'Are you kidding me?' Because I used to live in Korea, and I remember Kpop from when I lived there, and it was just bubble gum meaningless, stupid pop music basically. I just couldn't imagine a Kpop about Neo Freudian psychology. So they told me that on Thursday, and Friday that afternoon after I finished teaching, I went and looked up the first video of that album that they've mentioned. And I didn't sleep Saturday. I was just like, watching BTS stuff the whole weekend. And by the end of it, I was like, 'Oh my gosh. I love these guys.'"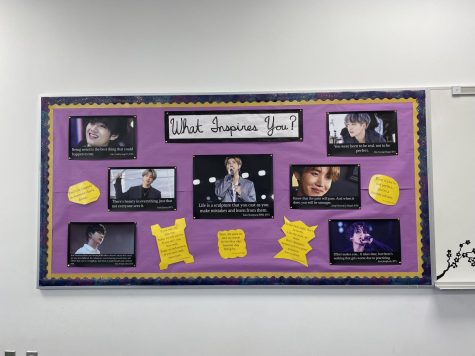 In her life Szczepanski has lived in four different countries, each with unique reasons for her being there. 
"When I finished undergrad, I joined the Peace Corps, so that's how I ended up in Turkmenistan. Even though I requested Africa, they're like, well, Africa's all full for this year. How about Turkmenistan? Whatever. That's fine"
After which she would end up taking a job in South Korea.
"I went to law school and I really hated it, and I decided that I didn't want to be a lawyer after all. But I still needed to like paying my law school debt and stuff. So I decided that I would look for interesting jobs. And I saw an ad for English teachers in South Korea and I thought, hey, why not? And I applied for the job and about two and a half weeks later, I landed in Seoul, South Korea."
"So I ended up spending four years in Korea. The last two I was at Hallym-Dae University, which was amazing. I loved it. I loved teaching at the university level and wanted to be a professor back here." Szczepanski continued.
However, after spending four years in Korea, Szczepanski felt like she should return to the United States and pursue her PhD.
"I enrolled in a PhD program for history. And so that's how I ended up living in Ethiopia because I was doing African history for my PhD. That's when I moved back to Boston for that degree."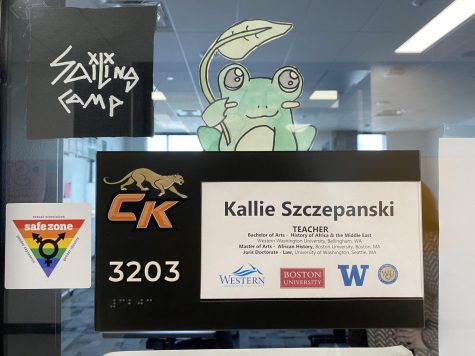 Szczepanski's life has led her in many different directions, and lucky she has been able to adapt and thrive through her life. Reflecting on what all she has done for her life, she has a refreshing personal definition on what it means to be successful. 
"I do feel successful, because I think my overarching goal in life has been to lead an interesting life. And I feel like I have done that so far. I was raised in a very secure loving family and didn't really have big struggles growing up. And I almost felt compelled to go out and seek some failure and  struggle, and I've done that." she added.
Seeing as she has had so many interesting life experiences, Szczepanki's final advice for people in general was "I think people should just get out there. You know, don't be afraid to go see other parts of the world and other places."
Szczepanski BEST students Roger Eagan and Katelyn Topness both describe her as really fun and very nice to talk too. Topness said " I like chatting with her. We always laugh and she's very funny and I like being able to help her out and be in her class.". And Eagan recalls his favorite memory of Szczepanski as "In psychology when, she kept on reminding us that it wasn't a real science, and that she wasn't actually a science teacher."