CK's own national treasure: David Tracewell
When you walk down the first floor you find a little escape at the end of the hall, that can only be described as wonderland.
David Tracewell is an English and Media Communications teacher here at Central Kitsap High School, who shows his unique personality through his eccentric classroom decor. An avid collector since he was six years old, Mr. Tracewell's classroom displays his many interests in music, films, and pop culture. His personal favorite piece is his vintage Darth Vader action figure that his dad got for him, which started his collecting habits.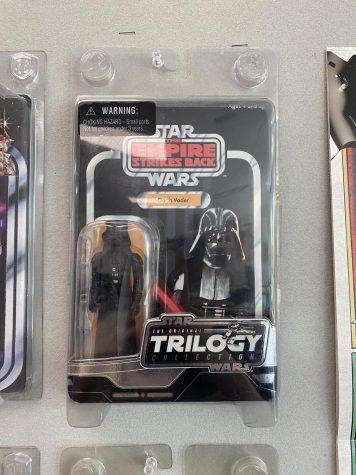 When asked why he decorates his classroom so elaborately, Tracewell explained "The environment has to speak to me and this building was so new, and clean, and crisp and everything. It did not speak to me at all. It just looked like an institution, and so I have to be comfortable. And so I tried to make my students as comfortable as possible. And so the things I have in my room are things that I love. And what's great is there's at least one thing on the wall that each of my students loves too, and we instantly have that connection. So my basic philosophy is the student perspective, but also that they have to be comfortable to want to learn something.".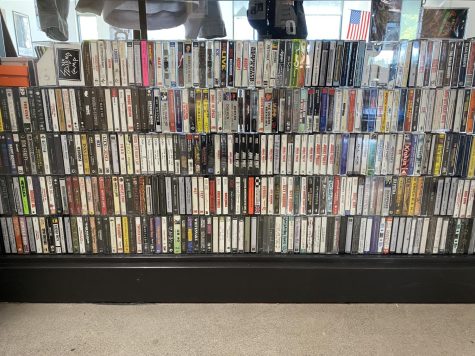 His approach too teaching and connecting with students stems from his own high school experience; when in his junior year, he would have dropped out, if not for his journalism teacher. "I wanted to help other kids that were hurting just like me because my junior US History teacher, Mr. Mueller, who was also the journalism advisor, took an interest in me as a human being, and really as a human being, and I never forget that kindness, so I wanted to do the exact same thing.".
"I really like the student perspective, looking at it, especially if it's an old book and looking at it through the lens of today versus when it was written things like that." He continued.
Mr. Tracewell also believes in the continuation of learning after high school; to broaden our knowledge and understanding of the world around us. He states "There's always something to learn. I hope students continue to do that and specifically, read a book after high school. Because what's really sad is most Americans stop reading a book for pleasure after high school.". He recommends some of his personal favorites including Sidhartha by Hermann Hesse, and The Brothers Karamazov by Dostoyevsky.
Tracewell's relationship to students here at CK is one of the most wholesome and personable when compared to other staff members. Student Rebekah Gains describes Mr. Tracewell as "Very welcoming" and continued with "I always look forward to seeing him every day." Another student, Lily North, who had Mr. Tracewell for American Literature expressed one of her favorite aspects of him, stating "Just the gifts he gives, he randomly gives you a gift and you're just like, wow.".
Mr. Tracewell's desire to understand his students is what makes him such a powerful educator, and why students seek him and his classroom out as a safe space in such a 'clean' institution. Both Mr. Tracewell and his room are perfectly described as magical, which you can always get a glimpse of as you walk past the end of the hall, on the first floor.