The Snazz of the Jazz Roots
Jazz band Duende Libre hopes to educate and celebrate the roots of jazz music, while creating a community for their audience.
The emerging jazz band Duende Libre performed in the Fredrick Holmes and Company Gallery in Seattle on Saturday March 11, 2023. As a band that creates lively songs centered around afro/cuban traditional music, they hope to teach and build a community that becomes more aware and knowledgeable about the roots of jazz music. 
Duende Libre debuted their first album in May of 2017 and have been growing and diversifying their music ever since. The main core of the band is Alex Chadsey, who plays the piano/ keyboard, Farko Dosumov, who plays the electric bass, and finally Jeff "Bongo" Busch who plays the drums.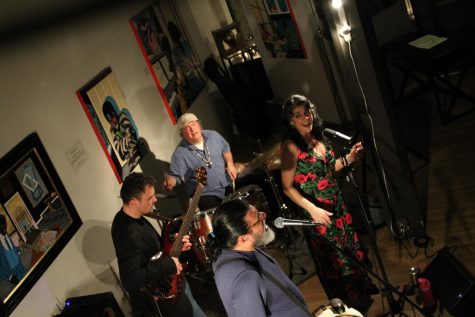 Two members of the band joined later on, and they don't always feature in their music. These two members are Frank Anderson and Chava Mirel who are both able to play multiple instruments, and dance. Despite not always being present in a performance, they bring an important contribution that has helped expand the band's music even further.
Frank Anderson spoke in the gallery about how he studied music in West Africa. Due to his prior education, the band likes to call him the "mentor." He has taught the band many different instruments and styles of music that they hope to educate people on. 
"I just like to talk about the African roots of jazz, and music that's in what we call the Americas. Now, you know, much of it has African roots. So I'd like to talk about that. And that's about recognizing the community of people of African descent," Anderson said, in regards to the hope of teaching the important roots of African music in America. 
In many different ways people have learned so many things from the band, and from the performance in the gallery alone about culture and music. Through teaching people about the history of this music,  the band has built a curious and engaging community. 
"One of my friends who was here said that she 'learned more about some West African history and culture, just from me talking," Anderson said. 
Community as a greater whole usually in its core has a form of knowledge. 
"When building up a community, it is important that members communicate with each other, so they can create bonds and relationships. In addition to this, communication helps people accept the importance of diversity in society," said Curt Frami in USA Projects article.
Throughout the night audience members were engaged, dancing, and talking with members of the band. Creating friendships and connections with other audience members or the band members themselves. The band encouraged this, creating an evening of communication and education. 
"I think there's nothing like music to bring people together and build community," Chadsey said. "And we love performing. We also love giving workshops too. But, you know, we always try to invite people to participate, and music is one of our first rights themes, and it's something that we want to share with other people."
After the final song, people in the audience cheered for more, along with giving the band a standing ovation. Despite the late night couples, friends, and families were full of energy as they thanked and complimented the band members themselves with a handshake or a hug. An audience member came up to Anderson and said, "You were amazing!" before continuing to talk about dance and music from West Africa. Duende Libre as a band hopes to make connections and communities like the gallery that night.