Addressing Racial Inequality and Inequity in CKHS
CKHS ASB and Equity Team work to encourage conversation and change in regards to racial inequality in the CKHS community
Discrimination against protected classes is prohibited in Washington State public schools, according to the Washington Office of Superintendent of Public Instruction; to ensure this regulation is followed and to attain equity within Central Kitsap High School, both student-led organizations like the Associated Student Body, ASB, and staff teams are working to promote discussion and action pertaining to racial equality.
On February 3, the CKHS ASB hosted a virtual forum for the students of CKHS to discuss concerns about racial inequality.  This was the first ASB-led public discussion about the topic this school year, but according to ASB Club Liason Taylor Garcia, they plan to schedule more discussions in the future.  
" I believe it was a really big eye opener that…so many students were involved in participating in the…Zoom meet,"  Garcia said.  "So the fact that we got such a big response, and so many questions, so many…people kind of raising their voice–it was really empowering. So we will be continuing to make the meetings happen."
The discussion forum, which happened during the Advisory class period, had over 100 participants.  Students attending could submit questions for ASB members through a Google Form, which were then answered either live in the Zoom meeting or in a video recording produced afterward.  
Joining ASB is another way that students can voice concerns and take action.  According to Garcia, as a part of ASB, students can learn the "ins and outs" of making changes within the school community.
"If you are wanting to be an advocate, and if you want to make a real big change, then ASB is probably the way to go," Garcia said. "It's beneficial for your own leadership [skills] and for…leadership in the community."
Garcia also said that ASB acts as the connection between the general student population and the administrative staff at CKHS; because of this role, they have the ability to help students advocate for themselves and their peers.
"I just want students to realize that if they don't feel represented enough, then they should speak up in order to talk to ASB because we are the bridge between them and admin," Garcia said.  
The staff at CKHS also participate in regularly scheduled meetings that discuss racial inequity and cultural competency within the CKHS community.  These discussions are spearheaded by the CKHS Equity Team, a three-year-old team that focuses on cultivating an equitable system at CKHS and taking in concerns from the community, according to Avery Welkin, an English teacher at CKHS and one of the team's facilitators.
Assistant Principal Miranda Smallwood, another member of the Equity Team, said that there are six staff discussions scheduled for the school year.  Three already occurred, and between now and September, three more will occur.   
"We've had [conversations] around issues such as social justice and anti-racism, and it's becoming more normalized to have those conversations," Smallwood said.  "And so that in itself is growth."
The CKHS Equity Team, which operates as a part of the Central Kitsap School District's 3-5 year Equity Plan, comes together to focus on a specific issue for the entire school year.  Throughout this period of concentration, they gather data–for example, feedback from student focus groups–and then use this data to make policy recommendations to either school or district administrators, according to Smallwood. 
"There's never just one thing [to change]," Smallwood said. "We can't approach all of the issues that need to be approached as one team, just in terms of capacity, so we try and find one area of focus that we can take a close look at policies within the school and…discuss and give recommendations to other decision making bodies of how things could be reformed to be more equitable for our students."
Although the team has been operating for three years, it is yet to incorporate formal student or family participation on the team; however, Smallwood added that more involvement from family and the student body is a "next step" for the Equity Team.  They also receive feedback and suggestions from the Central Kitsap community through a form on the CKHS website's homepage. 

"We are here to hear from the community about what would help," Welkin said.  
Discussions surrounding the topic of racial injustice and inequity within schools allow for education around the topic and for staff to see what changes need to be addressed within the school community.  Although some efforts have been made in the past, like Mr. Sweet's schoolwide presentation on the N-word and its harmful nature, both current events and the questions asked during the ASB forum served as evidence for needed change.
"There is still more [change] needed, was…what we heard right from students [in the ASB forum,]" Welkin said. "And that is just one example that I think is really clear where the equity team can be supporting that in a more ongoing way."
During the 2020-21 school year, the CKHS Equity Team's main focus has been refining disciplinary practices, especially in the context of race.
"There is disparate discipline across racial demographics, and so the charge is to ensure that that doesn't continue and to understand why [it is happening]," Smallwood said. "That's why it's really critical…that we're having the focus [put] on each of us individually…[to understand] how…our implicit bias functions."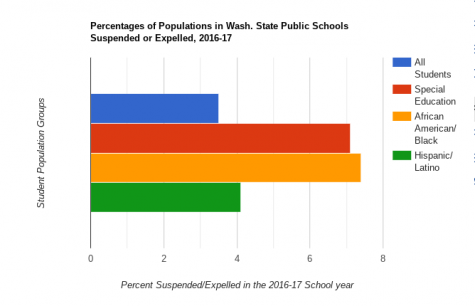 The Equity Team is also looking to implement the practice of restorative justice, instead of a black-and-white, definitive-consequence disciplinary system.
"[Restorative justice involves] trying to reframe our understanding of discipline to be about the fact that all behavior…is communication,"  Smallwood said. "And trying to understand when somebody is exhibiting a behavior that is violating a norm or an expectation–how do we read that communication to support what the need is?"
Garcia, Smallwood, and Welkin all recognized the importance of discussion and action in regards to racial inequality and inequity–and that the conversation is far from over.  
"[Countering racial inequity] is really complex work, but our vision and our expectation is that all of us, no matter where we are [on the spectrum of awareness] grow and get better," Smallwood said.
Garcia also highlighted the opportunities within the student community to participate in activism and community betterment: clubs like Multicultural Club, Enviro Club, Gender Sexuality Alliance (GSA), and several others are all ways for students to be involved in advocacy. 
 "It's extremely important for students to be advocates, because we are the generation that is going to be the future leaders in life," Garcia said.  "And why not start now? Because as teenagers today, we have to…make our voice more powerful as time goes on. And then if we're able to make our voice heard, while we're preteens, teenagers, then we will be stronger leaders in the future."