Student Backlash and Reform on the Covid-Based Homecoming Week
How Students Feel about the Homecoming Events from the ASB Advisor, General Student, and Homecoming Court Royalties' Point of View
After almost two years, Central Kitsap High School (CKHS) will be hosting a homecoming, on Oct. 30, but with a twist. The Associated Student Body (ASB) is planning to choose either an outside or inside dance, with other socially distant activities. 
The dance portion of homecoming will not include the traditional group dance pits, but instead, choreographed dances, such as the "Cupid Shuffle," "Cotton Eye Joe," and the "Cha Cha Slide." News regarding the updated CKHS homecoming event caused both positive and negative words around the school.
Due to the COVID-19 pandemic, a buzz throughout the students can be heard, regarding what homecoming week will look like, how the dance will be set up, homecoming court, and general COVID-19 precautions that will be taken. The event of homecoming week is considerably significant to students because homecoming signifies a welcome back to the school.
Under a recent Instagram post, which entails the first public details regarding homecoming on the Central Kitsap High School's official ASB page, students were not afraid to voice their opinions.
In an interview with ASB's Executive Advisor, Daniel Sullivan, when asked his general standpoint on how students feel regarding homecoming, Sullivan responded with "I think this year, there's been a lot of negativity surrounding homecoming," said Sullivan. "I think there's a lot of people that really would like to go back to truly a normal homecoming dance environment. And because some people are frustrated with the lack of normalcy, I think that that causes a lot of frustration. I think the students that have chosen to come are very excited to be there and I think they're gonna have a really good time." 
Although the Instagram comments under the post are now disabled, images of the comments were taken beforehand.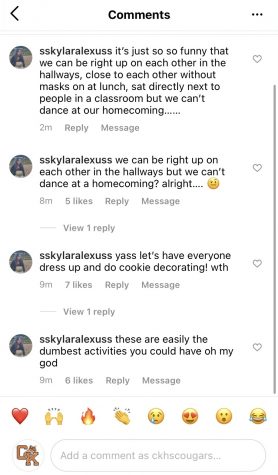 Roger Eagan, Senior, agreed with Sullivan.
"No, everyone sounds not so happy with this thing," said Eagan. "A lot of people don't think it's gonna be very fun, especially with weird dances." 
The school is limiting ticket sales which is considered, "kind of weird and a little bit stupid," Eagan said. Adding onto this, Eagan also feels that it's funny how part of the 2021 Homecoming Court cannot go to the dance due to the short, limited ticket sales.
As for CKHS's Homecoming Court member, Francesca Dockendorf, Senior, reciprocated the same general feelings as Sullivan and Eagan "I complained a lot because some of the games seem kind of lame," said Dockendorf. "And it's not as fun as dancing." 
However, Dockendorf also expressed an appreciation for the efforts made to even have a homecoming event, especially considering that CK was the only school in the district to have a formal homecoming dance.
The traditional homecoming assembly and coronation could not be pursued due to the event not being considered necessary or mandatory. Instead, the 20 royalties were able to create two slow motion videos, one of which would be shown on KUGR News, and the other featured on the unofficial KUGR News Tik Tok account, which currently has about 50,000 views. 
The Homecoming Court Royalties were able to ride on golf carts with a partner during the homecoming football game, to a 30 second clip of a song of their choice. The royalties decorated their carts, had their name announced, threw candy to the audience, and had reserved central, front row seats to the game. 
The 20 royalties included, Jasmine San Juan, Elijah Le, Aaliyah Chandler, Amanda Ashmore, Anaya Lamy, Bailey Stahl, Becca Roy, Blair Anderson, Dawson Fourier, Emily Zhang, Jason Allen, Kalai Pasi, Kal-El Drummond, Kathryn McDonald, Kymeal Gaulden, Madalyn Kluk, Meghan Landon, Tatiana Jones, Francesca Dockendorf, and Madison McCrary.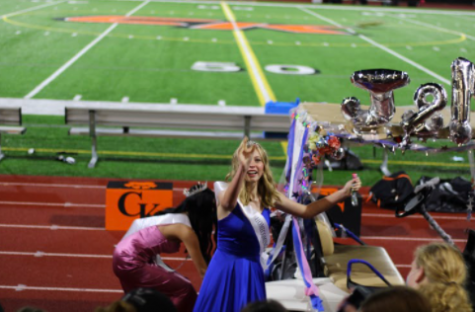 Despite the changes in the homecoming court traditions, Dockendorf claims, "I think that overall everybody seems pretty happy in the video that was made. And the results turned out really good."
Overall, homecoming had students expressing negative perceptions on the event. However, despite the backlash, the homecoming event and homecoming court continued to be a success.
Reporter's Note: Jasmine San Juan is affiliated with both the CKHS Associated Student Body as well as the 2021 Homecoming Court.