The Big One: The Disaster That Will Shake Central Kitsap
No one knows when the next big earthquake will hit but when it does it could seriously impact Central Kitsap and surrounding areas.
The Big One's arrival has been overdue for years. It may come tomorrow, in a month, or in 15 years. One thing that is known is that this earthquake will significantly impact Central Kitsap High School, Silverdale, and surrounding areas. 
Mini earthquakes occur all the time and many people have no clue. They are called tremors and are caused by a bit of pressure releasing. 
Bigger earthquakes that are felt are caused by different tectonic plates on Earth shifting over time. 
"Washington state sits on a North American plate and the Oceanic plate (Juan de Fuca plate) comes underneath and pressure builds up, and eventually snaps causing an earthquake," explained  Kaitlin Caylor, a Biology teacher at Central Kitsap High School. 
The earthquake sends energy through waves which travel through the crust and allow for the shaking to be felt.
"Right now we are in a waiting zone where the pressure is building and the last major earthquake here in the northwest was about 322 years ago. It was a 9.0 magnitude," said Bridget Burke, an 8th grade science teacher at Central Kitsap Middle School. 
Earthquakes are measured by their magnitude with 3.0 being very minor and 8.0 larger being extreme with massive amounts of damage.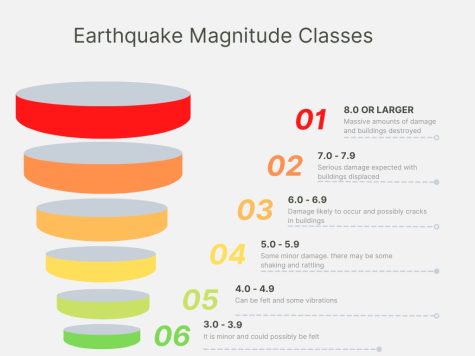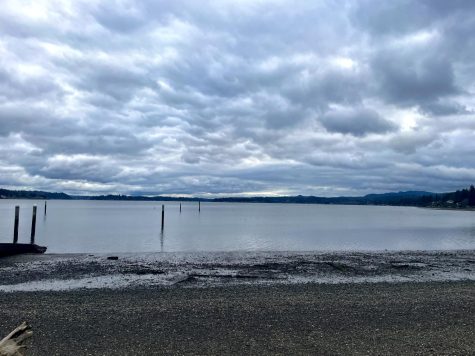 The Big One coming at any time is expected to reach a 9.0 magnitude and living on the Seattle Fault Line that runs through Chico will increase the damage in Kitsap County.
Burke explains that a fault is a crack in earth where earthquakes can occur too.
Dr. Karla Bouck, a biology and environmental science teacher at CKHS expanded further into the Seattle Fault. 
"It releases a bunch of energy, and you get these waves that basically move through the rock and through the earth…And that's what's gonna cause a lot of damage to the houses, buildings, and bridges," said Bouck. 
Tsunamis, a topic that may not even be thought about when considering earthquakes, also plays a huge role. 
"Tsunamis can reach as high as 13 feet off the north side of Dyes Inlet, that's Downtown Silverdale," explained Bouck. 
There's at least thirty local businesses in Old Town Silverdale that could potentially be negatively affected by the flood.
"Hypothermia is going to set in pretty quickly and you're going to have a lot of people injured," Bouck said. "Hospitals are going to be overwhelmed, bridges will be down, the ground will be liquified in some places that's sandy, and then you're gonna get this big tsunami."
With bridges down and tsunamis occurring, it's important to understand where one should be and what they should be during and after an earthquake. 
Bouck also said, "get out, get up, go to high ground, and stay dry."
During and after an earthquake, it is important to stay away from beaches and be careful around broken glass. 
"The biggest injury during an earthquake happens to be cuts on hands and feet, so really heavy duty gloves are important," said Burke. 
Individuals may feel inclined to pick up broken items and glass and end up getting hurt from it. Therefore, staying clear of broken glass and keeping heavy gloves in an emergency kit is important. 
Burke further explained that it is essential to keep a safety kit outside of the home in case the house takes substantial damage.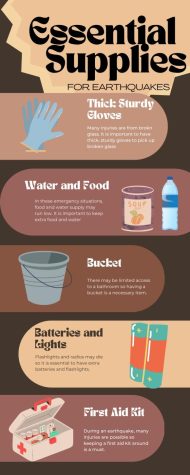 The items in the kit should consist of really heavy duty gloves, as mentioned earlier, a bucket for a toilet, a pry bar in case someone is stuck, a tarp if it rains, and a first aid kit. Batteries, lights, and extra food and water are important to include as well. 
Once the earthquake is done, it is recommended that everyone stays away from any downed power lines, only drive if necessary, check on neighbors, listen to the local radio, use the phone only to report a life-threatening emergency, and be prepared for aftershocks.
"Much of the damage depends on the time of day the earthquake happens at," said Burke. 
If the earthquake happens in the middle of night, casualty numbers would decrease due to most individuals being asleep and away from hazardous zones.
However, casualties would increase around rush hour due to the amount of cars on the road that could create serious car accidents. 
If an earthquake happens during school, it is important to know that the CKHS and CKMS shared campus is built to withstand earthquakes and is up to code with current Washington State regulations. 
Joe Vlach, the CK School District's Executive Director of Safety and Operations explains that "this is a steel structure, so it's designed to flex and move, it's designed and built to withstand earthquakes."
Washington has modified and updated its regulations in preparation for "The Big One." Current Washington State standards state that structures must be designed and constructed to resist probable earthquakes. 
"We take part in the annual Great Shake Out which happens across the world," says Vlach.
By participating in this event that happens every year on the third Thursday in October, Central Kitsap High School and Middle School are taking action to prepare students and staff for any earthquakes.
 Response and recovery work help to identify safety hazards that should be properly controlled in a certain way to eliminate any further dangers. 
"We look into response and recovery as well," says Vlach.  
During an emergency such as an earthquake, CKSD ensures that they will call emergency notification numbers to inform individuals of release type and schedule. 
More information can be found at https://www.ckschools.org/cms/One.aspx?portalId=11175&pageId=34434