The Then and Now of Laws Affecting the Transgender Community
How does the rise in bills affecting the trans community affect this current generation?
The transgender community has been a community who has been able to overcome tremendous hurdles to get to where they are now. They've fought for their current rights just as much as the next community all over the world ranging from the U.S to the U.K. Despite this there are still bills that are against trans rights being advanced to this day.
Bills affecting the transgender community in the U.S started making waves in 2018, steadily building up as each year grew going from 131 in 2021, 155 in 2022 , to a continuously growing 336 as of Feb. 27, 2023. 
"There are laws that are harming a lot of people both physically and psychologically and they're really restricting the care that transgender people need in order to be happy and comfortable in their own bodies," said Nathaniel Yannayon, a sophomore at Central Kitsap High School who has a strong passion when it comes to supporting the LGBTQ+ community. "That is not something that should be done and that defeats the whole purpose of America, land of the free, you can be yourself. But that defeats that when you restrict them."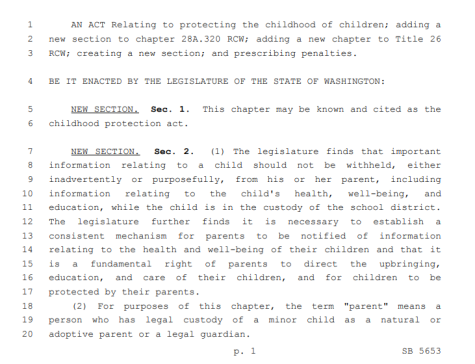 The state of Washington's bill SB 5653 is a law that could possibly affect the trans community as it's summed up; a minor's education, upbringing, health care, are all decided on by the legal guardian(s) of the minor. This bill could be taken in either direction when it comes to transgender youth and they're self-expression.
"I feel like it really shouldn't be up to the parents," said Yannayon. "You shouldn't be able to decide what your child's healthcare is or who they identify as because you are not your child. I feel like it needs to be a bit more directed towards the kids being able to decide that for themselves and also people just providing more information regarding it, you can do this but this is what it does; it needs to be more in depth and kids need to be more taught about it and educated on this so that way people can make their most informed decision that they feel is best for them."
Transgender youth will always be there as they will be the continuing generation from the past. Media is something that youth can connect and find familiarity with as it has become an important tool in communication. This also includes being able to talk and spread information on important topics, allowing for representation of different varieties to be spread.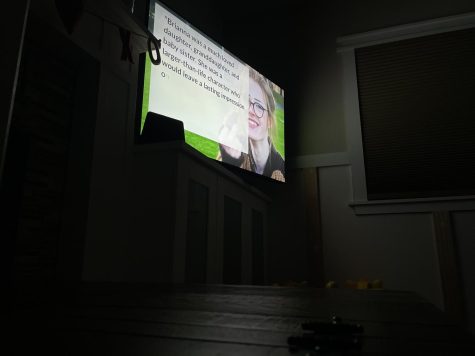 "I don't think a lot, it only really started coming to light in my book when I got older and was able to know what being transgender was, thinking back, I didn't see a lot of representation," said Katelyn Roth, a sophomore at Central Kitsap High School who chooses to stay on the sidelines of it all.
There could be many reasons on why there are so many bills affecting the transgender community and while some states in the U.S have bills that protect and help contribute to gender-affirming care, they seem to be overshadowed by the current ones that take away such rights, though every bill that helps protects trans rights is greatly celebrated. 
"I think, as I was saying, they're discriminated against commonly and those that do discriminate against them, a lot of them have power," said Roth. "In politics a lot of people are on a side that doesn't like transgender people, so I think that the power adds up so it makes it hard to fight against."
People in power are big factors that have a large effect on such a widespread community, especially on the older trans community. The same could not be said for the trans youth community as they may face more personal challenges, such as parents or social media.
"With the high control parenting style it can have students start lashing out or go in a radical way, very against their parents or they could be repressed for a very long time and not find themselves until mid-adulthood if they get into the mindset of what they think is true to them is incorrect and is bad, then it's really hard to come back from that," said Alicia Flint, the child development teacher at Central Kitsap High School.
Parents can have a very large impact on their child even when it does not come to self expression or self identity, depending on the way they're nurtured and the environment they're raised in can very well have lasting impacts on their child. 
"I think that parents, since they're setting the basis of life and teaching their kid how to be a functioning person in society, I think that the children learn from their parents more than anyone. I think it's one of the most important things in someone's life, to learn from their parents," said Flint.
Today's youth not only is faced with the pressure of being the next generation's backbone but are also already fighting for rights that people perceive as a common decency. Black lives matter, global warming, gun violence, and gender-affirming care are all just the tip of the iceberg and there's still more to come. 
We as people are all still only human and there will always be clashing opinions, so the amount of bills affecting the trans community will rise, but the community will as well. To be human is to fight for what you believe is right, and that's exactly what both sides will do.