Central Kitsap Clinches Playoff Berth
CK is back in the playoffs, after two years of falling short.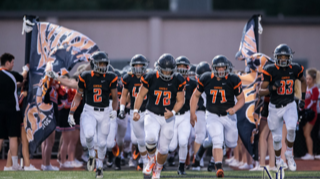 Hang on for a minute...we're trying to find some more stories you might like.
Nov. 6, 2018
The CK football team has proven this year that they are playoff worthy, for the first time in two years of battling in a tight league for a playoff spot. The Cougars finished the regular season with a (6-3) record which is considerably better than last year's (5-6) record.
There are a few differences from last years team to this year's team. CK has a very young group this year, but they are not letting that hold them back. The Cougars have found success in working together as a team and being able to come back from adversity when faced with challenges during games.
The Cougars will play their first playoff game on Saturday, Nov. 3 at 7 pm against Squalicum High School. This will not only be a test of skill, but a test of team spirit and leadership as well.
"This game is more important because if we lose, the season is over," said Senior Alex Refilong, the running back for CK. Refilong is serious about leading the Cougars into this game with the objective of victory.
But CK is happy to have reached the playoffs once again this year. "This season has been great, we made the playoffs which is always the goal," said Senior Avery Schuette, lineman for CK. Schuette expressed his confidence that CK is in a good position this season and does not plan to end it any time soon.
This week the Cougars will have extra motivation in this game coming off a hard loss against Gig Harbor. The players will be looking for a way to compensate for last week so this will be a highly competitive game.