Girls Who Ran the World
March isn't just another month--it's Women's History Month.
Hang on for a minute...we're trying to find some more stories you might like.
March marks a time to reflect on women's meaningful contributions to history and for women to find inspiration to continue that legacy. Each year the month of March is designated as Women's History Month by the United State's President, although less than half of students at Central Kitsap High School are aware of it. Women's History Month also includes International Women's Day, on March 8.
In a student survey, only 48 percent of CKHS students knew that Women's History Month was in March, and 18 percent incorrectly guessed that it was close to March (February or April). Many commented that while they have learned about Black History Month (which lasts throughout February), they had never heard of Women's History Month.
However, students who were aware of the special month-long celebration expressed appreciation for the goal of Women's History Month. One student said they "feel like it's the celebration of women and all of the hard work that we do and don't get recognized for. It's to recognize all the women in history who aren't really in the books."
Another CKHS student summed it all up as "the month where we can remember all the badass things that women have done in history."
AP History teacher Sarah Fisher agrees, stating that she views it as "a month of acknowledging and recognizing that women often get left out of history books." Fisher takes an inclusive approach to introducing elements of women's history to students as it relates to their studies in the classroom. While Women's History Month inspired one of her extra-credit quiz questions, Fisher believes that women's history ought not to be seperated from or treated differently from other parts of history. She added that she does support highlighting women's contributions as part of school culture.
According to Fisher, learning about women's history is important because "it reminds girls that they have multiple pathways to success. And if they see themselves as part of our collective history and culture, they will be inspired to keep their minds open for many possibilities." But women's history isn't only valuable for girls to know about. Fisher also believes that "it's important for boys who will be working in a world where more and more women are contributing to get used to the ideas that women can be bosses and leaders."
Women's History Month originated in Santa Rosa, California in 1978 as a "Women's History Week" celebration during the week of March 8, corresponding with International Women's Day. This event sparked several more "Women's History Week" celebrations in other communities the following year. Eventually, this was expanded into a month-celebration after the National Women's History Project (now known as the National Women's History Alliance) petitioned for national recognition. In 1987, Congress passed the first resolution that authorized and requested that the President declare March to be Women's History Month, and since 1995 March several consecutive Presidents have established it as such.
There are also different themes each year for Women's History Month. The 2019 theme is "Visionary Women: Champions of Peace and Nonviolence." This theme is highlighting "women have expanded the American tradition of using inclusive, democratic and active means to reduce violence, achieve peace, and promote the common good," as stated by the National Women's History Alliance (NWHA).
When students were asked to identify women they look up to as role-models, most said they find their inspiration in their maternal family members, from their female sports coaches or from cultural icons like Beyonce. "My mom's the best!" exclaimed one student, although survey responses revealed several more students who would compete for the same claim about their mothers. There were also a few acknowledgements of political figures such Eleanor Roosevelt and Michelle Obama.
CKHS students also have several brilliant women from the Cougar community to look up to. Staff members Patty Affleje and Su Caouette still remember several notable CK alumnae, such as: Seattle attorney Tiffany Cartwright, who specializes in sexual harassment cases; Seattle attorney Christina Chan; PSNS engineer Hanna Anderson; Amazon employee Kate Robinson; Heather Chan, who does tech work in San Fransisco; Key Port engineer Krista Stabler; PSNS rigor Emily Zygmontovicz (who is also remembered as having been the best soccer goalie in the state of Washington); dentist Kaitlin Poppy; businesswoman Brandi Hamre, who currently works as a leader of her family business Trew Auto body; local pharmacist Amanda Myers; third-grade teacher Kaitlin Geddes; Navy officers Geemi and Geeyun Jordi; Air force workers Sierra and Savannah Baron; and TV personality Stella Kim.
From a teacher perspective, Fisher said that former CKHS principal Dr. Jenell Numan was a woman within the Cougar community that she admires. She "was a principal here not long after I first started," Fisher remembers. "She had a vision to create a more academic high school than we had at the time and she made it a priority which then translated into change in the school."
Cougars aren't afraid to challenge gender barriers, according to statistics and anecdotes. In response to a school survey, 95 percent of students said that they support gender equality and actively strive to make an impact. Teachers like Fisher have also noticed this attitude in students and staff. "I think most people are pretty accepting of the possibility that gender shouldn't be a barrier to anybody's potential," she said, but still acknowledge "there are some people that are still stuck in expectations about how gender should shape your roles in society."

About the Contributors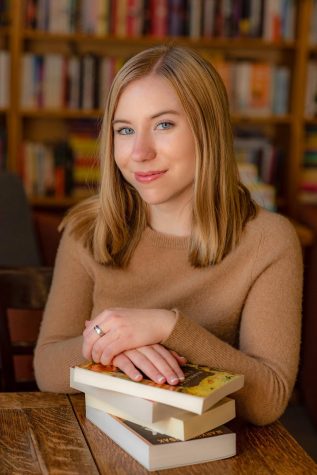 Aina Zabinski, Editor
Aina Zabinski is the Editor in Chief of the Cougar Chronicle. This year is her first year running Cougar Chronicle and the first semester has gone very...