Ooey, Gooey, Soft, and Chewy: Cake Mix Cookie Review
Get your cookie jars ready; these are superb!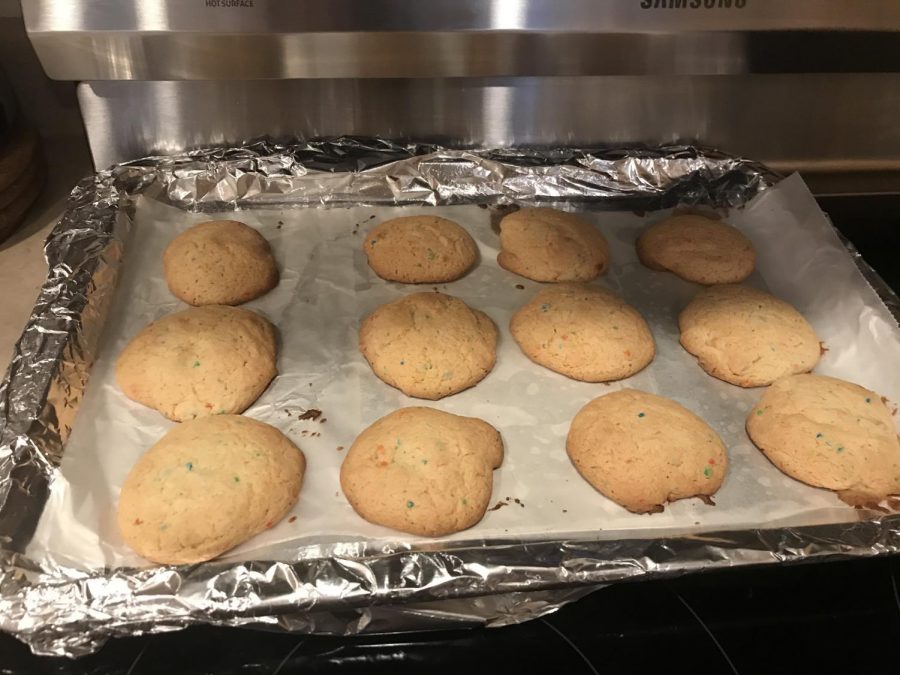 Ever had a box of cake mix lying around? Well, rather than stage a strenuous cake-making production, why not whip up some cookies instead?  
In an effort to make use of a box of rainbow chip cake mix in my kitchen cabinet, I decided to research some of the best recipes outside of the basic, run-of-the-mill cake. 
In the midst of my research endeavor, I came across a recipe from 'Made To Be A Momma'. This recipe calls for only a few ingredients: one box of funfetti/rainbow chip cake mix, ⅓ cup of oil, and two eggs, as well as some optional sprinkles or nonpareils. I did not add in the extra sprinkles, as I had none laying around. 
The process of adding together the eggs, oil, and cake mix was incredibly easy and quick. In a matter of moments, I had cookie dough. This dough is a bit more wet than traditional "brown sugar, white sugar" cookie dough. It was also stickier than I am used to, so I would recommend freezing the dough for about 20-25 minutes before scooping into balls. The recipe makes no mention of chilling the dough, however.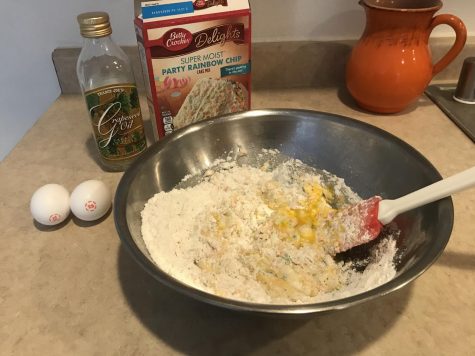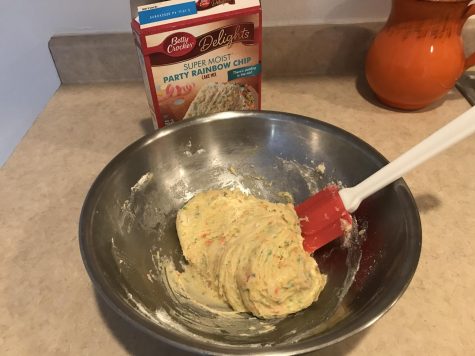 I placed the dough on a parchment paper-lined, greased cookie sheet. The recipe does not mention parchment paper or additional greasing of the pan, but I did not want solid cookie balls fused to my cookie sheet, in the case of a confectionery disaster, so I went ahead and added that step which proved effective.The total recipe time is about 20 minutes (five minutes of prep time and 15 minutes of cook time), however, it also states that the cookies should be baked for 6-8 minutes at 375 degrees. This seems contradictory, but I believe the purpose is likely to give some room for extra cook time based on varying oven temperatures and preferred cookie texture.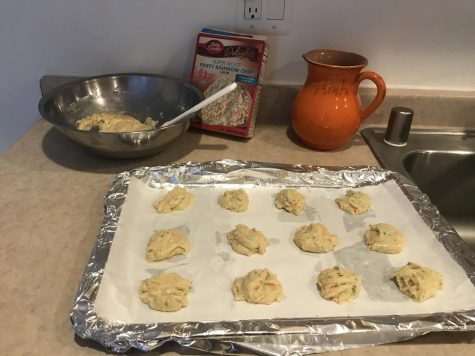 I had to bake my cookies for 11 minutes, then allow them to rest on a cooling rack for around 10-15 minutes.  This was to ensure firmness, as they were still doughy coming out of the oven even after the original cook time was almost doubled. The recipe does not mention allowing the cookies to rest, which is one of the few constructive critiques I have.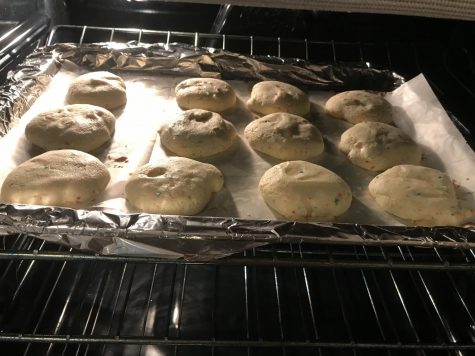 After I allowed them to cool, I placed them on a plate and shared them with my family. The recipe made about 18 cookies, which were gone in a matter of two days (my household consists of only three people). My parents are not big fans of cookies or dessert in general (crazy, I know), but these cookies blew us all away. Not too sweet, not too heavy. They're light, airy, soft, chewy, and definitely some of the most delicious cookies I've had. 
These cookies maintain freshness when stored in either a Tupperware or a snack bag. I'd say day-two cookies are better than freshly made ones. These cookies get better with age, I suppose. 
I wish that the author of the recipe had incorporated some information or tips on varied cook times, prevention of pan-sticking, dough temperature prior to baking, and allowing the cookies to rest after they have finished baking. But, overall, this is a fantastic recipe. 
Only a few days later, I purchased some other cake mix flavors from my local grocery store. We picked out lemon, chocolate, and yellow cake mixes. I followed the same recipe, only swapping out the rainbow chip for one of the other flavors. To the finished lemon cookies, I added a sprinkling of powdered sugar and to the chocolate dough, I added some chocolate chips into each ball before baking. The yellow cake cookies are very similar to the funfetti, so they're good all on their own. The chocolate cookies are reminiscent of a fudgy, delicious brownie. The lemon cookies were by far my favorite; they were tart, sweet, and oh-so soft. I definitely recommend messing around with different cake mixes and flavors. 
As a connoisseur of most sugary confections, I always enjoy a new take on a classic recipe. This cookie recipe is an innovative and quick way to enjoy the softest and chewiest cookies.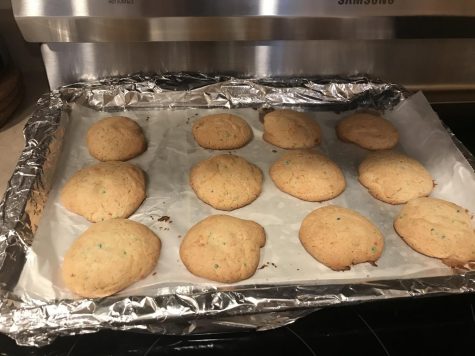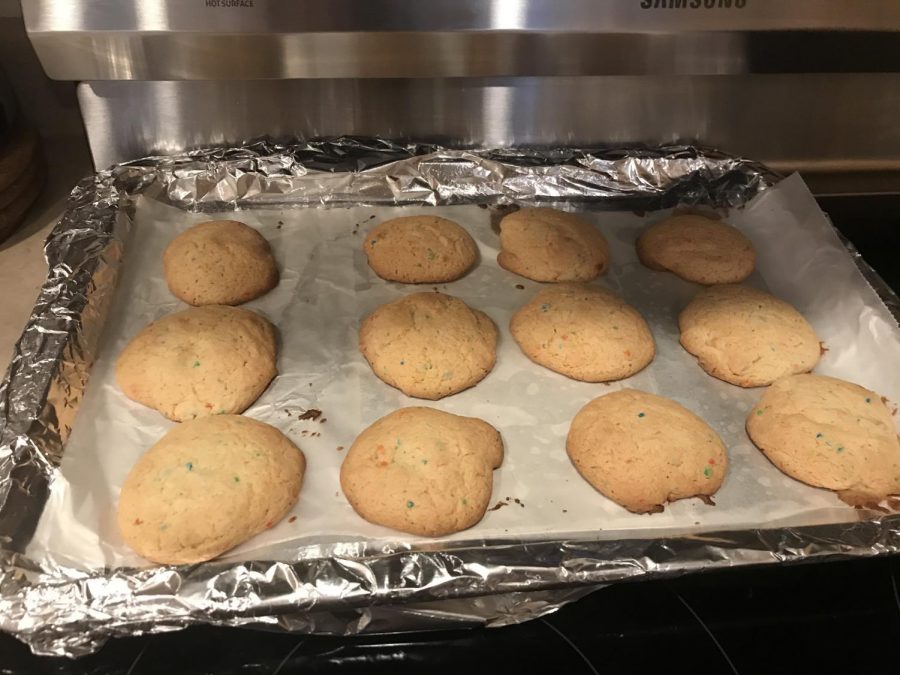 Here's the original recipe in full:
1 box Funfetti cake mix , or white cake mix ( you will need to add your own sprinkles to the batter)
2 TBSP sprinkles , optional
1/3 cup canola oil
2 eggs
Sprinkles , Nonpareils or Jimmies for rolling or sprinkling, optional
Instructions
Mix together cake mix, canola oil and eggs.

Add additional sprinkles if desired. Mix until the batter is moist and ingredients are blended.

Shape dough into 1 inch balls or use a 1 inch cookie scoop. Roll dough into extra sprinkles if desired.

Bake at 375 degrees for 6-8 minutes
About the Contributor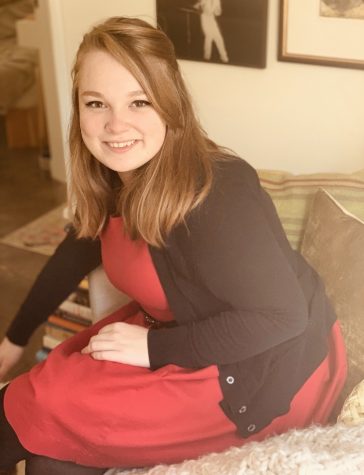 Rain Griswold, Editor-in-Chief
Rain Griswold is a senior at Central Kitsap High School. Music and writing are two of her favorite things. She is classically trained in opera and sings...