10/10 OL Reign vs. Portland Thorns Game Recap
The Portland Thorns took home the victory with a 2-1 score.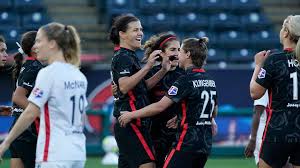 The OL Reign and Portland Thorns faced off at Cheney Stadium on Oct. 10th. The Thorns took home the 2-1 victory to win the 16th game of the National Women's Soccer League (NWSL) Fall Series, with two penalty conversions from Christine Sinclair for the Thorns and one goal from Amber Brooks for the Reign. The victory placed the Portland Thorns first in NWSL standings and won them their fourth trophy, the 2020 Verizon Community Shield.
The game featured former United States Women's National Team (USWNT) players, midfielder Allie Long and defender Meghan Klingenberg, as well as current USWNT stars, Becky Sauerbrunn and Lindsey Horan, in addition to NWSL Rookie of the Year, forward Bethany Balcer, who was just recently called up for the USWNT camp. Defender Madison Hammond, the first Native American NWSL player, also defended for the Reign for the majority of the game.
Key Match Moments
3rd minute:

First attempted shot was made by Shirley Cruz of the OL Reign, going just wide off a shot with her left foot.

27th minute – key play:

OL Reign forwards Jasmyne Spencer and Bethany Balcer had a combined total of 3 shots, all of which were blocked by Thorns defenders and keeper, Britt Eckerstrom.

40th minute:

OL Reign midfielder Allie Long is shown a yellow card for a foul committed against Portland.

42nd minute:

Portland forward Simone Charley drew a foul in the penalty box from Amber Brooks in the 42nd minute, resulting in a penalty kick conversion from Christine Sinclair, placing Portland in the lead.
The first half ended with a 1-0 (Portland) score. 
46th minute:

Amber Brooks took a right footed shot assisted by Shirley Cruz from the center of the goal box, placing it in the back of the net, equalizing the score.

70th minute:

Lindsey Horan drew a foul in the goal area, resulting in a penalty kick for Portland. Christine Sinclair again converted the kick, creating a 2-1 score, with Portland once again leading.

94th minute:

A second yellow card is again shown to an OL Reign midfielder, Dani Weatherholt, in stoppage time of the second half. 
The game concluded with a 2-1 score and a Portland victory.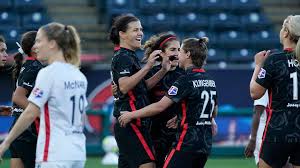 The Portland Thorns celebrate their victory over the OL Reign. (Photo credit: ISI Photos)