The Splash to Success: the Central Kitsap Girls Swim Team Reflects on Their Outstanding Season
The Central Kitsap girls swim team has achieved many accomplishments this season
The CKHS swim team are League Champions and received 11th place at their state championship out of 37 teams. Senior Captains Amanda Ashmore, Eleanor Hebard, and Francesca Dockendorf could not be any prouder of their achievements and their team.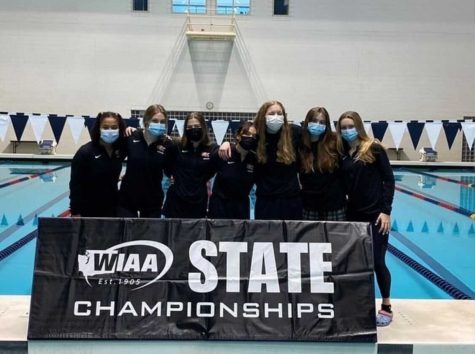 "It was really nice to have our last season be one of the most successful ones." says Hebard. 
Ashmore specifically reflects on the 200 medley relay that broke the school's 28 year old record at the state championship. 
"It's really exciting. I feel like we don't really understand how big of a deal it is to break records but it really doesn't happen that often."
"I feel really proud of the team. I feel really grateful because this year and in previous years, the makeup of the team is just full of a bunch of people that are willing to strive to become better at swimming. I really love that type of environment." says Dockendorf. 
Although this team has received multiple awards and achievements this season, the girls still value their teammates more than anything. With such success can also come with a lot of pressure, and for these captains, relieving that pressure is of the utmost importance. 
"I think a lot of the kids who make it to state put a lot of pressure on themselves. I really try to take a step back and make sure that they know how big of an accomplishment it is just to be there." says Ashmore. 
Herbard furthers this point by saying, "I think team encouragement, as a general, is important, and giving support when people aren't feeling super confident is also good."
"I really love cheering people up, like making people happy or trying to motivate people because I think that when you're stressed then you really get down on yourself. So then you like to get in your own mind. I really try to help my teammates, just get out of it," says Dockendorf. 
With swim season occurring the same time as football, girl's soccer, and volleyball, the girls do sometimes see a struggle with these sports getting more recognition than the swim team. 
"I don't want to bash on any other sports because  they equally do well, but I just feel that some are getting more recognition than others. — Just like all of these like headlines for all those other sports, kind of trump ours. I just wish that everybody would know about the swim team because I really do think that our accomplishments as a team just should be credited better," says Dockendorf. 
The girls also feel that because they have meets at Olympic High school and not at Central Kitsap, it creates a disconnect between the athletes and their school. However, despite not getting as much recognition as other sports, the girls do not let that impact their performance, dedication, and team spirit. 
"It's just a little bit less connected to the student body in general. I feel like people just know less about it and care a little bit less about it than some other places, which isn't quite as nice, but it's okay," says Hebard. 
Ashmore chimes in and says, "It's a little sad but I think the team environment we have is really good." 
There is such an immense amount of pride as these girls talk about what this season has brought for them. These undefeated league champions recall the moment this season that made them the most proud. 
Hebard says, "I was really proud of the team when we beat Gig Harbor, which was our rival. — that was a really good accomplishment and I felt really proud about everybody." Hebard also says that "qualifying for the relay in state and then breaking the record" was a "really good feeling."
Ashmore takes this moment to praise freshman, Aziza Meyer who was a member of the record breaking relay, broke the school record for the 100 butterfly, and placed 8th in the 100 fly at state. 
"She's a freshman and she takes the sport really seriously. She put a lot of pressure on herself throughout the whole season so getting to see her actually achieve her goal at state. She did great," says Ashmore. 
Dockendorf says that winning leagues was her proudest moment this season, not only for herself, but for her team. 
"I don't know when the last time we won leagues was, but just knowing that we won against all these great teams that have beat us in the past. It was just amazing. — It was just like a warm moment of just being proud of everybody. Like I don't feel personally that I guided us there, but I was just glad that I was a part of that when it happened."
Swim Coach Whitney Dodd, which Ashmore describes as the "best coach ever," also had the chance to reflect on this awesome season. 
"It's hard to put into words how I feel about the way the girls all made this season happen. After a long year out of the water, the short season in February, the pool not being ready the first two weeks of this season, it felt like we couldn't catch a break, but they worked hard and kept training despite the hardships, and they prevailed. They didn't lose momentum at all. I'm honored to be their coach and walk along with them through this." 
Dodd, while of course very proud of the relay that broke the 28 year old record, could not be prouder of the relationships that have been formed on the team. 
"I'm proud of their connection to each other, the care they have for each other, they step up and take their teammates spots when they're too tired to swim an event, they keep their heads high when their peers at school belittle the sport that they love and work so hard at, when they go unnoticed time and time again. I wish the students at CK understood that swimming is not some little goof around sport and is much harder than they think, if only they could see what these athletes put into it they'd be singing a different tune." 
A great coach is an important aspect of a successful team. Dodd explains her positive approach to coaching. 
"We don't take ourselves too seriously, I don't get aggressive with [the team] about their performance because once they hit the water it's on them, we don't stress them out with disappointment after a race if it doesn't go well. Yes, it can be difficult to see a race go negatively but I pat them on the back and tell them to shake it off. They will be hard enough on themselves, I'm here to build them up not tear them apart." 
Dodd also believes it is important for the swimmers to work collectively as a team, not just as individuals. 
"It's all about the girls, they've been working hard year after year to build this. We decided when I moved up from assistant coach to head coach that we weren't going to allow negativity on the team anymore, no division between "fast" kids and "average" kids.  We revamped the culture on the team and by doing so they've been able to grow as a group. I'm extremely proud of them for what they did this year, they wanted each and every win and worked as a team to get there. They made sacrifices in their individual events and swam what we needed them to so the team could benefit, not just a few swimmers like in years past."
It's clear to see that the CKHS swim team has had quite the season. However, all of the leaders involved with this program would argue that genuine passion care for each other is what makes these achievements so rewarding. 
As Ashmore and Hebard say, "Claws up, claws down, claws all around!"